Beauty and glamour come together
Samia Sayeed crowned Lux-Channel i Superstar '12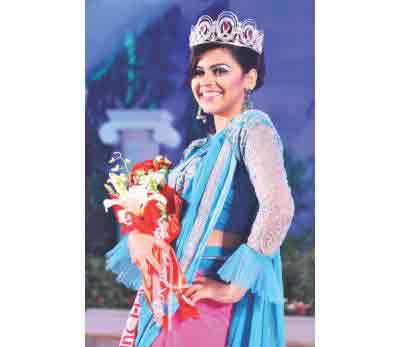 The glitzy grand finale of 'Lux Channel i Superstar 2012' was held at the Bangabandhu International Convention Centre on September 7. Jointly organised by Unilever, Bangladesh's brand Lux and Channel i, the highlight of the event was the announcement of the 'Superstar' of 2012. The programme also featured performances by the finalists as well as popular singers and models.
This year the 'Lux Channel-i Superstar' title went to Samia Sayeed. She was crowned by last year's winner Rakhi. Samia was awarded a brand new car. KSM Minhaz, brand director of Unilever Bangladesh Ltd, Faridur Reza Sagor, managing director of Impress Telefilm Ltd and cultural personality Asaduzzaman Noor MP handed over the car keys to her.
"Viewing the 'Lux-Channel i Superstar' on TV, I became eager to participate in the competition. I am thrilled at becoming the champion of the competition. Everything seems like a dream. I am speechless," said Samia after being declared champion in the competition.
Prosun Azad was announced the first runner up. She received a cheque for Taka 5 lakh while the second runner up Samiha Hossain Khan received a cheque for Taka 3 lakh.
Each of the contestants from fourth to tenth positions received Taka 1 lakh, scholarship on acting and other gifts.
Apart from these, three special awards -- 'Pond's Miss Beautiful Skin', 'Sunsilk Miss Beautiful Hair' and 'Close-Up Miss Beautiful Smile' were conferred on the occasion to Tarin, Nadia and Samiha respectively. All three recipients received a cheque for Taka 1lakh each with crests and bouquets.
With the theme "Live Beautiful", Lux-Channel i Superstar '12 was launched on April 22 this year. After the primary selection, audition round and selection round, the boot camp started with the best 20 contestants. Later the best 10 contestants were finally selected by the judges.
At the beginning the best 10 contestants performed live. Next the best five appeared on stage and took part in the catwalk round. Video clips of Lux-Channel i Superstar '12 came next.
Another major attraction was a dance performance by former Lux-Channel i Superstars. Fuad Al Muktadir, Fuad Naser Babu, Kazi Hablu, Munir Hossain Lablu and Shasha Pinkers performed music at the event.
One of the high points of the event was the Q&A session, where the finalists faced the judges. The judges of the grand finale were magician Jewel Aich, actors Touquir Ahmed, Afsana Mimi and Tarin.
Munmun was the MC of the show. Channel i aired the programme live.