Tomar Aupar Neeley: Chandana Majumdar does justice to Lalon's songs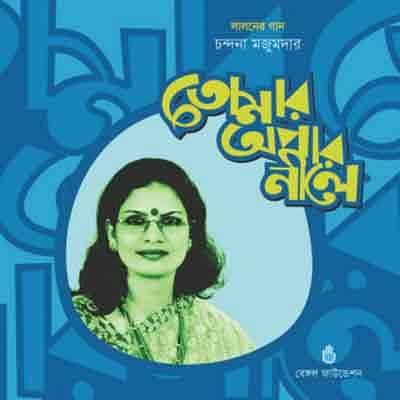 With her high octave vocals, Chandana Majumdar has carved a niche for herself in folk music. She is blessed with a voice that can effortlessly render any sub-genre of folk songs -- be it Lalon's, Radharaman's or Bijoy Sarkar's. Her latest album "Tomar Aupar Neeley"-- featuring ten popular as well as lesser-known Lalon songs -- presents an opportunity to mull over her refinement as an artiste.
On her new album, Chandana starts with a not-so-familiar number, "Mukhey Bol Rey Shodai". The song boasts a brilliant prelude, featuring dotara and the soft tone of a flute; the essence is Nabitatwa -- eulogising the Prophet Muhammad (PBUH). The song is a perfect opening for the album. The consummate artiste then sings two more lesser-known songs -- "Amar Jey Pothey" and "O Shey Bajiye Banshi". The latter is better known as "Shei Kala Chand Nodey Eshechhey", and showcases musical articulation that the audience expects from her.
In Chandana's voice gets the focus in the album, credit should go to veteran Indian music director Durbadal Chattopadhyay who knows what deserves the most attention. Chattopadhyay has been directing music for albums produced by Bengal Foundation over the years, and here he once again proved his ability with measured and apt use of instruments. Flute and dotara get the priority, while the director also chose to use other traditional instruments such as tabla, dhol, ektara, mandira etc.
Popular songs such as "Ke Bojhe Tomar", "Manush Chhara Khyapa", "Ke Banailo Rangmahal" and "Jaat Gelo Jaat Gelo" bear Chandana's signature style; nevertheless, there is something fresh when the singing is concerned. For instance, in the first line of the song "Ke Banailo Rangmahal", Chandana chose to not sing the word "emon". Usually it's sung as "Ke banailo 'emon' rangmahal khana".
The title of the album is borrowed from the song "Ke Bojhe Tomar". The first line of the song goes: "Allah! Ke bojhey tomar aupar neeley". The song belongs to the sub-genre Khodatatwa, and is an articulation of Lalon's constant search for the Creator.
One thing is for sure; Chandana has found her own way of singing Lalon songs, which can be clearly distinguished from the typical Akhra (at Lalon's shrine) style. Akhra rendition usually sees limited use of instruments.
When a singer sings hugely popular number such as "Jaat Gelo Jaat Gelo Boley" or "Eshob Dekhi Kanar Haatbajar", listeners don't generally pay attention to the message; rather they look for something new in the rendition. In this regard, Chandana's rendition won't disappoint the listeners. They will find a different tempo and articulation, which are very much Chandana's own.
Bengal Foundation has recently released the album, along with several others. Previously Bengal released another Chandana Majumdar album of Lalon songs, titled "Bhober Ghatey".