The night of eternal stars is yours . . .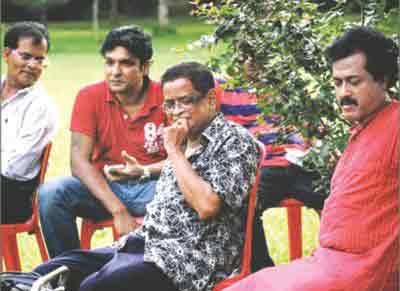 Talented people do not die like ordinary ones: they mostly die at the height of glory and that has been the case with Humayun, the writer of the people. He could have given us more books, could have made some more films. But would we have liked him to give us one hundred percent and then wither away into old age? That would have been unfortunate. No, he left us unfulfilled and therein lies the charm, the allure. They say, too much of a good thing spoils the magic, and so, believing in that, let's accept one thing: leaving a little early, he fell short of utilising his full potential and possibly an eventual burnout. This present feeling of non-fulfillment has managed to maintain his mystique. Needless to say, without that, a writer is brought down to banality.
Enigma is crucial for a writer because once he becomes an open book, he ceases to amaze and wonder. That intrigue should not dwindle but end abruptly so that people are puzzled, confused and left in a sea of hopelessness. Today, as we mourn his death, we must take inspiration from his works that carved a new path for Bangla literature post- independence.
No, he won't write anymore but instead of pining for his writings, let's now look at his works a huge pile indeed, and ensure that they create a future path for new authors. A void has been created, there is no doubt. But the empty space has to be taken by new writers. Of course, there will never be another Humayun and we all know that. Every writer is unique and no other can be like the other, but the influence of a writer is indestructible.
Humayun Ahmed was the first person to dabble in psychological thrillers in Bangladesh and that is where he remains unique. Although people will recall him more for his social dramas, it's the character Misir Ali which is his unique contribution to contemporary Bangla fiction. Humayun was the first writer who explored the nuances of human sexuality and the darker sides of human psychology in his Misir Ali novels and in his complex plots he brought hermaphrodites, people with bi-polar disorder and a host of Bohemian characters that lived on the fringes of society. Even in creating Himu he tried to glamorise the life of the eccentric and readers soon discovered that affluence did not always guarantee an eventful existence. Himu, the Bohemian, lives in all men. Most suppress it while others let it flourish and take over. That is exactly why in real life we often see top notch public service examination graduates opting to take up journalism rather than be confined within the four walls of sedentary and stifling work. In society's definition, the latter is the perfect being, following all rules and living by the template. But they have no colourful experiences to share and no 'charm' to give to the world. Of course, many of these people make money but then there is the saying: the happiness of a rich man is not higher than the contentment of a middle income person who gets the basic items to lead a comfortable life. Humayun Ahmed, in one of his interviews, said: 'I am happy with basic comforts nature, simple but properly cooked food, good company and clean place to sleep.' He got more than that. But the writer never strove to be extravagant. He drove a Toyota though he could have managed a BMW or a Merc. The writer could have lived in opulence but chose solitude instead among the trees, stars and animals. There is Himu for you maybe the yellow panjabi was missing but at heart he was every bit the maverick. Once upon a time, Humayun Ahmed used to live in Elephant Road, just behind the house where this writer lives. The writer used to be seen spending his evening hours sipping tea at roadside stalls. Often he sat there, looking at the variety of humanity go by the life of the ordinary person who became extraordinary by the touch of his pen. Ahmed's greatest achievement is that he made the ideology of leading a fairly honest life a trend. That is exactly why, despite all this corruption, we still have a generation of people driven by ideals and morals and not merely by avarice. But again, no man is perfect and Ahmed wasn't one either. His personal life erupted in controversy when he divorced his first wife and chose what many deem a path which radically disregarded social norms. Subsequently, his image was tainted to a large extent. Of course a man's personal life should not be used to judge his creative works. But no matter what we say, a writer cannot expect his readers to judge him by his works only. Be that as it may, accepting that no man is faultless, we take a lenient look at Humayun Ahmed.
Interestingly, just before he left for the US for the second operation, Ahmed gave a lot of interviews to different papers; and though he spoke of hope and the future, maybe in his heart he knew that he had very little time left. The once atheist Humayun became softer, becoming somewhat philosophical about death and afterlife. No, he was not a defeated man but perhaps near the end he had an epiphany about a lot of things. But everything said and done, Humayun was a writer of the masses, a social chronicler who kept petty politics aside to bring out the many other aspects of social living. By focusing on life and not politics he took literature to a humane level and this is why people of all strata of life thronged at his funeral. Now there is talk that his sanctuary Nuhash Palli will be converted to a Shantiniketan-type institution and that wouldn't be a bad idea. At least students, surrounded by nature, will learn to be creative and Humayun's spirit can be in the wind, in the moonlight, the stars and the trees looking after them. He always longed for nature. Now he is part of it. So let's have no regrets. The writer has his wish fulfilled!
Towheed Feroze, with his background in journalism, writes on a variety of subjects.