Saymon Zakaria: Generating interest at home and broad in Bangladeshi folk traditions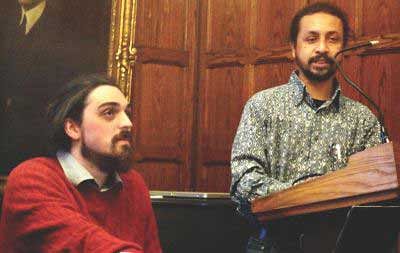 Folk researcher Saymon Zakaria recently came back to Dhaka. He was in the United States as a visiting scholar and talked on Bangladeshi folk practices at a few universities. During his month-long stay in the US, he carried out some research as well. Recently Zakaria talked to The Daily Star about his trip and upcoming plans.
Zakaria was invited by the Department of South Asian Languages and Civilization, University of Chicago. There he delivered a lecture on the Bangladeshi folk tradition and its artistic aspects on April 19. It was part of a regular initiative by the university called "South Asia Seminar Series, 2011-2012".
Zakaria presented his paper on the topic "Saifulmuluk Badiujjamal: The Journey of a Story into Bengal's Poetical and Dramatic Traditions". Zakaria informed that his friend and an Assistant Professor at the university, Thibaut d'Hubert, assisted him at the seminar.
"As an expert on Bengali literature, d'Hubert delivered a lecture on the poetic aspect of the folk ballad, while I spoke on the dramatic aspect, especially the present day performance style of the ballad," said Zakaria.
Zakaria, as a playwright, took part in the 3rd Norman Cutler Conference on South Asian Literature, titled "Dui Bangla", that was held on April 27 and 28 at the same university. Along with Zakaria, the conference also featured Indian author Raghab Bandyopadhyay.
On the first day, Zakaria read out excerpts from his play "Bodhidrum" (The Tree of Enlightenment). On the second day, he delivered a lecture on behalf of Bangla Academy.
Moreover, he took part in a workshop and demonstration arranged by the Department of Music (Ethnomusicology), University of Chicago, as a speaker. The workshop was held on May 3.
At Washington University, Zakaria took part in a seminar -- "The Reception of Carol Salomon's Fieldwork among the Folk-poets of Bangladesh -- as a speaker. The seminar took place on May 14.
Professor Carol Salomon, who died in 2009, was a folk researcher and a teacher at the Department of Asian Languages and Literature and South Asian Studies Program, Washington University. She first arrived in Bangladesh in 1974 and worked on Fakir Lalon Shai for over two decades. Professor Salomon collected rare songs and manuscripts during her stay in Bangladesh.
Zakaria informed that he would take the initiative to publish Professor Salomon's works. "Professor Salomon closely followed the lives of Lalon disciples such as Moksed Ali Shai, Khoda Boksh Shai and Karim Shai, as well as the works of Bijoy Sarkar. She wrote nearly 10,000 pages on Lalon and his philosophy. She collected numerous Lalon songs rendered by bauls of Kushtia and adjacent areas. These works by Professor Salomon remained in dark for many years. The Ethnomusicology Department of Washington University has preserved her works so far," said Zakaria.
According to Zakaria, during his recent visit he got the authorisation from Professor Carol Salomon's husband, Professor Richard Salomon, to work further on the manuscripts and songs. He will soon start work to publish book on these works. In association with d'Hubert, he will further work on publishing Bengali traditional manuscripts that he found at the Washington University.