Violence at Jahangirnagar University
15 hurt in BCL attack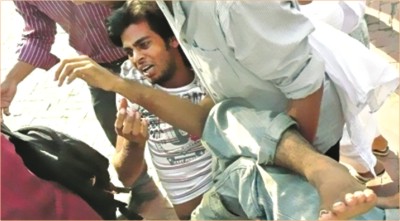 Bangladesh Chhatra League men at Jahangirnagar University yesterday beat up at least 15 cultural activists for protesting the pro-government student body's vandalism at a demonstration by teachers the day before.
Late at night, a group of BCL men hurled brickbats at the teachers holding a sit-in outside the vice-chancellor's residence demanding his resignation. During the attack, they clubbed the cultural activists with sticks.
AKM Shahnewaz, a professor of archaeology, was injured as one of the projectiles thrown cut his forehead.
Earlier, around 3:00pm, some 50 Chhatra League men attacked Sangskritik Jote activists who were bringing out a protest procession near the arts faculty building.
The Jote leaders alleged that the attack took place in presence of a few members of the proctorial body.
Of the injured, Sangskritik Jote JU unit President Koli Mahmud, Vice-president Moin Muntasir Kartik, activists Toufiqul Islam Arno, Sushanto, Sudip Bhattacharya and Farid Uddin Masud were admitted to Savar Enam Medical College Hospital.
Kartik said Chhatra League activists led by Sharif, Shamim and Samrat first swopped on Koli Mahmud. The others came under attack when they rushed to save Koli.
Contacted, JU Proctor Sukalyan Kundu denied the allegation that members of the proctorial body were present during the attack. He said the university authorities would take necessary action after investigating the incident.
Chhatra League activist Sharif told journalists that they had beaten up the processionists suspecting there were Chhatra Shibir men among them.
Earlier on Friday, BCL men vandalised the stage set up for a teachers' protest programme. They also burnt the banner of the programme.
Since early morning yesterday, JU teachers under the banner of Shikkhak Samaj were demonstrating in front of the vice-chancellor's residence.
Shikkhak Samaj has been demanding the resignation of VC Prof Shariff Enamul Kabir since the murder of Zubair Ahmed, an English department student, on January 9.
The agitation intensified after two teachers of Botany department were arrested on Thursday for allegedly assaulting the chairman of the department the previous day.
The agitating teachers yesterday vowed to continue their sit-in in front of the vice-chancellor's residence for an indefinite period.
"We will not stop our protest until this illegal VC resigns," said Prof Nasim Akhter Hossain.
Meanwhile, the teachers loyal to Shariff Enamul Kabir have taken up counter-demonstrations behind the VC residence.