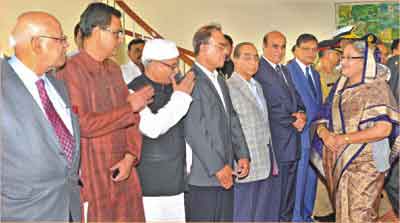 Bangladesh and Turkey will ink half a dozen deals today to promote bilateral trade and investment, establish direct air link, strengthen cooperation in the areas of banking, customs, agriculture, education and culture.
The agreements will be ratified after the official talks between Bangladesh Prime Minister Sheikh Hasina and Turkish Prime Minister Recep Tayyip Erdoðan, said foreign ministry sources.
The premier reached Ankara yesterday evening on a three-day official visit at the invitation of her Turkish counterpart.
Turkish Education Minister Ömer Dinçer received the prime minister at the Esenboða International Airport.
Her 112-member entourage to Ankara includes Foreign Minister Dipu Moni, Industries Minister Dilip Barua, Mayor of Sylhet City Corporation Badruddin Ahmed Kamran, Ambassador-at-Large Mohammad Ziauddin and a 56-member business delegation.
Officials at foreign ministry said a protocol will be signed to link the spiritual capitals of Sylhet in Bangladesh and Konya in Turkey -- the resting places of two great Sufi philosophers and spiritual leaders Hazrat Shahjalal (RA) and Maulana Jalaluddin Rumi (RA).
The two countries have been working hard to explore the full potential of the bilateral relations since the visits of the Turkish president and the prime minister to Bangladesh in February and November in 2010.
Earlier, she left Dhaka yesterday afternoon on a VVIP flight of Biman Bangladesh Airlines.
TOUR ITINERARY
Prime Minister Sheikh Hasina will today first visit Anitkabir, the mausoleum of Kemal Ataturk, at 10:00am.
After lunch, she will go to Presidential Palace at 2:00pm to meet Turkish President Abdullah Gul. From there, she will head to Turkish parliament to call on its Speaker at 3:15pm and attend a reception by the House.
Hasina will arrive at Turkish prime minister's office at 5:00pm. The two sides will hold an official meeting there to be followed by signing of the agreements.
In the evening, the Turkish premier will host a state banquet in honour of his counterpart at his residence.
On Friday, Hasina will address on "Bilateral Trade and Investment" at a breakfast meeting at 8:30am to be hosted by the Confederation of Businessmen and Industrialists of Turkey.
She will visit Ankara University at 10:30am and deliver a lecture on people's empowerment.
The prime minister will attend a luncheon meeting to be hosted by the Union of Chambers and Commodity Exchanges of Turkey at 1:30pm. She will also make a speech on trade and investment opportunities between Bangladesh and Turkey.
In the afternoon, Hasina will lay the foundation stone of Bangladesh Embassy in Ankara and unveil a sculpture of Bangabandhu Sheikh Mujibur Rahman.
She will also meet Bangladeshi students in Turkey and the expatriate Bangladeshis at the venue.
Leader of the Opposition in Turkish Parliament Kemal Kilicdaroglu will call on Hasina at her Sheraton hotel suite at 5:30pm.
Bangladeshis living in different European countries will meet Hasina at the hotel at 6:00pm.
The premier will leave Ankara on a VVIP flight of Biman Bangladesh Airlines at 9:30pm.
She is expected to return home at 7:00pm on Saturday.