Reflection of life in theatre
In conversation with Ahmad Iqbal Haider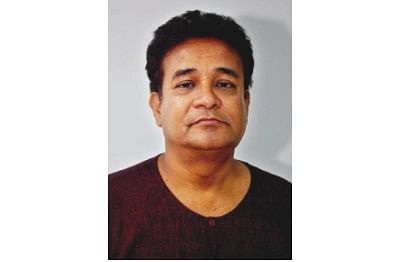 Ahmad Iqbal Haider is popular name in Bangladeshi theatre. His 37 years of illustrious career has furnished the Chittagong theatre scene with many achievements and accolades. He is the team leader of Tirjok Natyadol, one of the leading theatre troupes of Chittagong. At present he is the Artistic Director of Theatre Institute Chittagong (TIC).
Ahmad Iqbal Haider was the convener of "The Daily Star Odommo Chattagram Theatre Festival" that came to an end on April 4 -- at two venues (TIC and District Shilpakala Academy) of the port city. President of International Theatre Institute (ITI) Worldwide, Ramendu Majumdar, inaugurated the festival as chief guest on March 31.
"Nine leading troupes of Chittagong staged their productions at the festival. I salute The Daily Star for organising such a festival. We also invited troupes from Rangamati, Cox's Bazar and other districts of Chittagong division; but due to dearth of theatre venues we had to shorten the festival in five days," said Ahmad Iqbal Haider.
"The heritage of Chittagong theatre is very old and unique. The practice of mime is frequent too in Chittagong. We are really honoured and happy that the leading English daily of the country has recognised theatre activists through the 'Odommo Chattagram' initiative. Credit also goes to Chittagong theatre troupes. We hope to reach a new height with the help of The Daily Star in the days ahead," asserted the director.
The artiste has so far directed 56 plays including "Bishorjon", "Rathjatra", "Raktokarobi", "Raja", "Dakghar" (all by Tagore); "Merchant of Venice" (by William Shakespeare); "Oedipus" (by Sophocles); "Madhumala" (by Kazi Nazrul Islam); "Buro Shalikher Gharey Rown" (by Michael Madhusudan Dutta); "Dwarruddha" (by Jean Paul Sartre); "Atotayi" (by Selim Al Deen) and "Smriti: '71" (by Zia Haider).
"'Bishorjon' has been staged 201 times in Chittagong. It is really a landmark and a matter of pride as well for not only Chittagong but also Bangladeshi theatre. 'Rathjatra' has been staged 168 times, while 'Raktokarobi' has been staged 99 times -- waiting to touch landmarks. Besides, I have directed two experimental productions -- 'Nijhor-er Swapnobhongo' and 'Tapur-Tupur' -- based on Tagore poems," mentioned Haider.
Apart from direction, the dedicated theatre activist and organiser has so far designed light for 54 productions, set for 38 plays; planned costumes for 20 productions, background for 12 plays; edited and translated 15 plays and enacted more than 2000 times in 30 productions.
Haider started working in theatre in 1975. The artiste introduces himself as a theatre activist. He sees the reflection of his life in theatre and hopes to carry it on till the end. He played significant roles in the contractions of studio theatre and modern TIC in Chittagong for which he dreamt of.
He is also the organising secretary of ITI Bangladesh Chapter and participated as a Bangladeshi representative in 31st, 32nd and 33rd ITI World Congress held in Manila, Philippines; Madrid, Spain and Xiamen, China in 2006, 2008 and 2011 respectively.