Inventor of Bangla computer keyboard wins legal battle
A key step in protection of local intellectual property rights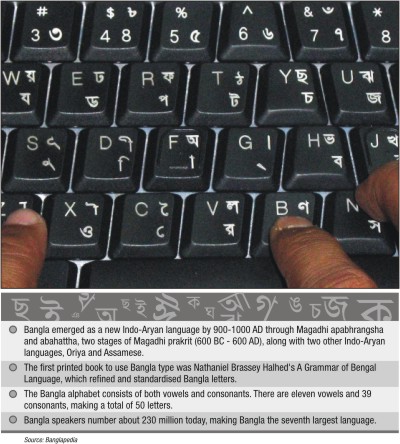 The inventor of the most popular Bangla computer keyboard has won a long legal battle to protect his design and software, with the government to stop pirated Bangla language keyboards from entering the country.
The move is being seen as a key step in the protection of local intellectual property rights in a country where inventors and software designers struggle to gain an income for their ideas.
The first edition of the Bengali typing software popularly known as 'Bijoy' and Bangla keyboard known as the 'Bijoy Keyboard' was invented and patented by Mostafa Jabbar in 1988.
Although several other Bangla software programmes and keyboards have been designed since, Bijoy remains the most popular, especially among professional users. Mostafa Jabbar claims that even in West Bengal his invention is the market leader.
However for the past two decades Mostafa Jabbar has struggled to defend his patent against pirated keyboard and software copies produced and imported mainly from China without his permission.
Last month the National Board of Revenue (NBR) moved to protect Mostafa Jabbar's rights, issuing a circular asking the customs department to put bar on the import of pirated Bijoy software and Bijoy keyboards.
"It is really a big win for me and my company Ananda Computer as I have been fighting for the last 15 years to establish my rights in international business," Mostafa Jabbar said.
The circular reads "following assessment of the application it is found that Ananda Computers owns the patent rights of the Bangla printed keyboard."
"This is a joyous message for me as through this text the government acknowledged my invention," Mostafa Jabbar said.
"The NBR has directed the customs department to take action under the section 15 of The Customs Act, 1969," the circular signed by Abul Bashar Md. Shafiqur Rahman said.
If the customs restricts imports of pirated keyboards and software there will be huge vacuum of Bangla keyboard, Mostafsa Jabbar said, a vacuum that he hopes to fill through legal imports.
Recently Jabbar signed a contract with a Chinese company to supply keyboard to the Bangladeshi market paying him a royalty on each one sold.
"I hope that if I can continue my success the example will encourage many local software developers to get patent rights and earn royalty from their products," Jabbar added.
Last week a high official of the customs said the customs will not allow any pirated keyboard upon receiving the circular.
"We must uphold the sprit of the law as well as encourage local entrepreneurs to protect their interest," the customs official added.
In a separate dispute Mostafa Jabbar alleges that the Election Commission is violating his patents by using the Bijoy Software and Key Board in its 10,000 laptops without his permission.
"I don't seek any royalty from the election commission. I just want to get official acknowledgment from the government," Jabbar added.