A literary life in retrospect
Wasif Wahed understands a writer better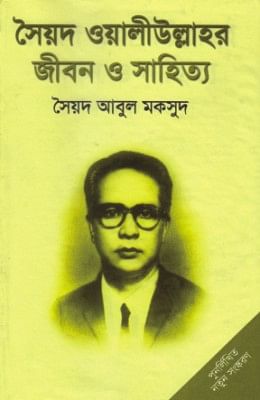 Syed Abul Maksud is known to many as a columnist, essayist and a veteran journalist. But he is also the author of several well researched books, books that have touched upon the lives of famous litterateurs such as Rabindranath Tagore, Buddhadeva Bose, etc. I have just finished reading his informative book on one of the greatest litterateurs of BangladeshSyed Waliullah. This book, titled Syed Waliullah'r Jibon O Shahitya (Life and Works of Syed Waliullah) is not only a biography of the great author but it also explores in great details his literary works and gives us a brief history of world literature and other issues (political, cultural, social, economic) of those days. The book is divided into six parts. In the first part readers are introduced to the biographical aspects of Waliullah's life. The author makes the very important point at the beginning that Waliullah came from an upper middle class, well educated family of East Bengal and grew up in a secular ambience at home which set the tone for his outlook on life. His father was ADC of Mymensingh and his mother hailed from a well-known family of Chittagong (Waliullah was born in Chittagong).
Many relatives from his mother's side were litterateurs and thus we come to know that Waliullah's literary talents were hereditary. We also get a sketch of his school and college life. He was editor of the house magazine of Feni school in 1936(p.34) and his first story was published in 1939 in the annual publication of Dhaka Intermediate College (p.37). Waliullah was also involved in journalism as he joined as a sub-editor at The Statesman in 1945 (p.42) and by that time he had gained fame as a writer of short stories. After partition Waliullah joined Radio Pakistan and subsequently served in different countries --- India, Australia, Indonesia, France. The book tells us about Waliullah's passion for art, proof of which was that the illustrations of most of his books were drawn by himself (pp.61-64). The author quotes in detail from the diary of Shawkat Osman, which gives readers a glimpse into the deep rapport the two writers of this region had between them. We get to know about Anne Marie, his French wife, who translated his famous novel Lalshalu (Tree Without Roots) in French (p. 75), we know about Waliullah's leftist political views (p.94); we are also informed about his deep interest in travelling across countries and his meetings with Che Guevara, Fidel Castro and Martin Luther King, about his visits to the memorials of Bernard Shaw, Yeats (p.80), his deep exploration of Spain, his inspiration from Miguel Unamuno (p.87), his idea of a "Bangla typewriter".
The conspiracy by the Pakistan government to remove him from his UNESCO job symbolised the discrimination towards Bengalis. Waliullah's contributions during 1971 are also highlighted by Maksud when he writes, "Waliullah actively participated in Bangladesh's Liberation War from Paris" (p.98) but unfortunately he passed away in October during the war.
For me, the highlight of this book was the way Maksud interpreted Waliullah's famous novel Lalshalu. He writes, "Majeed symbolises the ruler, oppressor, traitor, reactionary forces of Bangali Muslim society. He represents those who use religion to establish their supremacy in society." (p.230). Maksud touches upon the crucial point that Waliullah made in this novel which portrayed a picture of how a backward Bengali Muslim society was dominated by these mischievous religion mask wearers. However, Maksud later writes about Waliullah's play Bahipir --- " (The) Muslim League was defeated in 1954. Old values were being replaced by new values. Hence we see that despite his evil mechanisms the "Pir" loses and young Hashem wins." (p.351). A tide of change had come into Bengali Muslim society. Maksud also mentions that Kado Nadi Kado is the first Bengali novel written following the "stream of consciousness" method (James Joyce and Virginia Woolf initiated this genre). The author's interpretation of Waliullah's novel Chander Amaboshya and play Torongo Bhongo are also excellent. He aptly highlights Waliullah's unique style of writing. Maksud also talks about the communal nature of famous Muslim and Hindu writers of Bengal: they only highlighted people from their own communities in their fiction.
This book contains much that is unknown about Waliullah. It touches in great detail on his literary works and, in brief, of other authors like Manik, Bibhuti, Shomen and many other writers of Bengal. Hence this biography cum research work will be very useful for academicians, students and researchers of Bengali literature. Syed Abul Maksud deserves praise for this comprehensive book which reflects his dedication and tireless effort in collecting all these data in the manner of a researcher. While there are some minor inconsistencies regarding some dates, this book by and large is delightful reading material. Syed Waliullah's life and works deserve to be read and discussed in greater detail. We have not paid him due homage as a nation.
Wasif Wahed studies economics at North South University.