Kenya keen to lease out lands to Bangladesh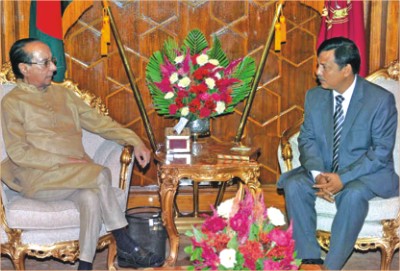 President Zillur Rahman asked the newly appointed Bangladesh Ambassador to Kenya to explore the potential sectors for increasing agricultural, trade and commercial activities in the African countries.
The president made the call when newly appointed Bangladesh Ambassador to Kenya Wahidur Rahman called on President Zillur Rahman at Bangabhaban yesterday.
During the meeting, the president said Bangladesh needs to extend its agricultural activities in the potential areas of African countries to produce crops, including rice and cottons to ensure the country's food security, create employment and help development.
Ambassador Wahidur Rahman who will also work in Tanzania and Uganda as Bangladesh Envoy, apprised the president that Kenya is keen to lease out its vast arable lands to Bangladesh for cultivation at the rate of 19 cents per Bigha.
Uganda has also agreed to allow Bangladesh to produce rice and cotton in its lands with condition of providing 80 percent of production to Bangladesh and the rest for Uganda, he said.
President Zillur Rahman gave him a patient hearing and also assured him of all-out support and cooperation to discharge his responsibilities in the African countries.
Zillur Rahman mentioned that Kenya has already been taking medicines from Bangladesh and it is necessary to explore more markets for pharmaceuticals in other African countries.
Secretaries to the President's Office were also present.