Meherjaan
Love in a time of war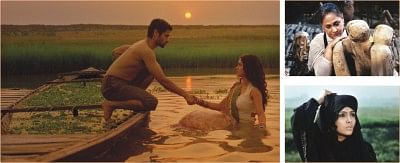 Chances are you've already seen the trailer for "Mehejaan" on TV. Snaps of internationally celebrated actors Jaya Bachchan and Victor Banerjee alongside familiar Bangladeshi faces Humayun Faridee and Azad Abul Kalam as well as up and coming actors might have piqued your interest.
"Meherjaan", a 35mm full-length feature film [duration: 120 minutes] produced by Era Motion Pictures Ltd, will have its commercial release on January 21.
The winning and losing sides invariably have their individual take on a war, but one thing both stories will have in common: the perspective and protagonists/antagonists are always male. Women usually appear as sacrificing characters. They are often treated as part of the silent landscape -- objectified, abused and raped. The purpose of "Meherjaan" is to break free of the typical male narrative and open up a conversation to explore other perspectives on the Liberation War, says filmmaker Rubaiyat Hossain. "Meherjaan" is Rubaiyat's debut feature film.
The film follows Meher, who falls for a soldier from the enemy side during the Liberation War. When her love is discovered, she is shamed and silenced by her family and society. Thirty-eight years after the war, Meher is approached by a visitor. Sarah -- a 'war child', Meher's cousin Neela's daughter, who was given away for adoption, is trying to put together her past. Together, these women re-tell history through their narratives.
What inspired Rubaiyat to make the film?
Rubaiyat: "I did my Masters in South Asian Studies at University of Pennsylvania and the topic of my thesis was 'rape of women,' particularly the Birangonas of 1971. I primarily looked at the nationalist representation and marginalisation of female narratives of the war. As I learnt more about the Birangonas, I became deeply involved with the issue. I felt as a Bangladeshi woman, who has been given a chance to raise her voice, I needed to work more on bringing out women's experiences in 1971, the inception point of this nation. I attended a training session in 2002 on film direction and made a few short films that participated at national and international festivals. However, when I was contemplating my first feature film, I immediately decided on a story that would examine 1971 not only through women's eyes, but would also be a feminine narrative of love and spirituality. Even though I wanted to highlight the Birangonas, the violence of rape, and the indifference towards female experiences of war, I strongly felt that the film had to end on a positive note. I wanted my film to heal the wounds of 1971."
"Meherjaan" features a cast of Bangladeshi, Indian and Pakistani actors. How did the casting process work?
Rubaiyat: "I had cast Aly Zaker in the role of Nanajaan (Meher and Neela's grandfather). He was busy at the time and couldn't commit. So I decided to work with Victor Banerjee. He has worked with legendary directors like Satyajit Ray, James Ivory and Roman Polanski. He is one of my all-time favourite actors. His performances in Ray's 'Ghare Baire', and 'A Passage to India' are remarkable.
"Same with Jaya Bachchan. I had initially thought of Champa but she was in Canada at the time. I wanted a woman with an unmistakable Bengali look and a certain vulnerability, but a great deal of inner strength. As we had an Indian crew from the beginning (including the sound designer and music director), and the entire post production was going to be done in Mumbai, it was rational to consider Indian actors when I couldn't sign the Bangladeshi actors of my choice. I approached both Jaya Bachchan and Victor Banerjee with a lot of paperwork, script, background, notes, character sketch, costume design and other details. I guess this is one of the reasons they initially agreed to work with a debut director."
Is "Meherjaan" a mainstream/commercial film?
Rubaiyat: "'Meherjaan' has been shot with equipment from Bangladesh Film Development Corporation. We received great support from them. 'Meherjaan' is a film for everyone. It's a combined effort to encourage audiences to go to movie theatres and new filmmakers."
Does she think portrayal of historic events on screen differ from generation to generation?
Rubaiyat: "It can. I guess I look at 1971 more analytically, but when my parents talk about the war, I don't think they can detach themselves and attempt to look at it analytically, as they had lived the war. Their wounds still haven't healed.
"'Meherjaan' zooms in on three characters. Meher was rescued by a Baloch soldier in 1971. This soldier had denied the war. Meher's cousin Neela had been raped by Pakistani soldiers, but instead of staying in the shadows she decides to retaliate against social stigma and joins the freedom movement. Nanajaan is still shocked from the losses of the 1947 Partition, and doesn't want any bloodshed in his village."
Reetu Sattar, who played Neela in the film, says, "The film presents different realities of the war. Neela is the hardcore truth. She has lived through the brutality and decides to fight back. Meher, on the other hand, dwells in a dreamlike reality.
"Neela knows her life will never be the same. She doesn't want to kill herself. She hasn't lost her sense of dignity. She is a complex character and Rubaiyat needed someone with a solid theatre background. I auditioned and she thought I fitted the character."
About the filmmaker, Jaya Bachchan said, "Rubaiyat has cleverly worked out the script. Through her film, she is not talking to just one nation. She is actually talking to the world. It is truly an international film. And a film like this coming from Bangladesh is fantastic." [Published in November 6, 2009 issue of Star Weekend Magazine.]
The film has been shot by Samiran Datta [of "Kittonkhola" fame]. Screenplay is by Ebadur Rahman and Rubaiyat Hossain. Neil Mukherjee has done the music direction. The cast also includes Sharmili Ahmed, Khairul Alam Sabuj, Monira Mithu, Azad Abul Kalam, Shatabdi Wadud, Omar Rahim [from Pakistan] and Shayna Amin [as young Meher].