Those were the days
First person singular with Sharmili Ahmed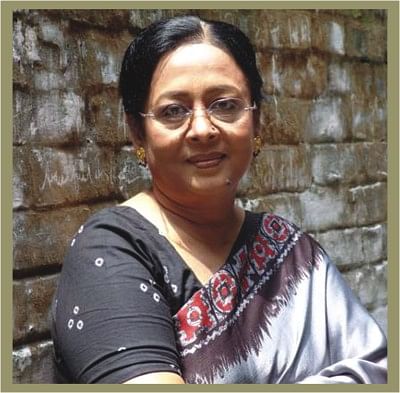 I was born on May 8, 1947, in my maternal village of Belur Chok in Murshidabad. I have a few memories of Rajshahi PN Girls High School, as it was my first school and I did my matriculation from there.
My paternal aunt held my hand when I first entered a classroom, while my father and uncle were waiting for me in the office. I felt no fear, as my mother had prepared me for my school days. According to her, school was a place to make friends, play and have tasty snacks. She even bought me a new dress, fed me sweets and put tasty snacks in my schoolbag on the first day of school.
I was very restless when I was little, with more male friends than female ones. Playing hadudu, danguli and marbles with the guys and stealing flowers with girls from the colony where we lived, were my favourite pastimes. Guavas were also on our list of things to steal. With the stolen flowers, we all would make garlands and put them on the classroom table. Seeing our efforts, our teacher always had a smile.
I was not an expert flower thief, as I was caught several times trying to steal roses and guavas. People always told of me to my mother, who would always say that no matter how small or large the prize was, stealing would remain stealing. While she was busy forbidding me to steal, I was busy forgetting her advice and preparing for my next adventure.
Hadudu and Chhi Buri were the most popular sports which we played in the school grounds. But the teachers would always tell us to stop disturbing the ongoing classes. So instead we would come indoors to start a new round of carom.
I was a movie fanatic when I was young. Watching films with friends at the Kolpona cinema hall, now named Utshob, was our favourite pastime. We watched Pakistani movies and never missed the chance to watch a movie starring Uttam-Suchitra. My family forbade me to do all these, as I was only a student of class nine, but to their dismay I would always drop my books at house just after school break, and run to the Kolpona hall. My grandma would joke about it and tell me to become a guard at the movie hall so that I could both earn a living and enjoy movies at the same time.
The biggest crisis of my childhood was during exams. The list of things-not-to-do during the exam season included watching films, reading storybooks, listening to radio plays. But no restriction could stop me from turning down the volume to secretly listen to plays by Kolkata Radio.
Growing up in a joint family meant fun all around, with no scope for loneliness to creep in. Our uncles would buy us candies as we kids jumped all around the house.
I will never forget my visits to my maternal village in Murshidabad, where I used to go once every summer for two months. All my siblings would join my mother in the long journey, and the wait for summer to arrive would always seem like eternity. We had to take a train from Rajshahi to Bahrampur, and then a car would take us all the way to Murshidabad. All my uncles and aunts would join us there, as the entire place turned into a large festival. All my cousins would run around the garden, collecting mangoes and playing games. Pithas were also made, which we ate all night. That joy was incomparable.
When we left Murshidabad, all our relatives would come forward to say parting words. They told us never to look back; but we always did and saw all of them crying, and broke into tears ourselves. I really wish to go back to those magical days.