Uro-CJFB Performance Award 2009 announced
Asaduzzaman Noor receives lifetime achievement award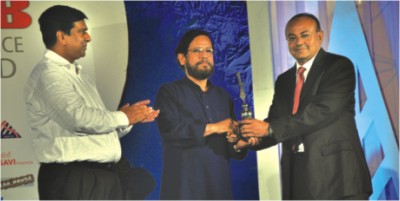 Amidst razzle-dazzle the 11th Uro-CJFB (Cultural Journalists' Forum of Bangladesh) Performance Award-2009 was held at Hall of Fame, Bangabandhu International Conference Centre on July 31.
Minister for Law and Parliamentary Affairs Barrister Shafiq Ahmed was the chief guest and State Minister for Cultural Affairs Advocate Promode Mankin was the special guest at the event, according to a press release. Chairman of Globe Soft Drinks Limited, Harunur Rashid; Chairman of Ekushey Television Abdus Salam; President and General Secretary of CJFB Enam Sarkar and MS Rana spoke at the programme.
Media personality Asaduzzaman Noor, MP, received a lifetime achievement award while a special honour was accorded to director (news) of Channel i, Shykh Siraj, for his contribution to coverage of agriculture in the news media.
Highlights of the cultural programme were live performances by James, Baby Naznin, Habib Wahid, Hasan Masud, Farah Ruma, Tishma, Prova, Hillol, Badhon, Balam, Bindu, Shajol, Mila, Mim, Shahed and others.
Mahfuz Ahmed, Joya Ahsan, Shokal Ahmed and Shokh received awards for best actor, actress, director and model respectively in the television category. "Lolita" was announced the best TV serial and "Tarpor O Angurlata Nando Ke Bhalobashey," the best single-episode TV play.
Habib Wahid and Baby Naznin shared the best singer award for the year. Mila bagged the best pop singer award. Balam received the best music director award. Nirjhor, Joy and Arfin Rumi were honoured as emerging singers.
Shakib Khan and Opu Biswas received top awards for acting in film category. The film "Amar Praner Priya" was awarded as the best film for the year, while Giasuddin Selim received the best director award for the film "Monpura."
ETV was the media partner of the event.