The water crisis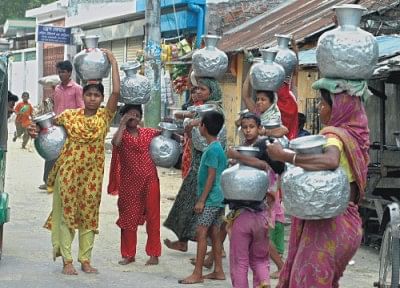 ACUTE water crisis, compounded by pollution, is causing indisputable harm in most poor countries of Asia and Africa. Worldwide, two billion people still have no access to clean water, and water contaminated by sewage is estimated to kill 3.4 million, including two million children, every year.
Now it is a great irony that our planet, which has 70 percent of its surface covered with water, is facing an acute water crisis. It is alleged that the next world conflict could be for water. 97.5 percent of the water on the earth is ocean water, which is salty. 1.725 percent is in the form of glaciers, snow and permafrost, 0.075 percent is ground water, and 0.025 percent is in the lakes, swamps and rivers.
Though it is claimed that 16 percent of the world's safe water is in Bangladesh, we are also suffering from serious crisis of pure drinking water. In summer, most of the major cities suffer from water crisis. Rivers around major cities have become polluted, and the water is unsuitable for drinking even after treatment in traditional plants.
During a heat wave, there is an a outbreak of diarrhea. These regular outbreaks mainly affect children and are caused by eating rotten food and drinking polluted water; they escalate in summer when drinking water is in short supply, forcing people to use contaminated sources.
In the case of ground-water resource, the presence of arsenic in ground-water is affecting the people of rural areas who are largely dependent on this source of water for drinking, agriculture and livestock. Again the contaminated water and the increased salinity is affecting human health and living massively.
According to the World Health Organization, arsenic-contaminated water directly affects the health of 35 million people in Bangladesh. Similarly, water crisis in Dhaka has worsened due to frequent load shedding and fall in groundwater level. The city of Dhaka experiences acute shortage of water all the year round. The city dwellers have taken it as part of their life.
As the demand for water increases, the share of water per person will decrease, and gradually result in greater demand for water. The internal dimension of water scarcity addresses contaminated ground and surface water. The huge populations makes the water crisis more complex.
Similarly, burning, deforestation, overgrazing, agricultural practices, chemical disturbance, air pollution, over-pumping of groundwater, urbanisation and industrialisation are responsible for the shortage of pure drinking water. Surface water is also polluted by the waste from industry, agriculture and human activities. About 2 million tons of wastes are dumped everyday into rivers, lakes and streams. Water is the key element of life, and when it is polluted with slow poison then it becomes dangerous.
About two-thirds of the cultivable land in Bangladesh is prone to flood damage every year. Climate change has an impact on the natural, social, and economic systems of the country. A Unesco report indicates that by the middle of this century (2050), almost 2 million children will die each year for want of a glass of clean water and adequate sanitation.
Contamination of surface water bodies and groundwater aquifers by agricultural pollutants, industrial discharge and domestic pollution endangers both the natural ecosystem integrity and public health. The number of people at risk of arsenic pollution is estimated to be 90 million in a population of 150 million people.
Today, one person in five across the world has no access to safe drinking water, and one in two to safe sanitation, more than 30,000 children die before reaching their fifth birthday, either through hunger or due to easily preventable diseases. 1.8 million people die every year from diarrhea.
3,900 children die every day from water borne diseases. 90 percent of all deaths caused by diarrhea are of children under 5 years of age. Each year, more than five million people die from water-related disease in the world. Due to acute water crisis diarrhea becomes unpreventable in Bangladesh in summer.
So Bangladesh should take immediate steps to overcome the existing situation that threatens her existence. National awareness, and national and international cooperation are essential to help the country and its people build the necessary capacity and resilience.
Conserving ground water, preserving the environment to retain the natural cycle, maintaining ground water level, preventing arsenic poisoning, dredging rivers, creating embankments are necessary. Proper urbanisation and sewerage dumping also have to be ensured. So we have to tackle these issues through political will and understanding based on flexibility and harmonious water sharing, and active efforts to keep the eco-balance.
M. Faisal Akber is a graduate student at the University of Dhaka.