Nationwide Campaign for Measles
Protect all children from measles through vaccination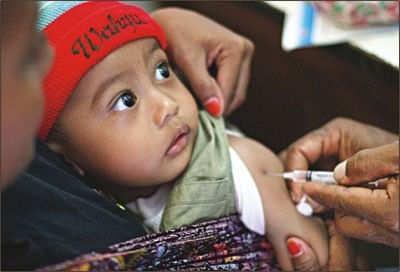 Although there is safe and effective vaccine available to protect against measles, the disease still remains the fifth leading cause of death among the children under five years of age in Bangladesh. Millions of children mostly from the urban poor, street children, and rural hard to reach areas are not yet vaccinated against measles — a highly infectious viral disease. Unicef estimates about 25-33 per cent of young Bangladeshi children at risk. Ministry of Health and Family Welfare and Unicef have given the utmost importance on it and launched a two week nationwide measles campaign in order to eradicate the disease from the country.
The campaign scheduled from February 14-28, aimed at bringing 20 million children under vaccination against measles. This is the second largest initiative in Bangladesh after 2005-2006 campaign when about 35 million children were immunised throughout the country. During the campaign period, children aged 9 months to less than 5 years will be immunised with free measles vaccine. Children who received the vaccine before or those who suffered from measles will also need to be immunised with a second dose which is recommended to ensure that the child is fully immunised.
The number of measles outbreak declined significantly in Bangladesh after the first major campaign. After the campaign, no measles outbreak was reported except in 2008 and 2009. Although incidence of measles is declining, Bangladesh along with other countries of South-East Asia are still far away from reaching the target of reducing measles-death 90 per cent by 2010. According to WHO, still about 20000 children die annually from measles in Bangladesh. Health experts underscored the importance of of large-scale vaccination campaigns along with irregular campaign for a better progress.
Although measles deaths have dropped significantly, global immunisation experts warn of resurgence in measles deaths if vaccination efforts are not sustained. Measles is incredibly resilient and has a tremendous power of rapid comeback. In the USA, 55000 measles cases and more than 130 deaths occurred in between 1989 and 1991, a period when it came back virulently after successfully reducing of measles death.
Experts recommended that countries must continue follow-up vaccination campaigns every two to four years until their healthcare systems can provide two doses of measles vaccination to all children and provide treatment for the disease to eliminate the risk of resurgence.
Measles is a highly contagious viral disease affects mostly the children. It spreads through droplets from the nose, mouth or throat of infected cases. Initial symptoms, which usually appear 812 days after infection, include high fever, runny nose, bloodshot eyes and tiny white spots (called Koplik's spot) inside of the mouth. Several days later, rash develops, starting on the face and upper neck gradually spreading downwards.
There is no specific treatment for measles and most people recover within 23 weeks. However, 1-5 per cent of children die of the complications of disease. Particularly in malnourished children and people with reduced immunity, measles can cause serious complications, including blindness, encephalitis (a dangerous infection of the brain causing inflammation), severe diarrhoea, ear infection and pneumonia.
All people should join the campaign to prevent unnecessary deaths and complications from measles. We have to make sure that all children receive the vaccine to reach the target of reducing death from measles, to achieve the Millennium Development Goal (MDG) 4 and allow children to enjoy their right to survive in a healthy condition.