Consolidating Bangladesh-Turkey relations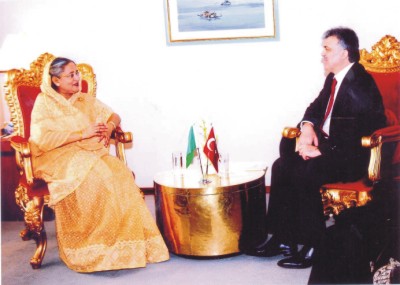 There has been a breath of fresh air in Dhaka. The two-day visit of President Abdullah Gul to Bangladesh, the first by a Turkish president in 13 years, was a welcome diversion in our foreign relations arena. It reiterated that constructive engagement in bilateral relations was required to consolidate bonds of friendship and to open avenues of opportunity between two countries.
Part of the president's visit to South Asia, it underscored the special historical affection that both countries and their peoples have for each other. It was also a return visit after our President Zillur Rahman's visit to Turkey in November last year.
What was important was the Turkish president's broad ranging discussions with our important economic stakeholders and our strategic planners. This was facilitated by the large economic delegation that accompanied the president, and also the presence of several Turkish members of parliament.
As expected, there was review of international issues that impact the interests of both countries. However, what was significant was the emphasis on finding least common denominators so that there could be a higher Turkish business profile in Bangladesh. In this context it was pointed out that our policy planners need not only to ensure people's fundamental rights within the restored democratic environment but also to focus on macro-economic development to raise the country's standard of living.
The president appreciated the current political stability existing within Bangladesh (probably an oblique reference to the opposition returning to the Parliament) and stressed that such a scenario could help Bangladesh to achieve economic growth of over 8 percent and move into the middle-income status sooner than later.
It was interesting to see the Turkish side use the visit to draw the attention of Bangladeshi entrepreneurs to the sustained growth that had taken place in the past ten years within Turkey. It was pointed out that Turkey has become the sixth largest economy in Europe and 16th in the world. It was claimed that this had been made possible because Turkey's economy was principally driven by the private sector. It was also suggested that the state had gained by privatising many loss making state-run institutions. For obvious reasons, such a paradigm was seen as consistent with our own vision.
It was a visit where both sides examined each other's economic potential carefully. The presence of Finance Minister A.M.A. Muhith, FBCCI President Anisul Huq and President of Chamber of Commodity Exchange of Turkey (TOBB) and Foreign Economic Relations Board (DEIK) M. Rifat Hisarcikloglu added value to the discussion.
Consequently, it was not surprising that there was extensive exchange of ideas about legal and financial infrastructure issues that could either impede or facilitate investment and partnership. It would be worthwhile to note here that the volume of two-way trade was $658 million in 2009. Turkish export to Bangladesh was $134 million while Bangladesh's exports to Turkey totalled $523 million. Turkey hopes to push up the trade figure to $1 billion this year. Bangladesh is hoping that Turkey will assist this process by importing more pharmaceutical, jute, leather and garment products from Bangladesh at competitive prices.
This latter area of interest was particularly significant because businessmen from both countries felt that there was scope for investment not only in each other's countries but also jointly in third countries. This would be particularly applicable with regard to eventual export into Europe where Bangladesh enjoys duty free and quota free status under the EBA Agreement.
It is understood that Bangladesh has sought Turkish investment in sectors like shipbuilding and textile and also in capacity building in the tourism and hospitality sectors. Bangladesh, in particular, has also desired possible Turkish involvement and assistance in the areas of river dredging, energy, shipbuilding, information technology and agro-based industries.
It is true that both countries face many challenges but there is no reason why more intensive economic and trade cooperation cannot be forged through the sharing and harnessing of potential and each other's experiences and expertise. One hopes that the start of direct flights of the Turkish Airlines from Turkey to Bangladesh will encourage the businessmen of both countries to exploit latent potential.
On the political side, the leadership of both countries discussed important international issues such as combating terrorism, energy security, climate change and meaningfully addressing the after-effects of the international financial crisis. Both sides agreed that terrorism was a global scourge that affected every part of the world. It was consequently felt that a collective response was required to engage with terrorism at the regional and international levels. It was also accepted that terrorism could not be defeated by military means alone and that there was need to develop social, political and economic policies to eliminate the conditions that help breed terrorism. There was also general consensus that the international community needs to avoid associating any religion or culture with terrorism. It was felt that the better option would be to pursue greater connectivity and understanding among different cultures.
Turkey also explained the status and progress achieved pertaining to their accession negotiations with the EU and the comprehensive and demanding reform process undertaken in this context. One can only hope that some among the EU leadership will be able to overcome their hesitation and welcome Turkey into their fold. It will certainly improve the composition of Europe and help to establish greater diversity and multi-culturalism within that community.
Turkey, as President Gul has stated in his interview published in The Daily Star (on February 12), believes in establishing peace and stability in its "broad neighbourhood." They also consider high-level political dialogue, based on mutual respect, to be the right means for facilitating geo-strategic integration. This is consistent with the objectives of our present government. It should help us to work together both within the OIC and also within the United Nations.
One hopes that this visit of the Turkish president will be followed by exchange of visits at the level of heads of government between the two countries. This will accelerate and strengthen potential areas of engagement.
Muhammad Zamir is a former Secretary and Ambassador.
E-mail: mzamir@dhaka.net.