Rampage at RU
Shibir kills BCL man, cuts tendons of 4 others; 100 more injured in clash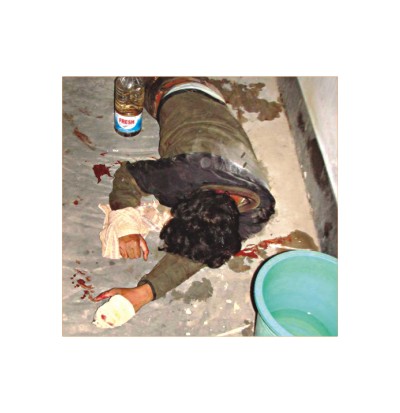 A final-year student and activist of Bangladesh Chhatra League was hacked to death by cadres of Islami Chhatra Shibir at Rajshahi University early yesterday.
Around 100 others were wounded in overnight clashes between BCL and Shibir activists.
Motihar police recovered the body of Faruk Hossain, a BCL activist and student of mathematics, from inside a manhole yesterday morning.
Police say Faruk was hacked in the television room of Shah Mokhdum Hall around 2:00am and dumped into the manhole.
The injured were admitted to Rajshahi Medical College Hospital and RU Medical Centre. Condition of 17 of them is stated to be critical.
Shibir men had cut tendons of at least four BCL activists, said leaders of Chhatra League, associated student body of the ruling Awami League.
Police arrested 16 cadres of Shibir, associated student organisation of Jamaat-e-Islami, on charge of killing Faruk.
The RU syndicate at an emergency meeting last night suspended all classes till tomorrow and examinations till February 17.
A five-member committee headed by Prof Golam Kabir, dean of Life and Earth Science Faculty, has been formed to probe the violence and submit a report as soon as possible.
Students said the clashes erupted when BCL activist Asaduzzaman tried to enter his room at Shibir-dominated Bangabandhu Hall. Khalid, secretary of hall unit Shibir, barred Asad from entering his room around 8:00pm Monday and allegedly beat up him and another BCL activist Muhammad Kawser.
On information, police raided Bangabandhu and Latif halls and arrested 13 Shibir activists.
As the law enforcers left the dormitories, BCL activists attacked a Shibir worker at the TV room of Shah Mokhdum Hall. Shibir men equipped with firearms and sharp weapons reiterated, triggering a gunfight on the campus.
Police fired about 500 blank shots, rubber bullets and teargas shells to bring the situation under control.
Armed Shibir cadres sporadically clashed and exchanged gunshots with the police turning the campus into a battlefield. They also torched two rooms and damaged 30 others at the Suhrawardi Hall.
Faruk, son of Fazlur Rahman, hailed from Khoddorsagna village in Joypurhat sadar and was a resident student of Shah Mokhdum Hall. His body was sent to his village home after namaj-e-janaza at the university central mosque.
Among the injured, 19 BCL workers were admitted to Rajshahi Medical College Hospital. Of them, condition of Shafiur Rahman Badsha, Ruhul Amin, Feroz Mahmud and Shahidul Islam Johnny is stated to be critical as their tendons of hands and legs were severed.
SM HALL ATTACK
Over 30 Shibir cadres equipped with Chinese axes, hammers, rods, machetes and dagger entered the hall led by Ahad, hall unit Shibir general secretary, and Anis, former hall president, around 1:40am, said Shafiullah at RMCH.
"They first knocked Tawfik down. Anis caught me near the staircase and hit my back with a Chinese axe. I ran toward the main gate where several Shibir cadres started hitting me indiscriminately. At this stage, I ran towards the policemen at the gate who kicked me and went aside," Shafiullah added.
AUTHORITIES' VERSIONS
RU Proctor Chowdhury Muhammad Zakaria blamed on duty police for not playing proper role to maintain law and order. The hall provost Dulal Chandra Roy gave a similar statement.
Asked about the students' requests for taking them outside the campus, the proctor said, "Violence erupted everywhere on the campus, how could we take them outside?"
RU Vice-chancellor Prof Abdus Subhan was not available for comment.
Nawsher Ali, commissioner of Rajshahi Metropolitan Police, told The Daily Star the police were helpless in the face of Shibir cadres' "planned and organised" attacks.
He claims 20 policemen were hurt in the clashes and the police fired 400 teargas shells and gunshots to quell the situation.
PROTESTS
Angry BCL workers in Charghat upazila torched and damaged the upazila office of Jamaat-e-Islami around 12noon yesterday.
The BCL in a protest procession marched the main city thoroughfares and called for a rally in the afternoon today.
Rajshahi Mayor AHM Khairuzzaman Liton attended the namaj-e-janaza of Faruk in Shaheb Bazar. Addressing the gathering, he said, the murder was "politically planned by Jamaat" and would be answered politically.
RU unit BCL president Awal Kabir Joy said the attack was planned to avenge the killing of RU Shibir general secretary Sharifuzzaman Nomani early last year. "Nomani was killed accidentally during clashes, but they murdered Faruk in a planned way."
Home Minister Sahara Khatun ordered the police to arrest the killers of Faruk within 24 hours, reports UNB.
Talking to reporters at Civil Aviation High School ground in Kaola in the capital, Sahara said the police are instructed to arrest those responsible for the violence irrespective of their political identities.
ARRESTS
The police held 16 suspected Shibir cadres from different Chapainawabganj-bound buses in Godagari upazila between 2:00pm and 5:00pm.
Officer-in-Charge of Godagari police Zakirul Islam said the arrestees are mostly students of RU and Rajshahi College.
JAMAAT STATEMENT
Rajshahi city Jamaat Amir Ataur Rahman denied involvement of Shibir in the murder. "The incident occurred at night; who saw Shibir men committing the murder? It may be the result of Chhatra League's internal feud."
Meanwhile, in Pabna, two private hostels in Edward College area were torched around 9:30pm. Local Shibir leaders blamed Chhatra League for the arson.
BACKLASH AGAINST SHIBIR AT BUET
Our DU correspondent reports: In a backlash against the killing at RU, Chhatra League activists last night vandalised several rooms of Shibir men at four dormitories of Bangladesh University of Engineering and Technology (Buet).
The ransacking was going on till filing of this report at 1:15am.
No one however was reported hurt as Shibir activists had already left the halls for fear of reprisals.
Meanwhile, Juba League Chairman and State Minister for LGRD Jahangir Kabir Nanak and AL Organising Secretary BM Mozammel Haque last night sat with BCL leaders to discuss the recent spate of violence in different educational institutions.