Businesses to stay shut alternately
Govt to enforce holidays immediately in 7 city zones to ease traffic jam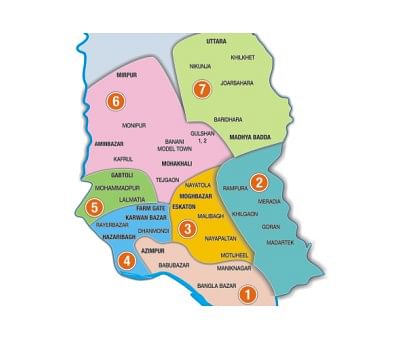 In another move to ease traffic congestion in Dhaka, the government yesterday divided the capital into seven zones and fixed separate weekly holidays for shops, shopping arcades and other commercial establishments.
The decision, made at a regular cabinet meeting with Prime Minister Sheikh Hasina in the chair, will be in force immediately.
Earlier, the government set fresh timings for the city's schools and private offices in an attempt to reduce congestion.
After the meeting at the Cabinet Division of the Secretariat, Prime Minister's Press Secretary Abul Kalam Azad told reporters that the government had taken up various initiatives to ease congestion in the city. "Dividing the city into zones is part of that," he added.
ZONE-1
Shops, markets and commercial establishments of this zone will remain closed for the entire day on Friday and half a day on Saturday.
The zone covers Banglabazar, Patuatuli, Farashganj, Shyambazar, Jurain, Postagola, Shyampur, Dholaipar, Gendaria, Doyaganj, Dholaikhal, Mir Hazirbagh, Tipu Sultan Road, Dhupkhola, Wari, Ahsan Manjil, Lalbagh, Kotwali, Bangshal, Nawabpur, Chankharpul, southern part of Gulistan, Joy Kali Temple area and south-western side of Jatrabari.
It means the book markets in Banglabazar, the timber markets in Farashganj, the wholesale market for raw-material in Shyambazar, Buriganga Shetu Market, Alam Super Market, Samad Super Market, Rahmania Super Market, Idris Super Market, Doyaganj Bazar, Dhupkhola Math Bazar, Chokbazar, Babu Bazar, Naya Bazar, Kaptan Bazar, Thathari Bazar, Rajdhani Super Market, Doyaganj City Corporation Market, the cloth stores in Islampur, Patuatuli Electronic and Optical markets, Chhoto Katra and Baro Katra wholesale markets, Sharif Mansion, the electronics and machinery markets in Tanti Bazar and Nawabpur Road, sanitary product shops on North South Road, Azimpur Super Market, Gulistan Hawkers' Market (South), Phulbaria Market and Sundarban Square Market will remain closed on Friday and remain open for half a day on Saturday.
ZONE-2
Sunday has been fixed a full-day holiday while Monday a half-day for the zone, which includes Rampura, Banasree, Khilgaon, Goran, a portion of Malibagh, Bashabo, Madartek, Mugda, Manda, Sabujbagh, east side of Kamalapur, Maniknagar, Dhalpur, Saidabad, a part of Jatrabari, Demra, Shanir Akhra, Rayerbagh, Shanarpar and Dania.
Mollah Tower, Al-Amin Super Market, Rampura Super Market, Malibagh Super Market, Taltola City Corporation Market, Kamalapur Stadium Market, Goran Bazar, Meradia Bazar, Abedin Tower, Dhaka Shopping Centre, Ayesha-Mosharraf Shopping Complex, Dania Tejarat Super Market and Mitali and Friends Super Market are in this zone.
ZONE-3
Eskaton, Moghbazar, Baily Road, Siddheswari, Malibagh, Shahjahanpur, Shaheedbagh, Shantibagh, Shantinagar, Fakirerpul, Paltan, Motijheel, Tikatuli, Gopibagh, Arambagh, Dilkusha, Segunbagicha, Kakrail, Bijoynagar, Topkhana Road, Press Club, High Court Mazar, north side of Gulistan, Ramna Park, Suhrawardy Udyan, Shishu Park, Dhaka University and Eden College area are in this zone.
Century Arcade, Mouchak Market, Anarkoli Market, Bishal Centre, Ayesha Shopping Complex, Karnaphuli Garden City, Concord Twin Towers, Eastern Plus, Polwel Super Market, City Heart, Jonaki Super Market, Gazi Bhaban, Paltan Super Market, Stadium Market-1 and -2, Gulistan Complex, Ramna Bhaban, Khaddar Market, Pir Yemeni Market, Baitul Mukarram Market, Aziz Cooperative Market and Sakura Market are in zone-3. These will remain closed on Thursday followed by a half-day holiday on Friday.
ZONE-4
Shops, shopping arcades and other commercial establishments in this zone will remain closed on Tuesday and have a half-day holiday on Wednesday.
This zone comprises Karwan Bazar, Kathalbagan, Hatirpul, Manik Mia Avenue, Rajabazar, Indira Road, Monipuripara, Tejturibazar, Tejkunipara, Farm Gate, a section of Tejgaon, Nilkhet, Kataban, Elephant Road, Kalabagan, Sukrabad, Sobhanbagh, New Elephant Road, Dhanmondi, Hazaribagh, Jigatala, Pilkhana, Rayerbazar and a part of Lalmatia.
Prominent markets in this zone are: Hatirpul Bazar, Motalib Plaza, Eastern Plaza, Bashundhara City Shopping Mall, Green Super Market, Farm View Super Market, Saudia Super Market, Sezan Point, Lion Shopping Centre, New Market, Chandrima Market, New Super Market, Gausia Market, Chandi Chawk Market, Noor Mansion, Bakusha Market, Islami Market, Dhanmondi Hawkers' Market, Eastern Mollika, Globe Shopping, Badruddoza Market, Noorjahan Market, Priyangon Shopping, Gaosul Azam Market, markets on Elephant Road, Rifles Square, ARA Shopping Centre, Orchard Point, Capital Market, Dhanmondi Plaza, Momtaz Plaza, Metro Shopping Mall, Prince Plaza, Rapa Plaza, Orchid Plaza, Anam Rangs Plaza and Karwan Bazar DIT Market and Kitchen Market.
ZONE-5
The full-day holiday for this zone is Thursday while half-day holiday Friday. The zone includes Mohammadpur, Adabor, Shyamoli, Gabtoli, Mirpur-1 and 2, Mirpur Mazar and stadium area, Dhaka Zoo area, Technical, Kalyanpur, Asadgate and Lalmatia area.
Mohammadpur Town Hall Market and Krishi Market, Aarong, BRTC Market, Shyamoli Hall Market, Muktijoddha Super Market, Mazar Cooperative Market, Mukto Bangla Shopping Complex, Shah Ali Super Market, and Mirpur Stadium Market are also in this zone.
ZONE-6
Markets and businesses in this zone will remain closed on Sunday and have a half-day holiday Monday.
The areas here are Agargaon, Taltola, Sher-e-Bangla Nagar, Sheorapara, Kazipara, Pallabi, Mirpur- 10, 11, 12, 13 and 14, Ibrahimpur, Kachukhet, Kafrul, Mohakhali new and old DOHS, Kakoli, Tejgaon old airport area, Cantonment, Gulshan-1 and -2, Banani, Mohakhali commercial area, Nakhalpara, Tejgaon industrial area and Mohakhali inter-city bus terminal area.
BCS Computer City, Pallabi Shopping Complex, Mirpur Benaroshi Palli, Purabi Super Market, New Society Market, Mohammadia Society Market, DCC Market at Gulshan-1 and at Gulshan-2, Banani Super Market, Tamanna Complex and Sweden Plaza are the prominent markets in this zone.
ZONE-7
Shops, markets and other commercial establishments in this zone will enjoy full holiday Wednesday and half-day holiday on Thursday.
Madhya and Uttar Badda, Jagannathpur, Bashundhara residential area, Satarkul, Shahzadpur, Kuril, Nikunja-1 and -2, Khilkhet, Uttarkhan, Dokkhinkhan, Joar Sahara, Ashkona, the entire Uttara Model Town, Kuril to south edge of Tongi Bridge and Airport Road area are under this zone.
A half-day holiday means the markets can remain open till 2:00pm. On other days, apart from the whole day holiday, they will remain open until 8:00pm. "No shops, markets or commercial establishments will remain open after 8:00pm," the press secretary told journalists.
The cabinet expressed gratitude to the almighty that the convicted killers of Bangabandhu Sheikh Mujibur Rahman have been executed.