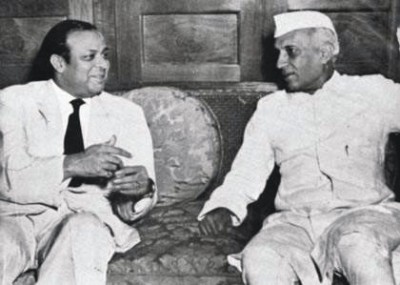 NAWABZADA Altaf Ali, eldest son of Nawab Bahadur Sir Nawab Ali Choudhury (a founder of Dhaka University, for whom the Senate Bhaban is named) was an Honorary Magistrate and Justice of the Peace, in Barisal of British India in his twenties. On October 19, 1909 his eldest son, Mohammed Ali, was born -- later known as Mohammed Ali of Bogra.
Nawabzada Altaf Ali's sons were largely raised by their paternal grandfather, the Nawab, who maintained homes in Dhanbari, Bogra, where he married. Mr. Mohammed Ali did his early schooling at Hastings House in Calcutta, went on to Calcutta madrassah, and then to Presidency College of Calcutta University.
He lived in Bogra and during his early life became the chairman of the Bogra municipality, and later chairman of the District Board. He was a member of the Waqf Board in Calcutta. He was awarded the title of Khan Bahadur by the British but later relinquished that title as a protest against The British rule.
In the first elections held in Bengal under the British Raj in 1937, he was elected to the legislature of undivided Bengal in Calcutta from the Muslim League. He was 28 years old at that time. His father stood for the same election but to the upper house of the parliament and was elected under the banner of Sher-e-Bangla A.K. Fazlul Huq's Krishak Proja Party. Sher-e-Bangla himself was in the Lower House, along with the likes of Hussain Shaheed Suhrawardy and Sir Khwaja Nazimuddin. Mr. A.K. Fazlul Huq became the Chief Minister.
In 1943, after a shift in government, Sir Nazimuddin became chief minister and Mr. Mohammed Ali became parliamentary secretary to the chief minister.
In 1945 Mr. Suhrawardy became the chief minister of Bengal, and included Mr. Mohammed Ali in his cabinet as minister of health. As minister with this portfolio he established the Dhaka Medical College in 1946 and the Lake Medical College Hospital in Calcutta. He was subsequently also made minister of finance and minister of local self-government.
In 1947, a truncated Pakistan was born, and he was elected to the Constituent Assembly of Pakistan from Bogra. In 1948, Mr. Mohammed Ali Jinnah visited Dhaka and made the now-famous speech at Curzon Hall where he insisted that Urdu was to be the state language of Pakistan. Prior to that speech, Mr. Mohammed Ali heard that such a statement was going to be made, and he advised strongly to Sir Nazimudin, who was the chief minister of East Pakistan, that he should restrain Mr. Jinnah from making this declaration. The hall, where a young Bangabandhu also roared his protest, exploded and this was the beginning of the end of the concept of East Pakistan, only a year after the nation was born.
Mr. Jinnah was not amused. Stung by the rebuke, he flared back at Mr. Mohammed Ali and ordered him to accept a diplomatic assignment. Although he was supposed to be the figurehead governor-general, there was no way but to accede.
Assigned to Egypt, Mr. Mohammed Ali instead took Burma, because he wanted to remain close to his power base and be in touch with his constituents and his estate in Bogra. He left for Burma in May 1948, and his tenure there was just one year. During that year two important things happened, Mr. Jinnah succumbed to cancer and was replaced by Sir Nazimuddin. Secondly Mr. Mohammed Ali suffered the first of his several heart attacks, at the age of 39. The new governor-general sympathetically re-assigned him to a comfortable posting, where good medical treatment was readily available, and he became the first high commissioner of Pakistan in Canada in July 1949.
On October 16, 1951, Mr. Liaquat Ali Khan, who was the prime minister of Pakistan, was assassinated as a result of a complicated conspiracy, the roots of which, while known, have never been revealed. Sir Nazimuddin stepped down from the governor-general's post and took power as the prime minister. A well-known Indian civil service officer, an economist, Mr. Ghulam Muhammad, became the Governor-General.
Supported by his cohorts in the Punjab, he decided to wield power in the manner of Mr. Jinnah, and reduce the prime minister to the sidelines. On February 21, 1952, a riot took place around Dhaka University, on the Bangla language issue, and police firing on instructions from Karachi, took the lives of a number of students who have since been enshrined in our hearts as the Language Martyrs. At the same time, Mr. Nazimuddin decided to shift Mr. Mohammed Ali to an important posting, and the latter became ambassador to the United States.
Governor-general Ghulam Mohammed wanted to increase his stranglehold on power, which he was not effectively being able to do. He hatched a plan to install a puppet prime minister to do his bidding and settled on Mr. Mohammed Ali for this job. He recalled him to Karachi, which was then the capital city of Pakistan, and literally forced him to accept although he was reluctant, as he was not known nationally, and his health condition would be compromised by such an arduous job. He was installed as prime minister in April 1953 as Mr. Nazimuddin departed the scene.
Whether a governor-general could sack a prime minister was a moot point, one that would resurface in Australia many years later, but the appointment remained and the Muslim League unanimously elected him the president of the party to put a legal stamp on the situation.
However, it was apparent that the puppet had a mind of its own. He started out immediately by trying to resolve the Kashmir issue. He met the Indian Prime Minister Jawaharlal Nehru in London while both were attending the Coronation of Queen Elizabeth II. Later in August 1953, he made a State visit to India and was grandly received.
Soon the governor-general and Mr. Ghulam Muhammad dissolved parliament and called fresh elections. The elections took place and Mr. Mohammed Ali was re-elected although the Muslim League got trounced in East Pakistan provincial elections by the Jukto Front of Sher-e-Bangla A.K. Fazlul Huq.
By August of 1955, the ailing Governor-General Ghulam Mohammad was losing his mental faculties and was soon replaced by Maj. General Iskander Mirza. The conspiracies were on in full swing, and Mr. Mohammed Ali resigned and was replaced by Chaudhuri Mohammad Ali. It was because of this similarity in names that Mr. Mohammed Ali thereafter was known as Mohammed Ali Bogra, to differentiate the two prime ministers, alluding to his ancestral origins and the Nawab patrimony.
Mohammed Ali was next offered the ambassadorship to France or Japan, and, although the Japanese economy had not yet grown to its present giant status, he realised the potential and elected to go to Tokyo, where he remained for three years. There he became a member of U.N.C.U.R.K., the United Nations Committee for the Re-unification and Rehabilitation of Korea and even chaired the committee for year.
In 1962, President Ayub Khan promulgated a new constitution and declared for elections to be held. He immediately decided to contest the elections in opposition to the Muslim League government. He returned to his ancestral home in Bogra and in a series of scathing meetings he galvanised the opposition leaders behind him although he stood as an independent. He was elected by a landslide and preceded to Islamabad. While all his friends in the opposition were rallying around him he did not confide in them the state of his health.
He was going at full swing although doctors had advised him to retire altogether. He had realised during the gruelling elections that he did not have time. He chose to accept President Ayub Khan's offer to become the foreign minister, but with two conditions. Under the 1962 constitution, any one joining the Presidential Cabinet had to surrender his seat in the Assembly. He refused to do this and the president agreed to change the constitution (he was, after all, a dictator).
Secondly, all matters pertaining to East Pakistan had to go through him and with his approval. This was agreed to as well. He accepted and became the de facto chief minister of East Pakistan and was also the leader of the house in the national assembly, as well as the minister for external affairs and commonwealth relations.
In January 1963 he collapsed with severe cardiac problems, and eventually succumbed to his chronic heart problems at the age of 53. Mohammed Ali was succeeded as foreign minister by Mr. Zulfiqar Ali Bhutto who went on to undo the good work and eventually succeeded in destroying Pakistan in 1971.
When Mohammed Ali died, his first wife, Begum Hamida Mohammed Ali chose to stand for his seat in the national assembly of Pakistan. At the time the opposition were preparing for the next elections and three of the top leaders visited Bogra and were accosted by journalists. The reporters asked, "Begum Mohammed Ali is going to stand for her husband's seat, are you going to field a candidate against her?" One of the leaders responded, "If Begum Mohammed Ali asks me to speak on her behalf at meetings, I shall do so." Such was the nature and the honour of politicians at that time. My mother was elected un-opposed to the national assembly of Pakistan.
Syed Hamde Ali is the son of Mohammed Ali Bogra.