Werner Herzog and his film language
Photography exhibition at Goethe-Institut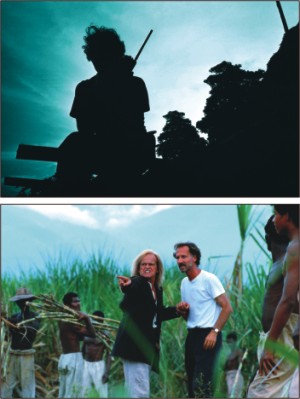 To celebrate the 60th birthday of German filmmaker Werner Herzog, Goethe-Institut Bangladesh (GIB) arranged a photography exhibition titled "Film Must be Physical" at its cultural centre. The exhibition opened on September 16. Fifty photographs are on display. Angela Grünert, director of GIB, filmmaker Morshedul Islam and photographer Imtiaz Alam Beg spoke at the inaugural.
Herzog was born on September 5, 1942 in Munich, Germany. He is one of the last representatives of the grand era of the European film industry. Herzog is often associated with the German 'New Wave' movement along with Rainer Werner Fassbinder, Margarethe von Trotta, Wim Wenders and others.
Herzog's films often feature protagonists with impossible dreams, people with unique talents in obscure fields or individuals who find themselves in conflict with nature. In most of his films, Herzog wants his leading actors to act beyond their limits. "I'm looking for a new grammar of images, images that fit our era, images never yet seen," Herzog said about his works.
Herzog has produced, written and directed over 40 films, published more than a dozen books of prose, and directed as many operas. He describes directing primarily as "athletic work." His screenplays, mostly written as prose, leave plenty of room for improvisation.
The photographs on display -- both colour and black and white -- capture one of the most influential German filmmakers at work. Among the photographs, 37 were taken by Beat Presser, a Swiss photographer. Presser was the assingned photographer for three Herzog films -- "Fitzcarraldo" (1982), "Cobra Verde" (1987) and "Invincible" (2001).
Presser has successfully captured the physical dimension of Herzog at work. The images show the director in action, running or giving instructions, becoming visible as an impassioned creator and a tireless motor on top of his game.
The remaining 13 photographs belong to the Filmmuseum Berlin.
A retrospective of Herzog films is part of the exhibition. The films "Even Dwarfs Started Small," "My Best Friend" and "Aguirre, Wrath of God" will be screened at the auditorium of GIB during the exhibition.
The exhibition will end on October 8.