Tribute
Syed Mujtaba Ali
Making us laugh to make us weep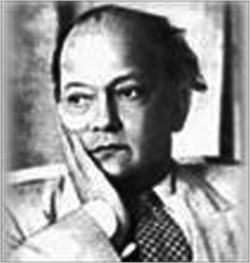 The eminent writer's 105th birth anniversary was observed on 13 September. Junaidul Haque recalls the wit and genius in him
IN the exciting, turbulent, sad and happy days of 1971, I read Chacha Kahini in my village home and instantly fell in love with Syed Mujtaba Ali's books. His erudition, brilliant wit and humour, skilful satire and wonderfully lucid prose simply bowled me over. I was a sixteen-year-old tenth grader then. In the next couple of years I read almost all his books, including his latest columns in the Calcutta weekly Desh and the Bangladeshi newspapers, like a boy possessed. I came to know a lot about him too.
Syed Mujtaba Ali was born in a respectable family of Sylhet. But why was he living and writing in Calcutta? In 1948, as the principal of Bogra Azizul Huq College, he wrote an article advocating Bangla as the state language of Pakistan. The parochial Pakistani rulers could not tolerate such audacity and compelled him to leave the country. How disgraceful! As a schoolboy, Ali had written a letter to Rabindranath Tagore, received an inspiring reply and was invited to study at Shantiniketan. He had the honour to be taught directly by Tagore. The Nobel Laureate taught him his own poems and those of Shelley and Keats. Later he earned a PhD in comparative religious studies from Bonn. His dissertation was on the Khojas. After leaving Bangladesh in 1948 he lived and worked in Calcutta. He was a brilliant talker in the typical Bengali adda, a raconteur. He kept his listeners spell-bound. People understood that he read a lot, was a great scholar who knew many languages but did not write. When Ali was in his mid-forties, the Desh editor forced him to write Deshe Bideshe and it instantly made him famous. Till his death he was one of our most popular writers.
Bangla literature has perhaps not seen better travel literature written after Deshe Bideshe. I read the book in 1972, again like a boy possessed. After the liberation of Bangladesh, he wrote for the Bangladeshi papers and came to live in Dhaka with his wife, a senior civil servant, and his two sons. He fell ill in late 1973 or early 1974. The great admirer that I was, I went to his elder brother's residence in Dhanmandi, collected his address and went to meet him, albeit a little nervously. It was in Dhanmandi Road No. One, on the way to my Dhaka College. Mrs. Rabeya Ali was very nice to me and treated me with sweets. The writer was a connoisseur of food and I saw excellent butter packets on a table in the verandah. He was bed-ridden and couldn't come to meet me. He gave me a smiling, affectionate look from his bed and autographed the book of his that I carried with me. He even drew a flower for me. Perhaps my young and excited face touched his heart. I went to my college like a victorious warrior. Alas! A few years later a lady relative borrowed the book and lost it. She didn't realise how much sorrow she caused me.
Syed Mujtaba Ali could not appreciate modern poetry or Bangla poetry after Tagore and Kazi Nazrul Islam. To me this was the greatest flaw in his genius. He could not appreciate the poetry of his contemporaries --- Jibanananda Das, Sudhin Dutta, Buddhadev Bose, Amiyo Chakraborty and Bishnu Dey. It has to be said, though, that they were great heroes to us, young students of literature and budding writers. So were Charles Baudelaire and T.S. Eliot and our own Shamsur Rahman. However, we never gave up liking Syed Mujtaba Ali. Maybe we read him less for a few years. But when we resumed reading him in our state of maturity, we liked him immensely once again. His Shabnam was a love novel of rare quality. So were Abishashya and Tuni Mem. He wrote memorable short stories like Padotika, The Colonel, Beche Thako Shordi Kashi and Roshogolla. Often he made us laugh only to make us weep at the end. In Padotika he tells us that the village teacher's eight-member family lived with much less than the money spent on the Alsatian dog of the English inspector of schools. We do not forget the story for the rest of our lives. His Hitler is perhaps one of the best books ever written on the dictator. Well-researched, witty, sensitive, breath-takingly interesting. He was the best writer of belles-lettres in Bangla. His literary columns were as interesting as ever. I feel proud that as a young man I relished his writings as much and as long as I could.
The great scholar, linguist, academician, patriot and writer was born on September 13, 1904 and breathed his last in Dhaka on February 11, 1974 (a day after my 19th birthday). He had published twenty-five immensely popular volumes of novels, stories, essays, columns and belles-lettres. He effortlessly mixed Arabic, Persian and Sylheti words in his Bangla prose. Then he dipped it in his great wit, brilliant satire and incomparable scholarship. Here was a great scholar who could hide his erudition like the bricks of the Taj Mahal. He was always exciting and interesting and never dull. He had researched extensively on religion but was secular and progressive. He was cosmopolitan as well as deeply rooted in eternal Bangladesh. I feel that all his life he stood for those ideals for which we had fought our liberation war. In fact, he was the writer closest to our heart. He was very happy to see the emergence of independent Bangladesh. He died thirty-five years back. May he live long in our hearts!
Junaidul Haque writes fiction and essays. He is a senior airline official.