Mad Manga: 2013 Zeonic Toyota Char Auris
Mad Manga: 2013 Zeonic Toyota Char Auris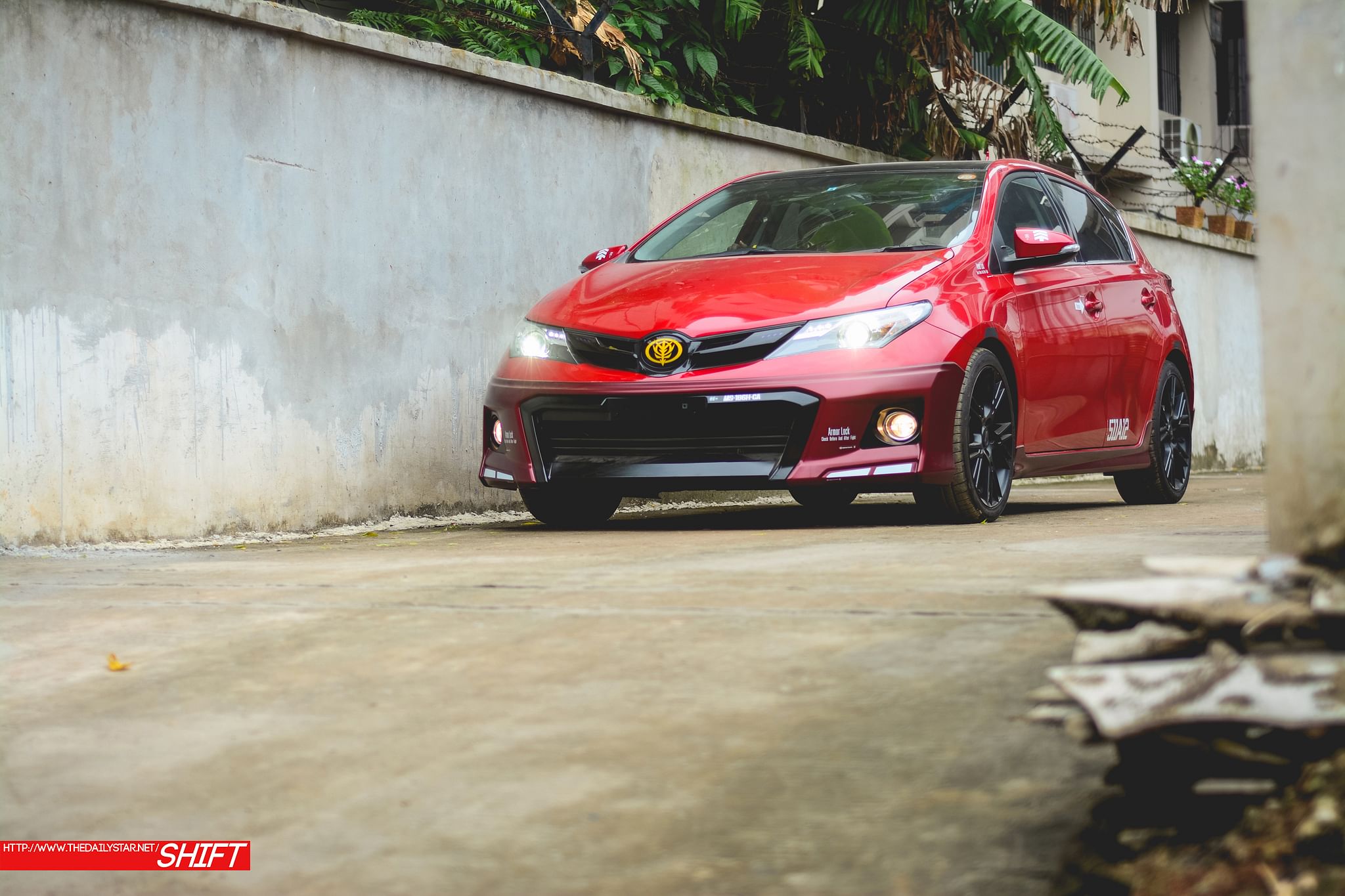 Source: Rahin Sadman Islam
The brand new Toyota Corolla is facing a few problems in Bangladesh. Equipped with the 1.6 liter engine, Navana expected the newest Corolla to be prohibitively expensive before the budget was announced, but even though the new duty structure favours cars with 1500cc up engines, the new model is still pretty expensive.
Source: Rahin Sadman Islam
So where do you turn to in search of cheaper deals? The grey market has seen an inflow of a few reconditioned Corollas, priced around the 25 to 30 lakh taka range, which could provide what you're looking for.
This week we test the 2013 Toyota Auris, a special "Char Aznable" edition launched by Toyota. With a tag like that you'd expect a Mobile Suit Gundam hiding away in the boot, but sadly, all that iterates is a funky bodykit and an overload of Japanese manga inspired stickers. In terms of performance, the Auris Manga is the same as a regular Auris, though.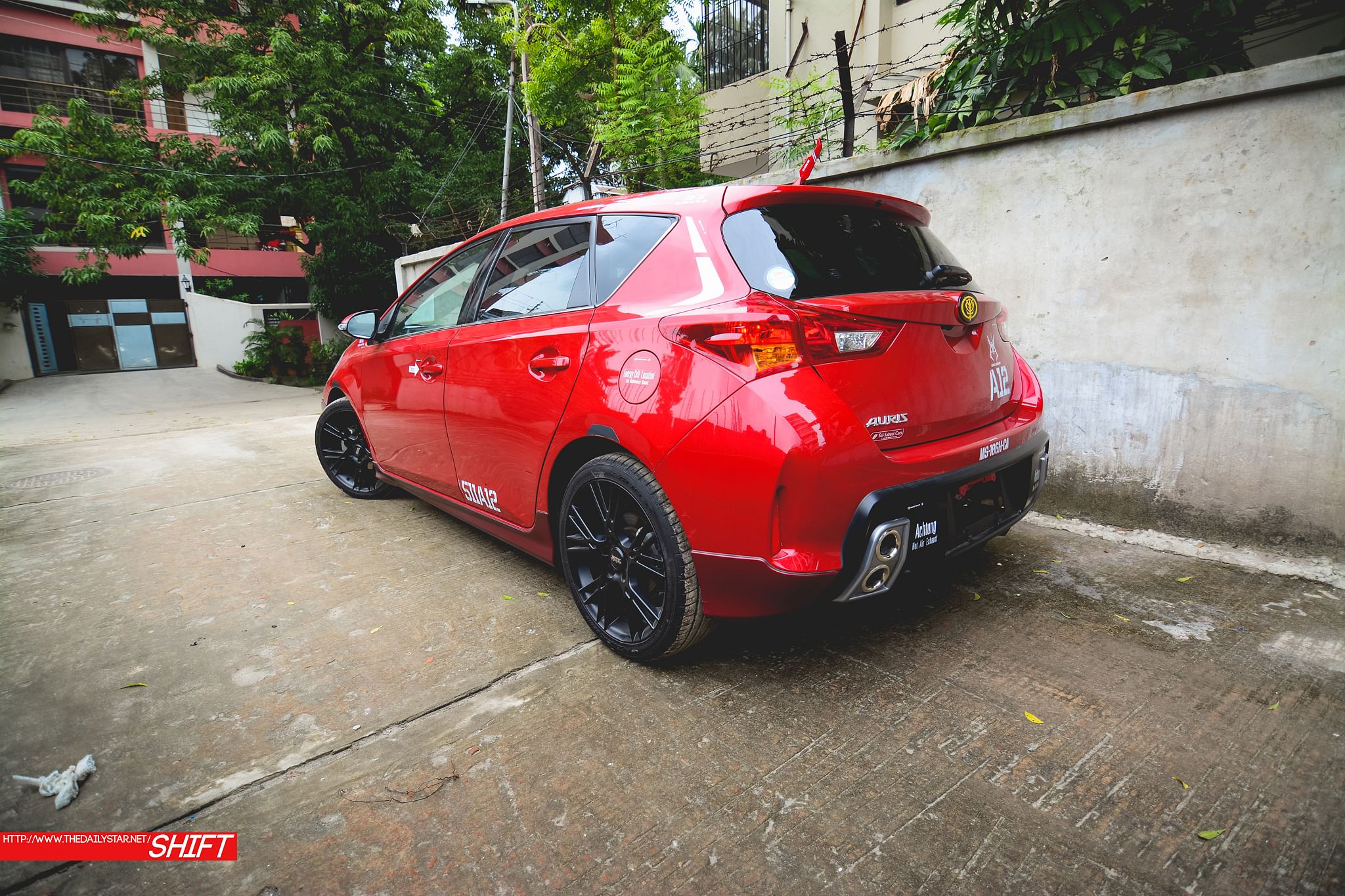 Source: Rahin Sadman Islam
The bodykit, inspired by the Mobile Suit Gundam "mecha" anime/manga, is part of an aggressive and in your face styling treatment, to rope in the younger customers. The styling cues are anything but innocuous, but if you're big on anime and the Japanese culture surrounding it, you'll probably love it, from the stickers to the faux quad exhaust at the back. To the unaccustomed and the unaware, it all seems a bit silly.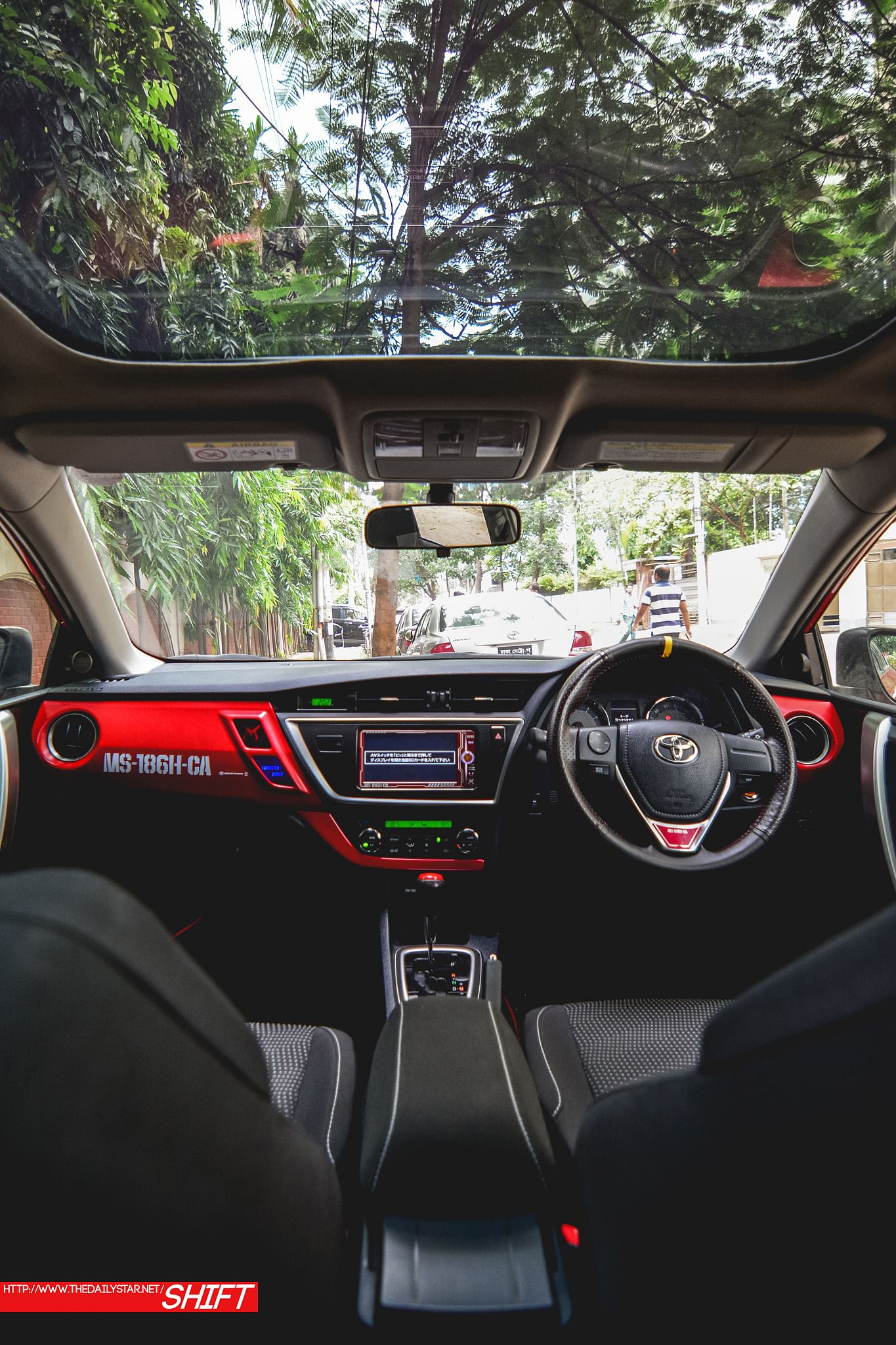 Source: Rahin Sadman Islam
Underneath all of that show is a decent amount of standard kit, albeit with little go. There is a 1.5 liter 1-NZFE VVT-i engine under the hood; the regular, run of the mill engine fitted to almost every single NZ series Corolla in Bangladesh, so parts will be relatively easy to come by.
Source: Rahin Sadman Islam
The power is channeled to the front wheels via a 5 speed Multimode automatic gearbox, which allows you to downshift in manual mode for a little bit of an extra kick. 107 hp at 6000 RPM and 103 lb-ft of torque at 4200 RPM are not exactly numbers you can use to burn the pavement with, so if you want to pretend you're in a high performance mecha suit, you'll need loads of imagination.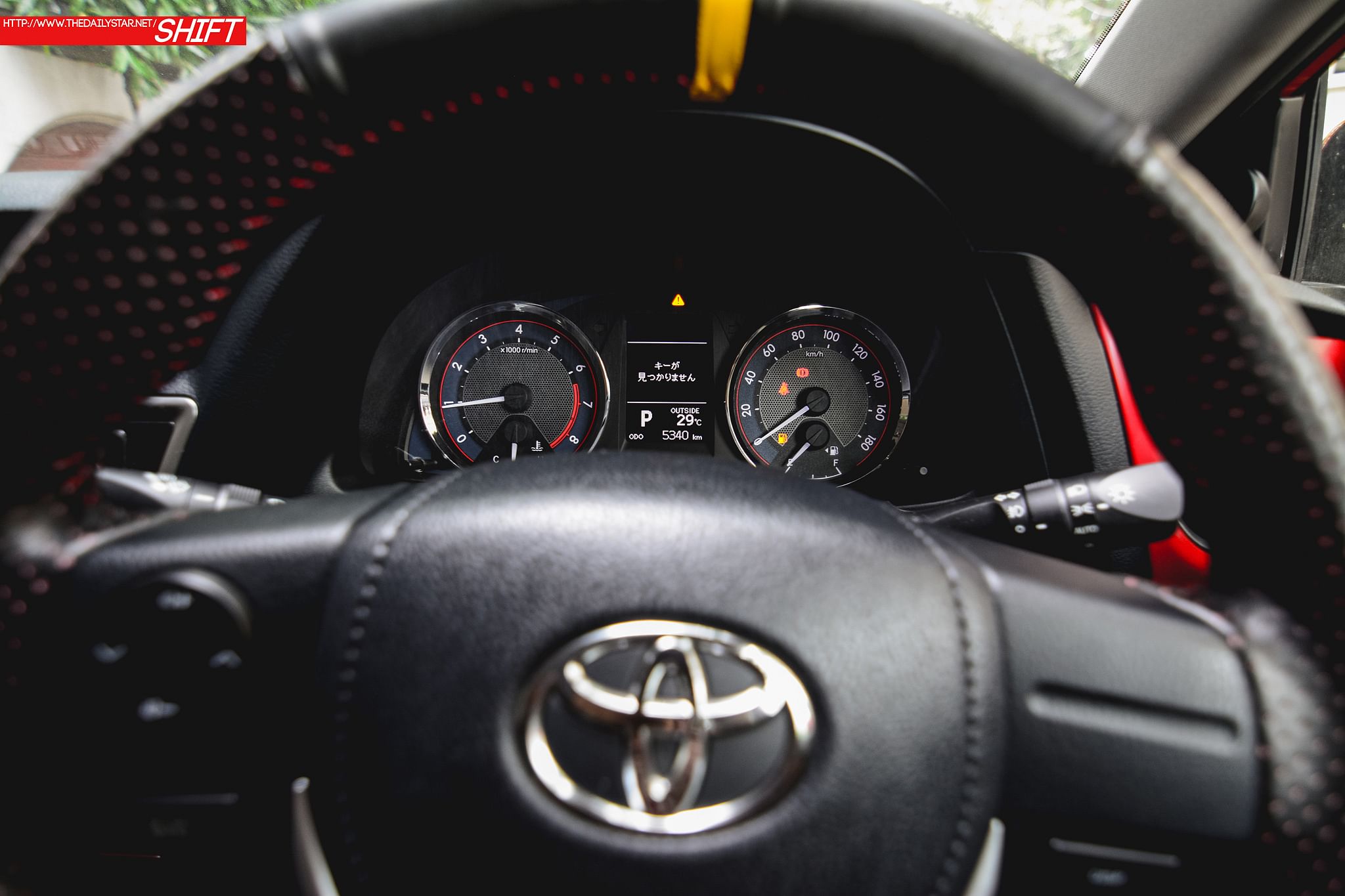 Source: Rahin Sadman Islam
The interior, in typical Corolla fashion, is cheap and plasticky, but somehow feels upmarket and modern. The full panoramic roof, stretching from the front windshield to a point just above the rear passenger headrests, is quite the spectacle. It's tinted, but with the lack of a movable cover underneath the massive expanse of glass,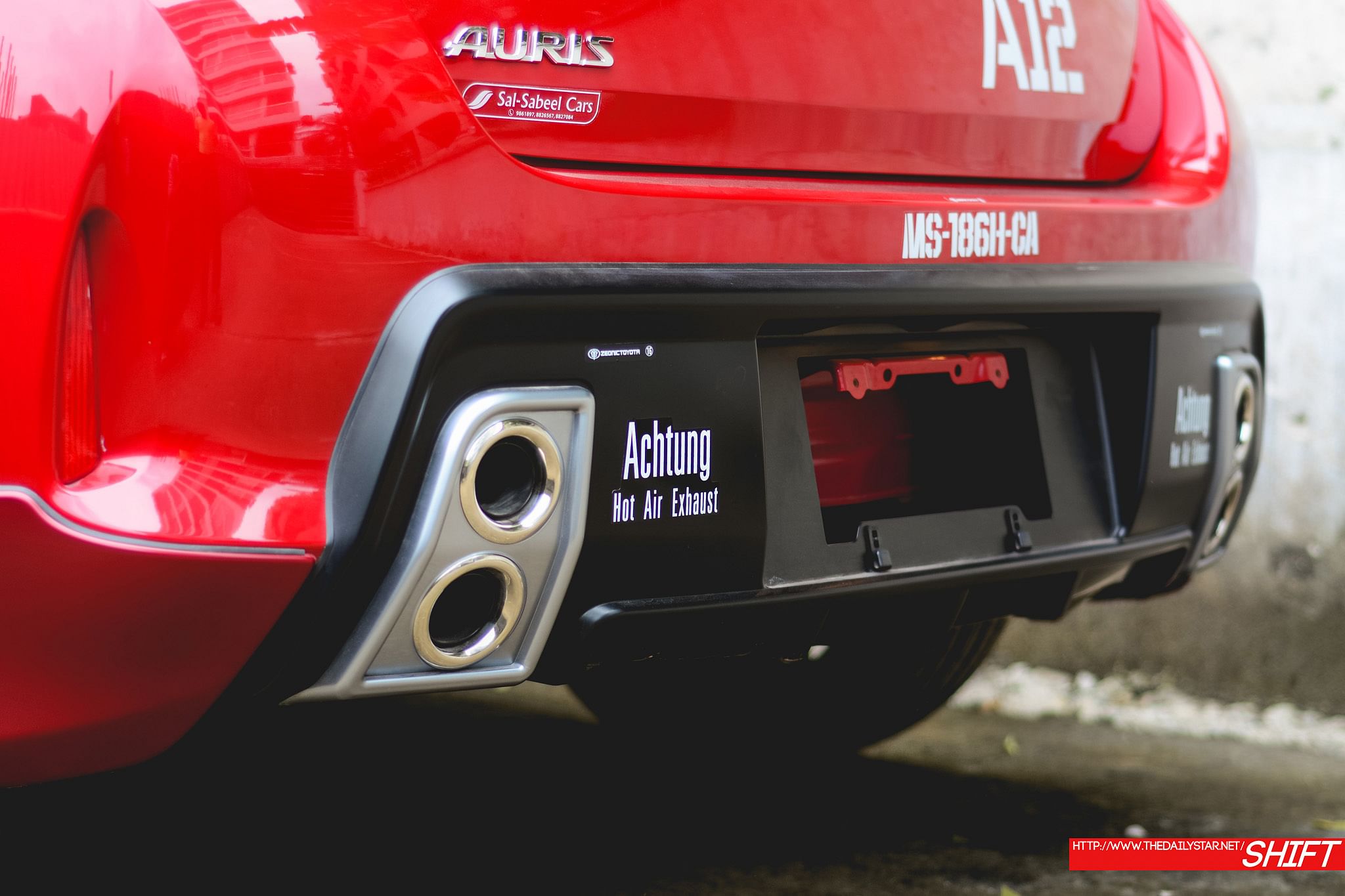 Source: Rahin Sadman Islam
its likely you will get scorched in the Dhaka afternoon sun. The seats are comfortable and have enough padding to keep your backside comforted for long trips outside Dhaka. Cupholders in the center console and all the door cards mean you can carry your drink with you when battling other mechas out on the highway (read: drive slowly past other Corolla NZEs while humming the opening sequence of Mobile Suit Gundam).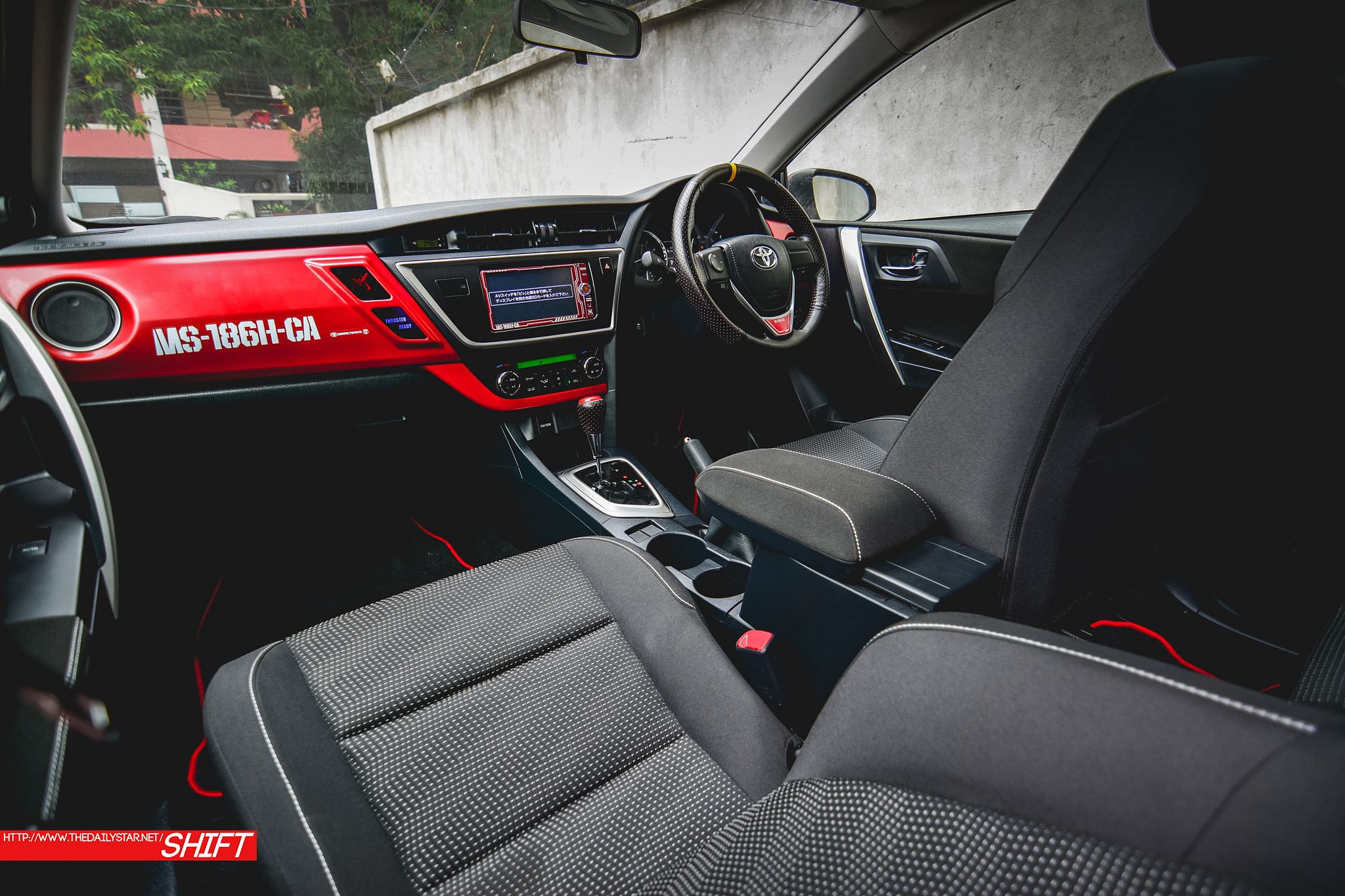 Source: Rahin Sadman Islam
It's not entirely slow, though. It's a light car, and put the gearbox in the manual-mode and it moves along at a decently fast pace. The steering is light and smooth, and the suspension soaks up the numerous bumps on the road quite well. How long the suspension lasts is a matter of concern, though, as the suspension setup is meant for creamy smooth Japanese roads, not Dhaka's lunar landscape. This is one major reason to stick to the brand new Toyotas instead of grey market hand-me-downs.
Source: Rahin Sadman Islam
Would I buy it? With a price tag of almost 30 lakh taka, I'd rather go for something else. But then that's me, and till Toyota releases an Initial D inspired Toyota GT-86, this manga gimmick wont work on me. However, the Auris is a genuinely good looking car with a decent level of kit, so it might be a good alternative to quite a few cars on the market.
Source: Rahin Sadman Islam
SPECS
2013 Toyota Auris Char
Engine: 1.5 liter1NZFE VVT-i 4 cylinder (107 HP @6000 RPM, 103 lb-ft torque @4400 RPM).
Transmission: 5 speed Multimode automatic.
Wheels and tires: 195/55 R17 tires with special Zeonic Toyota alloys.
Brakes: Ventilated discs front, solid disc brakes rear with ABS.
Options: Front airbags (driver, passenger), push start, USB and auxiliary cable supported audio system, steering mounted audio controls, four cupholders, rear arm-rest, full panoramic roof.
Price: For pricing and availability, contact Salsabil Cars Ltd.
You might also like:
2012 BMW 528i with M Package bodykit