Writers and Scholars from Bangladesh at the South Asian Literary Conference, 2021
The Foundation of SAARC Writers and Literature (FOSWAL) is the "only SAARC Apex body" that works for nurturing and strengthening the literary and cultural interactions among the eight SAARC countries, India, Pakistan, Bangladesh, Sri Lanka, Bhutan, Nepal, Maldives and Afghanistan. FOSWAL started working on its mission of cultural bonding in 1987 and over the years has organized literature and culture related programs in the shape of seminars and conferences. In April 2020, FOSWAL organized the First Ever SAARC Writers Conference. Since then they have been making arrangements for such programmes almost every year.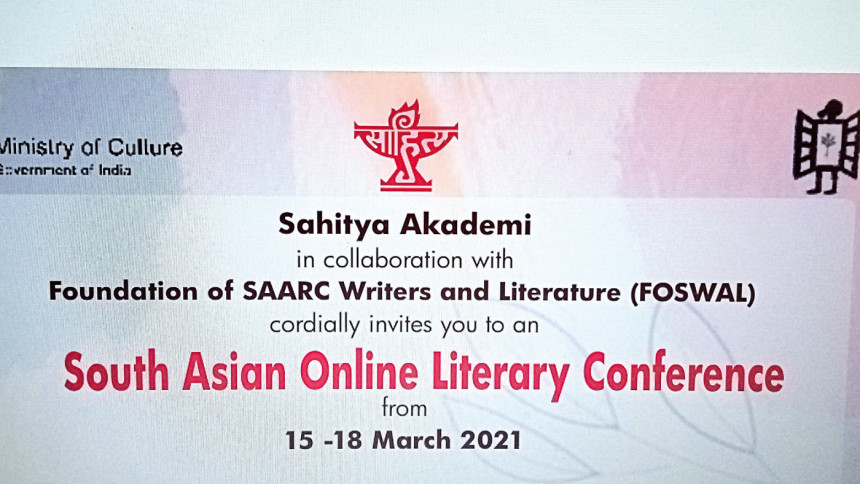 Because of the pandemic, this year FOSWAL went for an online conference in collaboration with the Sahitya Akademi. The 4-day long programme titled, "South Asian Online Literary Conference" took place between 15-18 March, 2021. A central theme of the conference was Sufism, Budhism, Jainism, Bhakti and Sikhism and the inaugural session held presentations and discussion on these four lines of thought.  Dr. Ajeet Cour, President, FOSWAL and Prof. Chandrashekhar Kambar, President Sahitya Akademi were present among other dignitaries in the inaugural session. Dr. K. Sreenivasarao, Secretary, Sahitya Akademi, gave the welcome speech and Dr. Gopalkrishna Gandhi, a noted politician and grandson of Mahatma Gandhi was the Guest of Honour and narrated moving stories about the life and beliefs of his late grandfather. Dr. Ajeet Cour was kind enough to chair and attend different sessions of the program through all four days. All the sessions of the conference went live on youtube.
Like previous years, this year too, a number of writers and scholars from Bangladesh presented and participated in different capacities at the South Asian Literary Conference. Mohammad Nurul Huda, the award winning poet, chaired a poetry session and also read out from his poetry. He also spoke on his work in one of the interview sessions.
A highlight of the 4-day programme for Bangladesh was an interview session of the writer and scholar Prof. Syed Manzoorul Islam by Prof. Kaiser Haq. They discussed Syed Manzoorul Islam's writing style with a special focus on his most recent novel Absurd Nights, which was translated from Bengali by ULAB's Library of Bangladesh Series in 2020. The session, like all other interview sessions, was for 15 minutes and many viewers felt that it ended too soon.
Prof. Kaiser Haq chaired a poetry session and spoke of poetry envisioning a better world. He read out from his own work. In another session, he was interviewed by Rifat Munim, writer, translator and editor.
Prof. Fakrul Alam was interviewed by the writer and scholar Dr. Hasan Al Zayed. He addressed his long engagement with translation and how his academic and personal life were influenced by it.
Prof. Niaz Zaman chaired a session of papers and fiction reading. She also read out from her fiction piece "Monster's Mother."
Prof. Shamsad Mortuza, recited from his collection of poetry entitled Barkode in a discussion session and was later appraised by the Indian scholar Subir Dhar.
Among the other presenters from Bangladesh, there were Girish Goirik, Dr. Tapan Bagchi, Milu shams, Dr. Ashraf Jewel, Rokeya Islam, Shyamsunder Sikder, Golam Kibria Pinu, Meeha Guha, Asad Mannan, Dr. Marzia Lipi, Jackie Kabir, Shafinur Shafin, Nur Quamrun Nahar and Dr. Sohana Manzoor.
The four day program was fascinating as it brought together writers from across the SAARC countries. And even though the time constraint often posed problems, it indeed set a milestone in reaching out to the literary world during these difficult times.