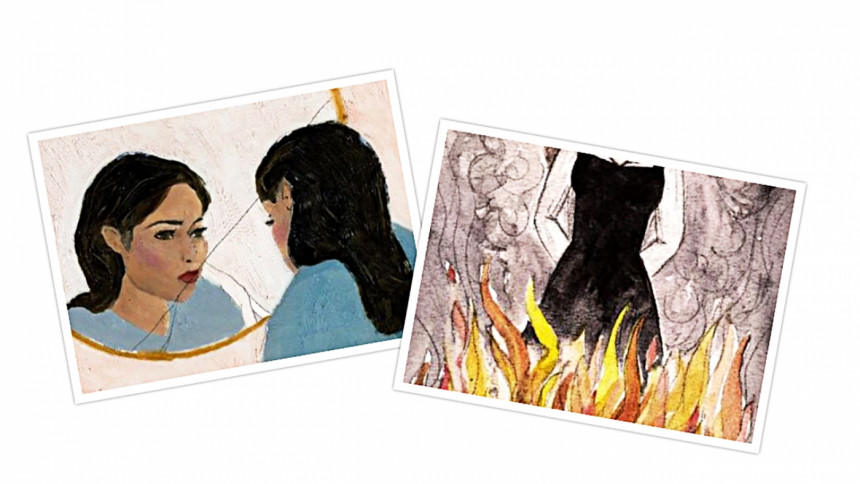 "Greetings, fellow children of God," the Holy man greeted. "We've assembled on this prosperous day. When we get rid of this sinful being, one who has led so many of our youths astray. Sinful, vile, one who committed debauchery- let us pray as we sacrifice this witch in the flames of the Almighty," the Pastor shouted, his voice dripping with conviction.
"Hear, hear," the audience cheered.
The criminal in question, Matilda swayed on the pile of firewood.
The rope bit down into her hand, her eyes- empty.
The pastor's voice didn't reach her.
She was somewhere else.
She heard a voice screaming, it was her own.
Hands mauling her body.
Her breasts.
Pressing her down.
Bruises on her thighs.
Monsters, violently intruding.
Yet how come she was the witch? 
Matilda looked up and saw the audience watching her with gleeful cruelty.
Eyes laced with hatred and malice.
As the pastor torched the pyre, Matilda had a single thought.
"I don't want to be here." 
Centuries later in a dimly lit room, Nadia sat staring at the cyberspace.
She put her head under the blanket, hiding from the world.
She furiously scrolled down the comments, a futile attempt to shove away the virtual fingers of judgement pointing at her. 
"She deserved it"
"Slut!"
"What was she wearing?"
Throwing the phone away, Nadia reached towards her bedside table.
As her tired eyes watched the blade glisten in the pale moonlight, Nadia thought of one thing only-
"I don't want to be here."
Tiasha Idrak is a student of Mass Communication and Journalism, University of Dhaka.