Girl's trip to land of blue mountains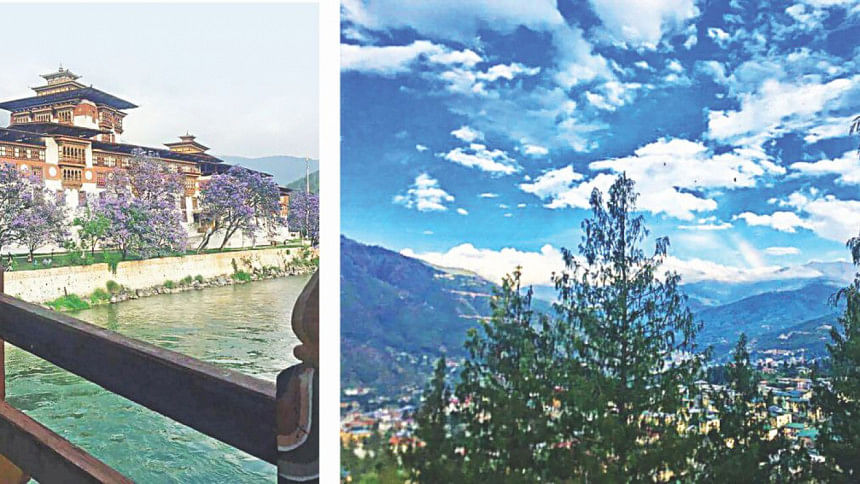 It took us more than 20 years of friendship and waiting to finally manage to go on a trip aboard. We had dreamed of all of us getting out of the country together while we were in college uniforms, and one fine day we decided to make it happen. 
The destination had to be serene, beautiful, new for all, and of course, the trip had to be long enough to allow enough time to immerse in 20-years' worth of memories. So, we ended up to the land of blue mountains where people believe in dragons. The Land of the Thunder Dragon, The Kingdom in the Sky, The Land of the Hidden Treasures— Bhutan has been called many mysterious and enchanting names. For a country that remained essentially disconnected from the outside world until the 1960s, it should come as no surprise that they didn't have TV till the 1990s!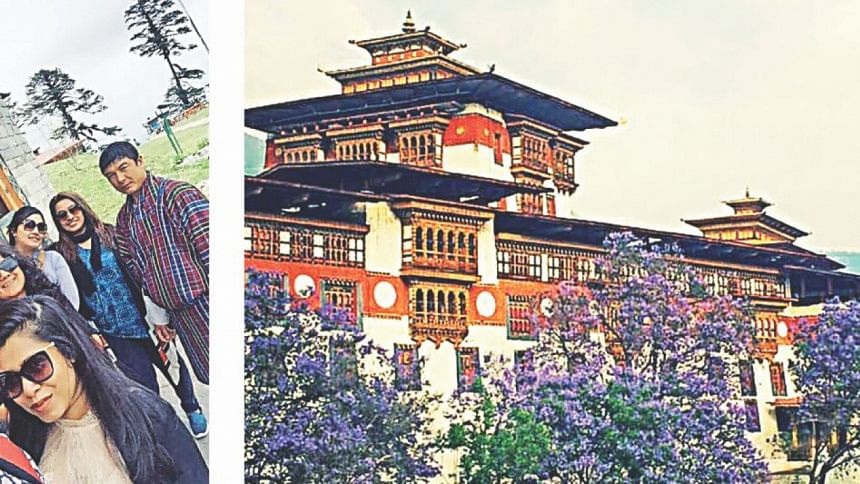 ll five of us are well travelled, but from the Paro airport, it seemed like we were breathing a completely different air and walking into heaven. We couldn't stop giggling like school girls, and taking pictures like teenagers till we were asked to leave the runway. The independence of Bhutan has endured for centuries, and the territory was never colonised in its history. Situated on the ancient Silk Road between Tibet, the Indian subcontinent and Southeast Asia, the Bhutanese state developed a distinct national identity based on Buddhism. We started our journey to Thimphu, the largest city and capital of the country and we made our guide, who was also the driver, stop every chance we could to take pictures. There was no giggling or laughing; just the simple silence of five childhood friends being completely mesmerised. Later, we figured out that we were so overwhelmed with this mystic land that we all took the same picture of the same place at least 20 times—while wondering why our phones were so full!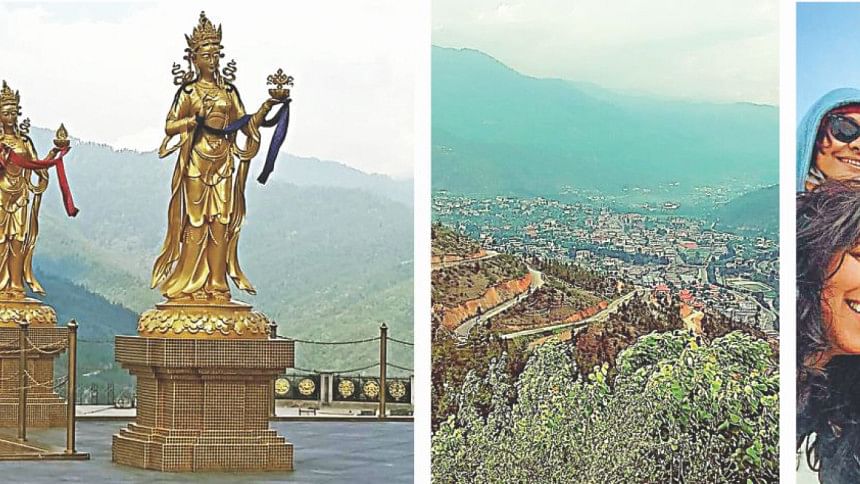 The traditional architectural monuments in Thimphu, as in the rest of Bhutan, are of typical Bhutanese architecture of monasteries, dzongs (most striking fortress type structures), chortens, gateways, Lhakhangs, and  other sacred places and royal palaces, which are the most distinctive architectural forms in Bhutan. Prayer Flags, Mani Walls and Prayer Wheels present a propitious setting throughout the urban agglomerate of Thimphu. The most prominent architecturally elegant, traditional Bhutanese building structures in Thimphu are the Tashichho Dzong, Drubthob Goemba (now the Zilluka nunnery), Tango Goempa or Cheri Goempa, the Memorial Chorten, Thimphu, Dechen Phodrang, and Changangkha Lhakhang; all vintage monuments with rich history. And after visiting most of these places, we were starving and one thing we learnt from them is, they do not seem to live by the world time or even follow any clock time. Bhutanese people are extremely nice, friendly, humble and laid back, so if they say food will be ready in 10 minutes, its actually one and a half hour. And that was true for the rest of the cities that we visited as well. The good thing was that there were five of us and lots of catching up so time flew by. After 9pm, the city sleeps and with the chill of the wind and dark mountain alleys, it becomes a ghost town, our time to walk down memory lane and get nostalgic.
Early morning, we received a phone call that our guide's brother died, and so we waited for another guide to take us to the next destination. Bhutanese people are so modest and humble that even with a death in the family, the guide wouldn't stop apologising for not being there for us. We all thought that we have so much to learn from every culture. We started for Punakha with our new guide; this was the capital of Bhutan and the seat of government until 1955, when the capital was moved to Thimphu. Dzongkha is widely spoken in this district. Pungtang Dechen Phodrang (Palace of Great Happiness) or Punakha Dzong was constructed by Tuebi Zaow Balip under the great command of Zhabdrung Ngawang Namgyal in 1637 and believed to have been completed in a two-year time period. It is also the country's most beautiful Dzong. With cherry blossom trees all around, it was timeless and we were so into our surroundings that we lost each other. But it ended well, as the area closes by 5PM and the  guards pretty much chased us out and we were reunited. We didn't have any hotel booking in Punakha as everything was full due to the ongoing tourist season, so our guide somehow managed to get us into the most luxurious resort for half a price because we were all ladies as he mentioned.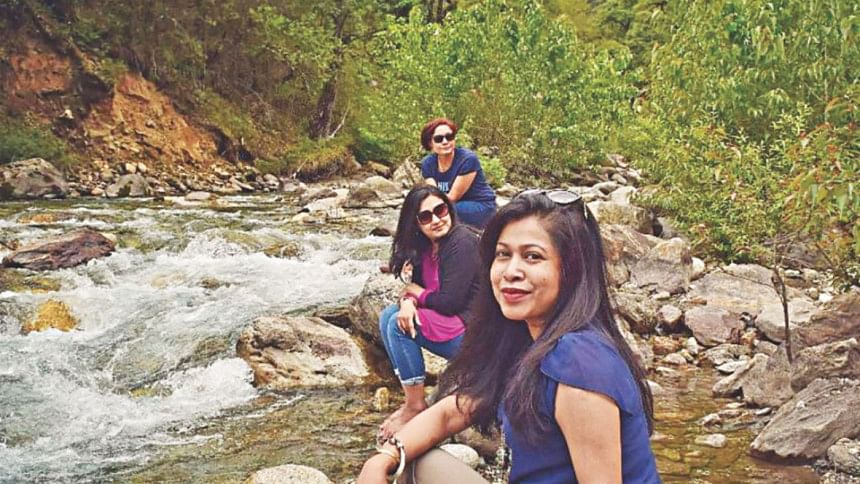 Rinpung Dzong, a fortress—a monastery overlooking the Paro valley, has a long history. A monastery was first built on the site by Padma Sambhava at the beginning of the tenth century, but it was not until 1644 that Ngawang Namgyal built a larger monastery on the old foundations; for centuries this imposing five-storey building served as an effective defense against numerous invasion attempts by the Tibetans. All the Dzong's look gorgeous at night, especially with the lights. Our original guide rejoined us at Paro, and took us to dinner as a gesture of friendship, which of course we made sure to treat him instead. Our flight home was at 5AM the next day, so he insisted that he would pick us up at 2:30AM  to go to the airport. We told him he looked too tired, especially right after a family tragedy. When it was time to leave, he did not show up nor was he answering his phone, and we were now five women panicking about reaching the airport on time, as well as being concerned about his whereabouts! The hotel manager finally managed another transportation for us, and we later found out that our guide had in fact fallen asleep and had not heard the phone ringing: and we told him 'we told you so.'
Bhutan seems to  closely guard its natural beauty by carefully maintaining its isolation from the world.
Photo:  Tanziral Dilshad Ditan