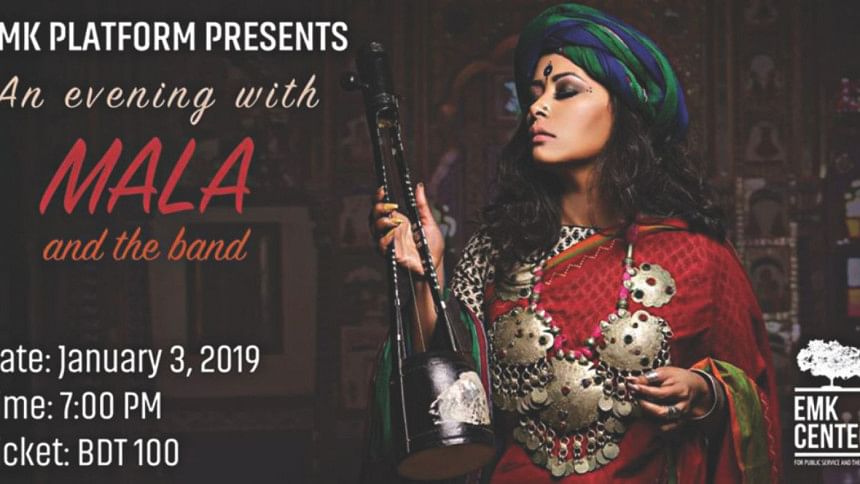 DANCE THE NIGHT AWAY!
Date: December 31, 2018
Time: 8PM – 11:59PM
Venue: Pan Pacific Sonargaon Dhaka
Dance the Night Away this New Year's Eve at Pacific Avenue, the newest outlet of Pan Pacific Sonargaon Dhaka! Enjoy an electrifying night with sensational beverages and the promise of pure entertainment with DJ and live music. Tickets are priced at Tk 6,500, with couple tickets at Tk 12,000. For more information, please call +8801713382609, +880255028008 or email at [email protected]
EMK PLATFORM PRESENTS: MALA AND THE BAND
Date: 3 January, 2019
Time: 7PM – 8:30PM
Venue: EMK Centre, Midas Centre Building (9th Floor) House-5, Road-16, Dhanmondi
She performs widely, from cultural evenings to charity events, from intimate performance venues to festival stages. Mala's talent caught the attention of renowned Bangladeshi musician and producer Fuad Almuqtadir, who produced her first album, which has reached extensive radio play in Bangladesh. Mala is constantly refining her musical talent, and always looks to build her musical legacy.
---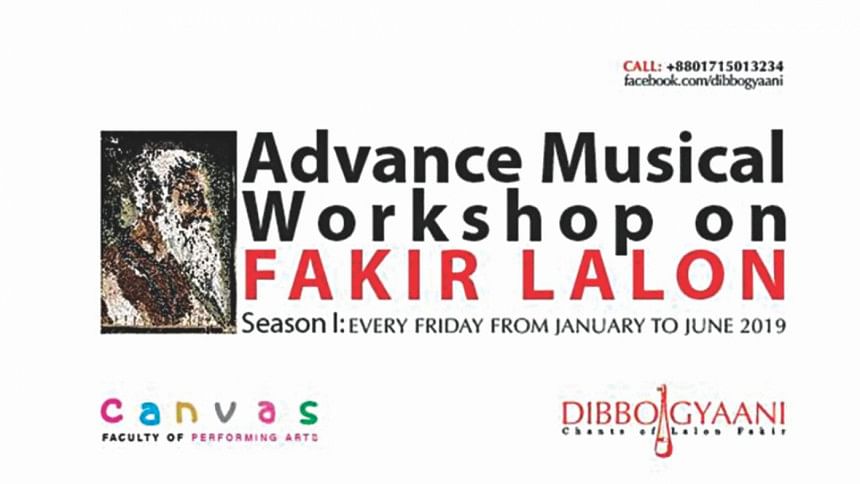 ---
WORKSHOP ON ART & CRAFT OF ADAPTATION
Date: 3 January, 2019 – 8 January, 2019
Time: 3PM
Venue: EMK Centre, Midas Centre Building (9th Floor) House-5, Road-16, Dhanmondi
This workshop focuses on exploring the creative storytelling processes which writers employ to transform novels, short stories, plays, memoirs, biographies or historical accounts into effective screenplays. In a supportive workshop environment —working individually and in groups— writers interested in developing adaptations for film and television will practice honing skills in dramatic structure, visual storytelling, and character growth. The workshop will also include in-class viewing and exercises to enable writers to strengthen their outlook on dialogue, description, conflict, back-story and setting.
Number of participant: 25 (Max)
Faculty: Prof. Alexis Krasilovsky, Dept. of Cinema & TV Arts, California State University, Northridge USA 
Applicants will be given notes (PDF), movie references, IAFM membership benefits, International Script submission, festival network access, funding opportunities, Access to join and participate in International Film Festival (CBIFF) and receive a certificate. Admission fee of Tk 3,000 to be paid in advance.
For admission, please visit https://docs.google.com/forms/d/1nXq2x5Azz0JbUWv9RkEBJ6rHXiIrwWMUCwlLqak... For more details –International Academy of Film and Media, Cell: 01731683677, 01739533760, Email: [email protected]
ADVANCE MUSICAL WORKSHOP ON FAKIR LALON - SEASON 1
Date: 4 January, 2019
Time: 4PM – 6PM
Venue: Road 31, House 1, Pallabi, Mirpur 12 Dhaka 1216
DIBBO GYAANI Chants of Lalon Fakir, with association of Centre for Advance Nurturing & Visual Art Studies is going to arrange their first musical workshop on Fakir Lalon from the first Friday of January 2019 for advanced learners. The workshop will continue for every Friday till the end of June to understand the inner meaning of Lalon songs. The course will be conducted by Baul Aklima Fakir, Baul Shuchona Shelly, and Baul Golapi Akhter. For instrumental assistance, some folk instrumental artists will also be there. The instruments include dotara, harmonium, and percussion. The workshop is segregated by the sessions based on the basic of Lalon songs, theoretical discussion, instrumental intro, etc. Anybody who loves Lalon songs and has a basic on music can apply and attend the workshop with minimum admission fee and monthly fee.
For more information, please contact +8801715013234.