Shine every day, everywhere!
Brace yourselves, because summer is almost here! As the mercury rises, so does fashion temperatures, soaring with oxidised silver and silver plated jewellery pieces. What is oxidised jewellery? The answer might quite surprise you, but it is the process of giving any silver trinket a blackish hue by mixing it with other metals, also known as blackened silver. Each piece is unique, but with a twist of old charm and novelty, ever so delicately incorporated into it, in addition to being versatile, affordable in comparison to gold, and in myriad patterns, stonework, intricate carvings, and even meenakari work on them.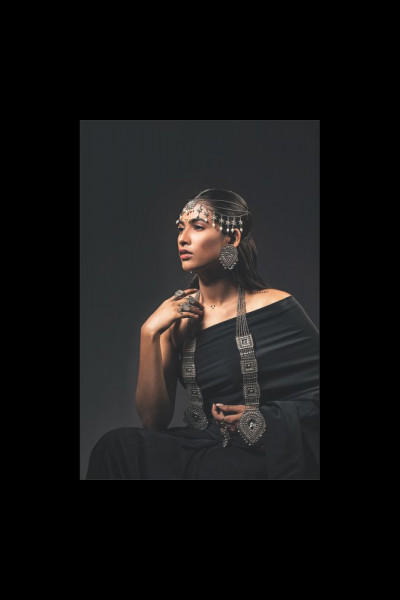 Although gold has its own timeless place in terms of its value and grandiosity; when it comes to everyday wear, it is easier to accessorise with silver pieces as it is understated and less flashy. For the seasoned trinket designer and founder of Glued Together, Mehnaz Ahmed, she believes that the best place to still buy locally sourced oxidised jewellery is from online jewellery business pages.
The current trend dominating the fashion scenes has all to do with statement pieces, to which Ahmed not only agrees but also adds that meenakari has made quite the comeback on oxidised and silver-plated pieces, and there is huge demand of it from the customers. The most popular colours used in meenakari work is currently green, blue and hot pink, although it can also be done using other colours such as red, black, white and even yellow. She also added that not only is meenakari more
durable, but has a better finishing on metal in comparison to the price at which it is sold. "The
reason these colours are more popular than others is because, clothing wise, the trends we now see are more restrained, monochromatic and streamlined in their prints and patterns. This is exactly why accessories need to be bold, loud in colour contrasts, and the central focus of the entire outfit," says Ahmed.
"My inspiration for all things to do with silver is rooted in the sort of accessories I would see my mother wearing growing up. I still remember she would often wear a pair of oxidised bangles that, when jingling around her wrist, made the most beautiful sound I had ever hear," says Ahmed. She went on to further explain that present fashion crazes have brought back not just the age-old choker, but with its own millennial twist too.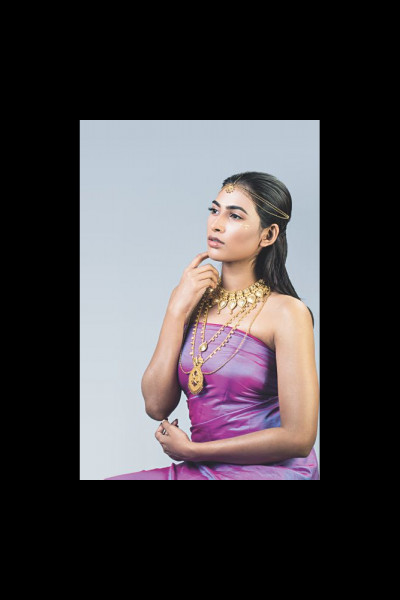 The most common occasion for when chokers are worn by brides is on their wedding day, to add onto the layers of necklaces that hang from their neck. "There was a time when gold chokers were a must-have of an entire generation of women, of which, my mother was one as well," says Ahmed. "That trend came back in the early 2000s when young girls would wear more western inspired ones made of plastic and coloured beads, only to phase out and resurface back again in silver now," she concluded.
"Silver, and its other variants are the popular choice of metal for all brides to accessorise with for holud or mehendi events. But it is not only restricted to them. Imagine yourself being clad in a monotone tussar, or silk sari with a silver toned choker and sita haar, or a longer necklace with multiple strands layered as you make your way to your best friend's wedding?" Ahmed suggests. The idea she tries to promote is to encourage more women to experiment different kinds of outfits with silver accessories. "Pair one chunky ring and statement earrings with a flowy summer dress, formal gown or a plain solid coloured t-shirt or kurta to give your outfit an overall more dressed up look."
As the conversation progressed, the topic of her latest collection came up. Glued Together is known to launch a new range of jewellery every four months, and predominantly emphasises on ethno-fusion. This allows her to produce set quantities of each item, making every piece of accessory she designs one of a kind. "I want customers to feel that they own a unique piece of adornment, that only they have."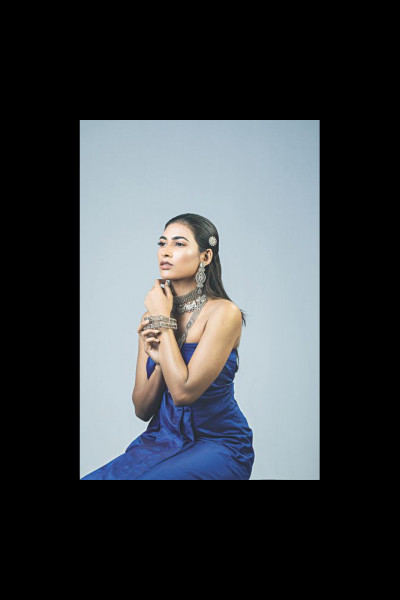 She distinguishes between her designs of the previous to the current year by describing them to be a natural progression, from simple and bold to an emphasis on intricacy, more detailed and ornamental pieces in her current collections.
Whether you plan on channelling your inner bohemian goddess, make heads turn at the next wedding you have to attend, or just want to give off a chic but I-mean-business kind of vibe in the office setting, start off with one statement piece, and slowly build up your oxidised/silver game. The options are endless!
Photo: Sazzad Ibne Sayed
Model: Niki
Styling: Sonia Yeasmin Isha
Make-Up: Farzana Shakil's Makeover Salon
Jewellery: Glued Together