Something yummy, something healthy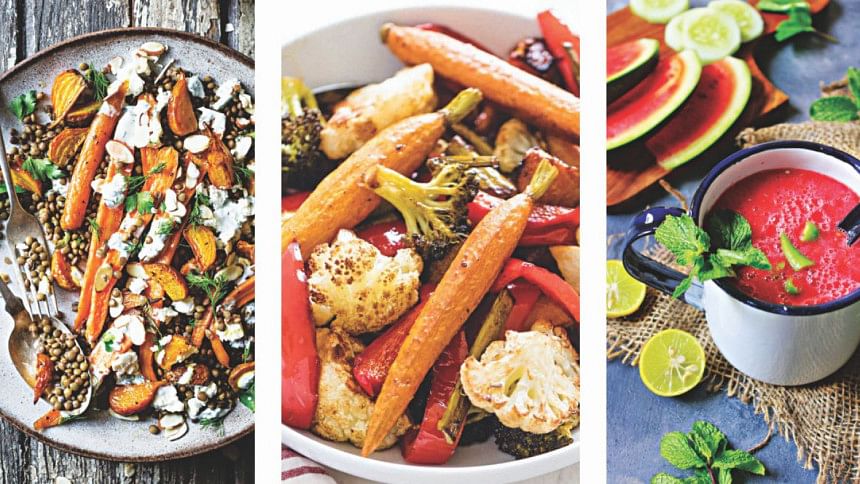 Tired of the usual Caesar salad this, and fruit salad that? Well, we can't blame you because most typical 'green' recipes are hard on taste buds that have experienced more flavour elsewhere. So try these offbeat, and more definitely tasteful dishes, and treat your taste buds to the flavour it really deserves.
COCONUT DAAL
Ingredients
2 tbsp coconut oil
2 cups red dry lentils
3 cups water
2 cups coconut milk
½ cup chopped tomatoes
2 tbsp ginger, peeled and minced
1 tsp turmeric powder
1 tsp coriander powder
1 tsp cumin
½ tsp pepper, 1 tsp salt
5-10 curry leaves
2 bay leaves
Fresh coriander leaves
Method
Heat the water, lentils and turmeric in a pan, and bring to the boil. Simmer for about an hour, or until soft. If necessary, add a bit of extra water. Heat the oil in a small pan, sauté the tomatoes, ginger, coriander powder, cumin, curry leaves and bay leaves. Remove the bay leaves and add this mixture into the cooked lentils. You can choose to blend the daal to have a more refined texture and make it like a creamy soup or choose to have it as it is. Add the coconut milk to the dal and simmer for 5-10 minutes. Garnish with fresh coriander.
WATERMELON GAZPACHO
Ingredients
6 cups watermelon
1 cucumber
1 red bell pepper
Lemon juice, Molasses
¼ cup mint
2 tbsp extra virgin olive oil
Pinch of salt
Pinch of pepper
Method
Chop the watermelon, cucumber and bell pepper into pieces to make it easier to blend in the blender. Add lemon juice, molasses and olive oil once the base of the soup is well blended. Once everything is blended into a soup consistency, add salt and pepper according to your taste. Add mint and blend on low speed. Chill for at least 30 minutes. Garnish with a dash of olive oil and some mint.
CREAMY PUMPKIN AND MUSHROOM CURRY
Ingredients
2 tbsp sesame oil
2 cups pumpkin, cubed
2 cups mushrooms, cut in halves
1 cup cashews (soaked overnight or kept in boiled water for 30 minutes)
3 cups water or vegetable stock
2 tbsp ginger
2 tbsp tomato paste
Half a lime
1 tsp turmeric powder
1 tsp coriander powder
1 tsp cumin powder
1 tsp cardamom powder
2 teaspoon fenugreek powder
1 tsp pepper
2 tbsp salt
Fresh coriander leaves
Method:
Heat oil in a large pan over medium heat. Add ginger, tomato paste, lime and cook for 3-4 minutes until softened. Add the turmeric, coriander, cumin, cardamom and fenugreek powder and stir until fragrant. Add the cubed pumpkin and sauté for 10 minutes. Add the water or vegetable stock and cover for another 20 minutes. Let the pumpkin simmer in low heat until soft. Add the mushroom and let it cook for 5 minutes. Add salt and pepper according to your taste. Keep in mind, if you have added store bought stock, there is salt that should be considered before you add more to the curry. Blend the cashew to make cashew milk and add it to the curry. Simmer for 10 minutes on low heat. Garnish with fresh coriander leaves.
HONEY ROASTED BEETROOT AND CAULIFLOWER SALAD
Ingredients
6-8 beets, peeled and cut into cubes
1 head of a cauliflower, cut into florets
2 tbsp olive oil
½ cup walnuts, 1 tbsp honey
3 tbsp lemon juice
Pinch of salt
Freshly cracked pepper
2 cups of baby spinach leaves
For dressing, 1 tbsp honey
2 tbsp olive oil
2 tbsp sesame paste
Pinch of salt
Method
Preheat oven to 180°C before preparing the beetroot and cauliflower. In a baking tray, drizzle the cubed beetroot with 2 tablespoons of olive oil, honey and lemon juice and a good sprinkling of salt. Roast in the oven for about 50 minutes, or until tender when pierced with a fork. After the beetroot has been in the oven for approximately 30 minutes, add the cauliflower to another baking tray and drizzle with 1 tablespoon of olive oil, salt and pepper and add it to the oven. 5 minutes before the beetroot is due to come out of the oven, add the walnuts to the baking tray and cook for the last 5 minutes. While everything is in the oven, make the salad dressing by combining all ingredients in a screw top jar and shaking well. Taste and season as desired. Remove the baking trays from the oven and allow to cool for 10 minutes or so. Arrange the spinach in a salad bowl and top with the roasted beetroot, cauliflower and walnuts.
Photo: Collected