When outrage becomes selective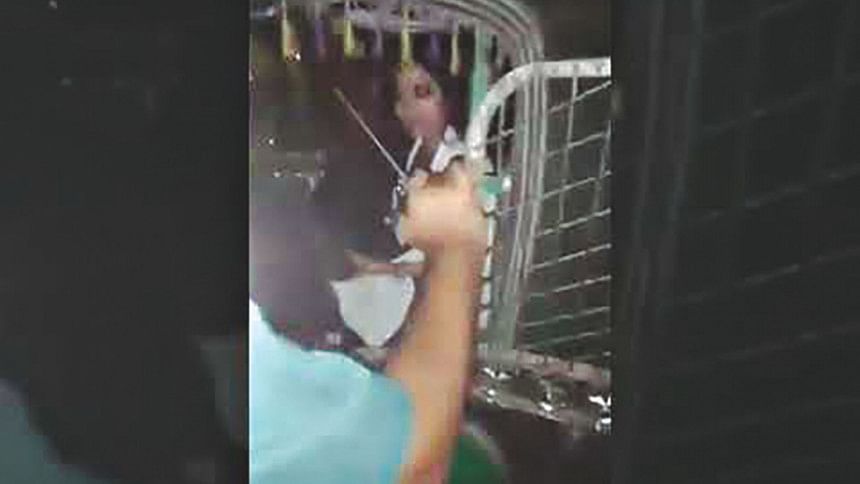 It is with both despair and indifference that I have witnessed the episodes that have unfolded following the TV talk show in which barrister Mainul Hosein insulted journalist Masuda Bhatti by saying she was "choritroheen" (immoral), when asked tough questions.
While Hosein's comment is condemnable, I wonder what to think of the way men and women affiliated with the ruling party have gone overboard in their demand for action against Hosein. It was as though one defamation case filed by Bhatti wasn't enough, and so women in different parts of the country, who felt "equally" humiliated by the comment, began showing up at police stations and court to lodge complains.  
Hosein, now in jail, is facing as many as nine cases for the same offence.
The latest one was filed on October 24 under the controversial Digital Security Act. Sumona Akhter Lily, a member of the Awami League's youth and sports related sub-committee, filed the case with Dhaka Cyber Crime Tribunal. She felt all women, including herself, were humiliated by Hosein's comment, according to the case statement.
After Hosein had managed to get anticipatory bail in two defamation cases filed on October 21—one by Bhatti herself and another by Jamalpur Jubo Mohila League Convener Farzana Yasmin Lita—the frenzy of filing more cases began.
Before filing her case, Bhatti sought a public apology, refusing to accept a private apology by Mainul over the phone. Women's rights activists and 55 eminent editors and senior journalists made the same demand in chorus, rightly so since the humiliation was in a public domain.
But the focus seemed to get diluted when more and more women having a particular political affiliation began to file cases one after the other. Was this because Hosein happened to be associated with the Dr Kamal Hossain-led alliance with the opposition BNP? The alliance was formed a few months before the 11th national election, with a promise to bring reforms in the governance if voted to power. 
Interestingly, while repeated calls from journalists to revise certain provisions in the Digital Security Act fell on deaf ears, the same act was used seemingly to obtain justice for journalist Bhatti.
All this was happening around the same time when a video went viral on the social media, in which police could be seen asking a woman at a checkpost why she was out on the streets so late at night (2:30am), hinting that she must have been at a hotel. The over-six-minute-long video footage seems to have been captured by one of the policemen in question. While outrage has poured in over the harassment of the woman who bravely fought with the law enforcers, one cannot help but wonder what could be the motive of the policeman who uploaded the video. Whatever the motive was, I am sure it backfired since it was the video that caused so much outrage.
However, no strict action or filing of a case followed this episode. The public have to be happy with the departmental action that Dhaka Metropolitan Police promised or no action at all as it is highly unlikely that we would know of the punishment given.
The uploading of the video by the policeman should fall within the definition of a digital crime to be tried under the law recently enacted with utter disregard for the concerns of journalists, writers and free-thinkers. They worry that the digital act is designed to rein in freedom of expression and right to information and, above all, will provide law enforcers with limitless power to arrest anyone without a warrant issued by a court.
No one has yet filed any case against police on behalf of the unknown woman. No outrage from those women who were up in arms over a sexist comment on TV aimed at a high-profile woman journalist. What would be the benefit, after all? Filing of a case hasn't crossed their minds probably because harassment is a day-to-day issue for most women in this country—in the streets, at the workplace and at home. Even frequent headlines of crimes like rape, gang rape have left people unmoved.
It makes one wonder: Why were these particular women not as outraged when the rape and assault of two sisters from the indigenous Marma community made headlines in January? The media reports on the attack on Yan Yan, queen of Chakma circle, when she tried to foil police attempts to sweep the issue under the rug, also failed to mount pressure on the authorities for action. And the murder of college student Sohagi Jahan Tonu inside the Comilla Cantonment in March 2016 made similar headlines—"Justice demanded for Tonu", "Justice elusive for Tonu"—although justice remained unobtainable.
Is it then that all women feel humiliation when it is humiliation of a woman of a certain social stature? Or is it the fear of not getting justice if one single case is filed for an offence or in cases not filed under the new law? Or are there other reasons why certain individuals are targeted? The complainants in the cases against Hosein would be the right persons to answer such questions.
Piling on cases one after another, however, is not the remedy. It is only a way of intensifying harassment as seen in cases of those with political dissent or of increasing the burden on the existing legal system.
For example, the proportion of pending cases filed under the Women and Children Repression Prevention Act remained unchanged between 2015 and 2017. Only 0.5 percent cases ended up with conviction and guilty pleas last year whereas a whopping 23 percent saw acquittal and not-guilty outcomes, according to a national justice audit done by the government with German assistance (bangladesh.justiceaudit.org).  
The statistics make us wonder which part of the graph the cases against Hosein would end up in. Many issues are painted in political colours when politicians want to cash in on them. Justice, therefore, can only be ensured when politicians and the legal system treat every case of sexual abuse and harassment with impartiality and free of political bias.
---
Bishakha Devnath is a senior reporter at The Daily Star.
---
Follow

The Daily Star Opinion

on Facebook for the latest opinions, commentaries and analyses by experts and professionals.
To contribute your article or letter to The Daily Star Opinion, see our

guidelines for submission

.
---