What Colour are you?
There is a theory that your favourite colour often reflects your personality, down to your bone. If you are one of those people who can't choose a favourite colour, then do not worry. Our kind has not yet figured out who we truly are! And those of you who have multiple favourite colours or change your favourite colours like changing your outfits, worry not. It does not mean that you are confused; it means you have an ever growing soul that cannot be tamed. But what does your favourite colour say about you?
If a friend dares you to announce to a crowded restaurant that your all time favourite movie is 'Fifty Shades of Grey,' and in the fear of seeming like a coward you do declare your love for the franchise in a heartbeat; your colour is red. People who love red would not mind wearing a Disney princess outfit to attend a wedding neither would they be afraid of singing at the top of their voice in an office. Red loving people are daring, confident and determined, comparable like a hawk.
If your friends need you to fight their arguments and battles for them because you are the real life Harvey Specter to their Jessica Pearson, then you are definitely orange. Orange represents wit, an open-mind and great negotiating skills. Orange loving people are energetic and playful and would take the first chance they get to pull someone's leg.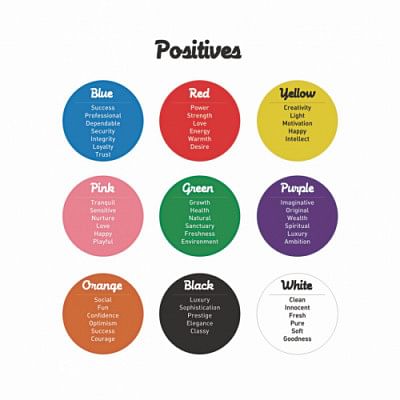 If your Pottermore quiz has declared you as a Hufflepuff, you are yellow. You are no different than Newt Scamander in that both Newt and you are helpful, sensible, faithful and committed wizards. Whether you need to find and document all magical creatures or find your friend a partner to prom, you will give it your 100% selfless dedication. Helga Hufflepuff will be proud of you.
If you are that one friend that cries at every rom-com movie while also lending your shoulder to your best friend to cry on, then purple is your colour. Purple loving people are the first ones to stop a fight and believe that love wins over violence. No wonder BTS chose purple as their colour to promote love and peace around the globe.
If 'The Notebook' has made you want to dance on an empty street with your imaginary significant other while sharing scenes from the movie on Tumblr, then you are a lot blue. You can't help being a hopeless romantic being on cloud 9. You live for everything related to love, aesthetics and spirituality. You are where art begins.
Lastly, if you can take down an entire mob while solving a Sudoku without batting an eye, then you are most definitely green. You have some of the best qualities such as intellect, calmness, curiosity and power. Green maybe associated with jealousy but green mostly represents down to earth qualities. People must not underestimate those who have immense love for green.
You may think that you are the one to choose your favourite colour. But it might be the opposite after all. Your favourite colour chooses you.
Photo: Collected