Bread 101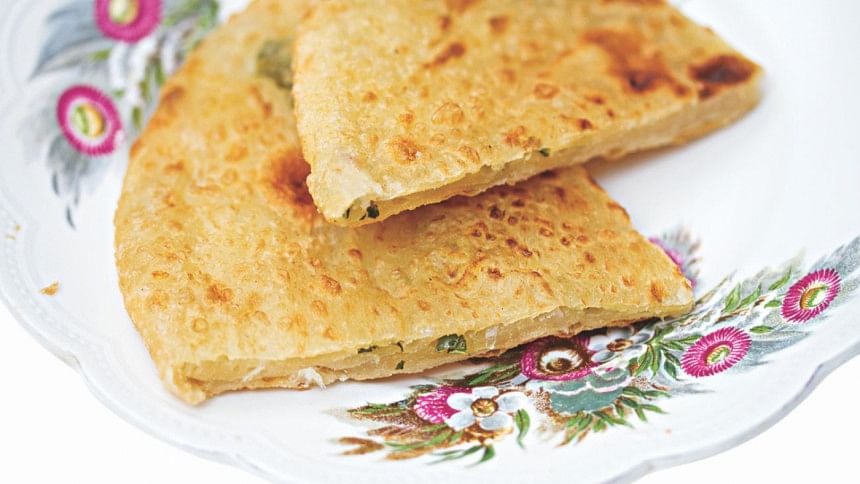 When comparing dinner tables of a Bengali and a Westerner, it's hard to understand the importance of bread in our diet as ours mostly consists of rice. That's not to say that bread has no place here, as we have our own way, time and type of breads to consume, making it very much a part of Bengali diet and cuisine. Bread's significance does not merely lie in its many nutritional properties. Its history and significance in culture and different religions is enough to fill tomes in museums across the globe.  
From a hot roti to an English muffin with a perfectly poached egg - bread's sheer variety is just as vast as its history is. While we clearly cannot talk about every kind of bread there is, we can surely go over some of the crowd favourites.
ROTI
You can't find anything more quintessentially Bengali than "haat-er ruti" paired with spicy potato bhaji and a side of scrambled/fried egg. Ruti is unleavened flat bread, made in almost every part of Bangladesh, and across Southern Asia and the Caribbean, better known as Roti internationally. The serving can also be different as we prefer to have it with various kinds of curries while parts of the West Indies serve theirs with a spicy filling. Halwas made out of carrots, papayas and different kind of nuts and lentils are a great combination with roti, something we take full advantage of during the Shab-e-Barat when there is an abundance of halwas and other kinds of sweets.
KALAI ROTI
A thick flat bread made from lentil flour and commonly found in Rajshahi, Kalai Roti is served with mouth-watering chutneys made from chilli and turmeric paste and onions for slight acidity.
PARATHAS
Another staple of the Bengali dining table, the Paratha has devoted loyalists who would pair it with any kind of cooked beef for that ultimate expression of food utopia. Paratha is a layered flatbread made from whole wheat flour and high in fat as they're usually fried or cooked using oil, butter or ghee, making it a scrumptious dish to be devoured paired with beef curry, lentil soup and vegetable dishes. And of course, who can ever forget the all too famous 'Mughlai paratha' stuffed with minced meat or eggs and onions. Hailed as the perfect evening snack, couple this with a cup of milk tea and your taste buds will be delighted!
NAAN
If you thought that the only delectable dish the Mughals left behind was the Kacchi Biriyani, think again, because sharing the regal glory with the Biriyani is the ever popular Naan, a leavened, oven-baked flatbread found in Western, Central and South Asian cuisine. Pair it with kebab, a salad concoction and a bottle of fizzy drink and you have yourself a meal worthy of nobility, as long as the nobility does not mind heading to the nearest 3-star hotel for it. Naan also has wonderful variations such as butter naan, garlic naan, keema naan, etc. It has transformed from a basic form of bread for many to experimental creations by chefs and food enthusiasts today with different fillings and flavours. A typical naan recipe involves enough yoghurt to make a smooth, elastic dough, and is cooked on the sides of a tandoor oven.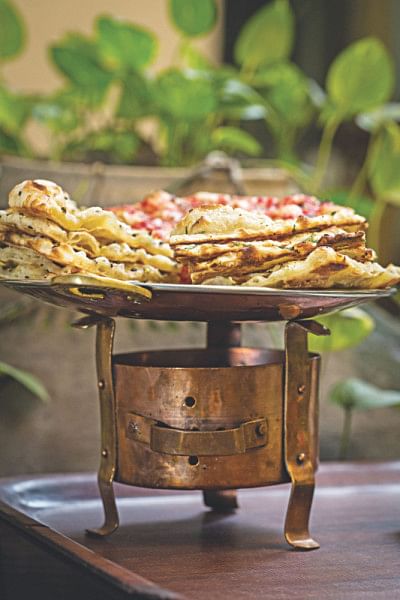 PITA
Possibly the most popular type of bread on this list, its reputation is known throughout the world. Originating in the Middle East, the pita is famous for its inner 'pocket' and wide range of uses. Pita is a slightly leavened wheat bread, flat, either round or oval and comes in many different sizes. The soft and pliable pita is used to pick up meat and vegetables and is perfect for tearing into small pieces and dipping into yoghurt spreads, hummus or tahini.
BAGUETTES
What is a more Parisian breakfast than a slice of baguette and cup of brilliantly aromatic espresso? Baguettte is exotic in its name and flavour and goes well with cottage cheese, jam, and of course coffee. It has made its way to the inhabitants of Dhaka through the various bakeries opening up shop here.
TORTILLAS
An exotic addition to this list, tortilla is a type of soft, thin flatbread made from maize meal and/or wheat flour. They are used to prepare many Mexican dishes like tacos, enchiladas, burritos, and wraps. So the next time you want to spice up your bread diet, opt for this pleasingly flavourful crispy delight.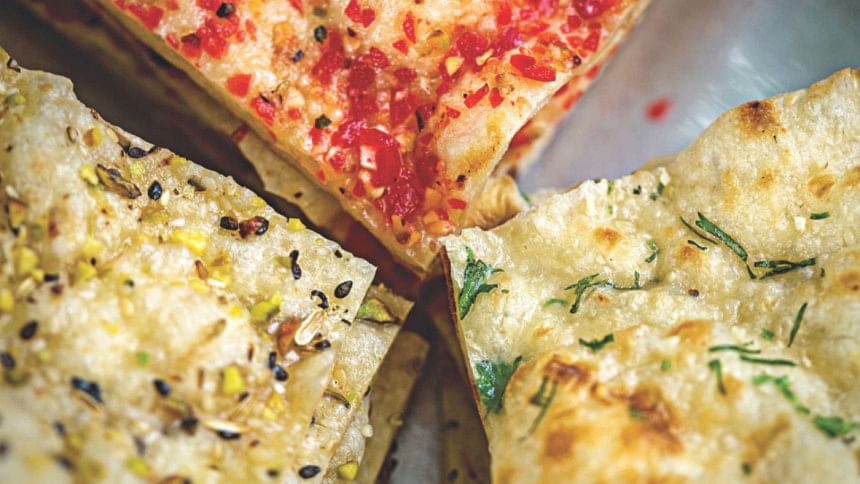 ENGLISH MUFFIN
And finally, of course, a special mention to the English muffin needs to be given if we wish to conclude this exploration on a sweet note. The quintessential English muffin is a small, round, flat type of yeast-leavened bread primarily served as a teatime treat, with a side of cold meat, buttery hollandaise or maybe even some raspberry jam. Confectionaries such as 'Bread and Beyond' and 'Kings' have an assortment of excellent English muffins.
By Jahanara Tariq
Photo: LS Archive/Sazzad Ibne Sayed