Panjabi with a twist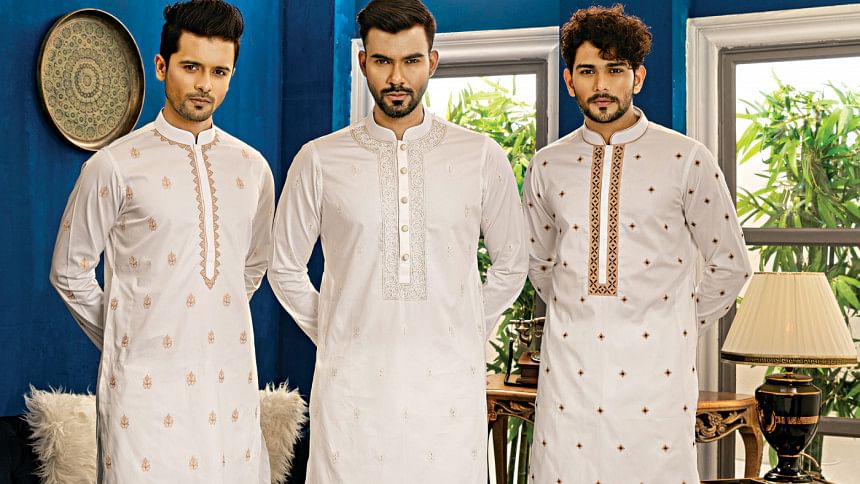 The panjabi — a timeless and traditional attire for any occasion, is an embodiment of the Bengali culture. Just as the sari is close to any woman's heart, the panjabi bears the same essence for men. Be it for a casual day out with friends and family, or for a special event, the panjabi is always a safe option and is the go-to comfort outfit for men of all ages.
Even though the time-honoured attire appears to be drab and dull on its own sometimes, it can be accessorised with a few simple embellishments. These additional accessories elevate the simple panjabi to give it a more extravagant and elegant look, while maintaining its cultural integrity.
On its own, a panjabi can look homespun and too simple, especially for formal events. Wearing a classy waistcoat or vest over a panjabi can elevate the ensemble. A sleeveless upper-body garment not only adds dimension to the look but also adds elegance and sophistication. The vest may be chic black or dark maroon, a vibrant gold or blue or any other colour to complement the panjabi.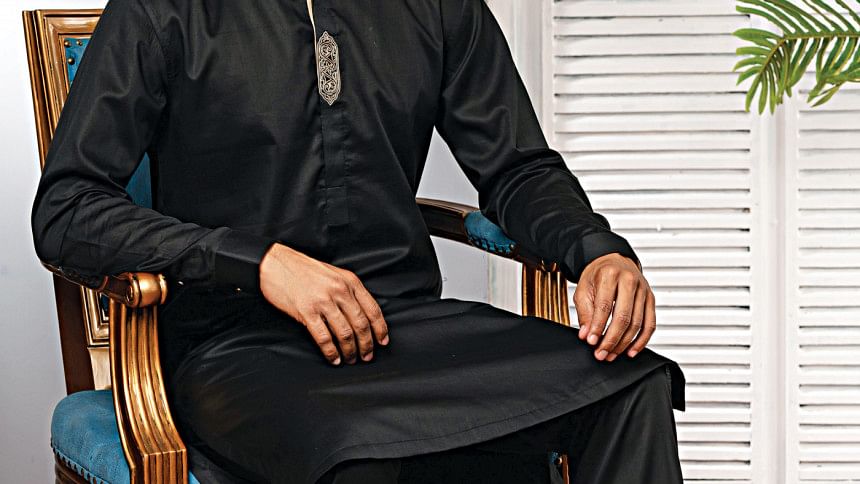 The traditional vest comes in a wide range of designs and patterns. Starting from solid colours to floral designs to bejewelled patterns, these vests and waistcoats come in diverse motifs. For the extra 'deshi' Prince Charming flare, a pocket square or a handkerchief could fit perfectly in the vest pocket!
Similar to the vest, necklaces can also be worn to fancy-up a panjabi for a more grandeur look. To be more specific, pearl necklaces add a certain elegance and splendour, revamping the entire outfit, especially for weddings or during celebratory events, where a little touch of shine adds to the festive aura.
For anyone wanting a more subtle look, other necklaces like heavy gold chains, pendants and such can also be paired. It all comes down to what looks best with the panjabi and what kind of appearance one hopes to achieve.
Brooches are one of the oldest forms of body adornment, making its first appearance during the 5th century in England. Bejewelled with rubies, diamonds, and pearls it was mainly a show of status and wealth and mostly reserved for women. As time progressed, the brooch developed into a more stylish and elegant jewellery appealing to both men and women.
Brooches for men can be found in diverse, elegant and simple patterns. Some brooches have chains attached to add a little extra glint. Such an adornment does not overwhelm the panjabi, but because of the sophistication and simplicity it brings, redefines the overall look to give a more graceful, artistic, and urban demeanour.
To pair the panjabi, a pair of well-fitted pants is always necessary. However, instead of sticking to the usual jeans or shalwar, opting for a pair of churidar would give a more chivalrous and courteous appearance. If one is uncomfortable with well-fitted pants, there are always dhoti shalwars for a nonchalant and breezy vibe.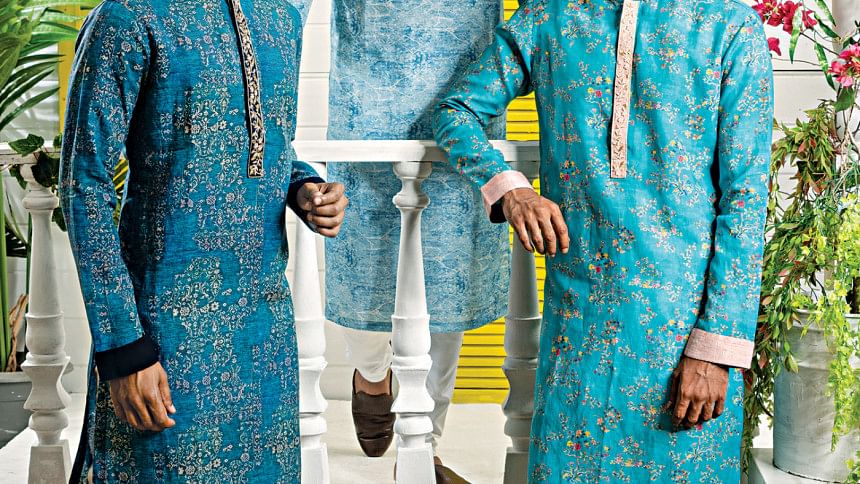 As for shoes, nagras are classics to complement any panjabi getup. Be it a chic leather pair or a voguish bejewelled one with lace and other shimmers, a narrow footwear with a pointy end is a must to bring the entire look together.
A variety of scarves and shawls or a traditional gamucha, watches or bracelets, rings, headpieces, sunglasses for sunny days and other small ornaments hold the potential to uplift an orthodox piece of clothing.
The panjabi has undergone multiple alterations throughout the years. Despite that, it's true essence as a favourite and traditional Bengali attire remains intact at its core. The ornaments only exist to highlight the simplicity and elegance. The heritage and cultural trademarks added with a modern and contemporary twist, makes one feel close to home and look debonair at the same time.
Photo Courtesy: House of Ahmed