eating out
Best Cafés in Town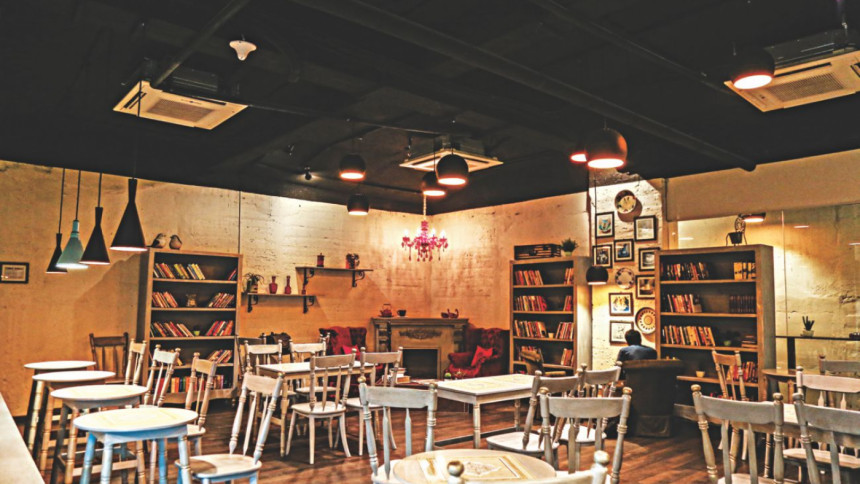 Nothing turns a bad day into a happy one like a refreshing drink in a quiet corner of a café. Whether you want to spend a serene afternoon with your best friends, or whether you want to spend some quality time with yourself and a book on a rainy day, cafés are the perfect place to be. 
The smell of freshly brewed coffee and bread right out of the oven can unwind your stress as soon as you set your foot inside a café. Cafés have a way of making friendships stronger, making gloomy days seem golden as sung by Manna Dey himself, and making you feel a little more at home.
Tabaq Coffee
Tabaq is the perfect place to gather with friends for a casual day out with their brightly lit decor and soothing music. If things get a little boring, you can always ask for a deck of Uno cards to amp your quality time with your friends. Their service won't let you down either because they value their customers' opinion and will ask you after every meal if you have enjoyed it.
Tabaq not only serves some of the best coffee drinks, but also some of the best sandwiches you'll ever taste. A meaty, cheesy, filling sandwich, that comes in both white and brown bread, along with a cappuccino or an ice-blended mocha can be the perfect little breakfast, brunch, lunch or evening snack for the day. And to top it all off, you can even have one of their special desserts from cheesecake brownies, a slice of their moist, milk chocolate cake with rich dark chocolate ganache to mango and strawberry crumbles. Both your tummy and soul will be pleased without putting your wallet through a shredder. Everything on their menu is priced between Tk 120 and Tk 380.
North End
If your idea of a café is modern decor, moody lighting and a place to quiet your mind, North End is the right place to be. The environment in North End is great for solo quality time or a colleague meeting away from the monotonous routines of work. And their multiple branches spread out across the city, ensure that you find one near you wherever you may be.
The drinks and food on their menu are very convenient for people if they are on the go. The bagel and croissant sandwiches make for great, healthy breakfast for the days you oversleep. The desserts they offer go hand in hand with a steaming cup of coffee. Recently, they have also launched protein shakes, making North End the perfect place to hang out after a workout at the gym. Their coffee is brewed from coffee beans imported from Africa, Brazil and America to make a wide variety of coffee drinks to ensure the best quality in town. Get your favourite drink with a side of sandwiches or bakery within Tk 120-400.
Butlers Chocolate Café
If your heart desires to dress up for a fancy evening out, Butlers is where you want to be. Giving off the modern French café vibes, Butlers provides a fine dining experience with their menu and decor. You can sit outside in their shaded patio for that ultimate Paris-like experience or you can choose to sit in comfortable booths inside their air-conditioned café. Wherever you choose to sit, their impeccable service and delicacies will give you one of the most exclusive café experiences.
They have a wide selection of desserts, snacks and drinks on their menu from all day breakfast to soups, salads, pizzas, ice-cream sundaes and milkshakes. No matter what time of the day you choose to visit the café, your cravings will be met. Their pizzas are quite popular for nailing the authentic Italian taste, while their chocolate desserts will have you licking your fingertips. The chocolate drinks and desserts are made from their own Butler's chocolate which you can buy in single pieces or in boxes of different sizes and styles to gift to someone special. The overall prices may be a little on the higher end ranging from Tk 180 to around Tk 800, but the environment, service and quality make it worth every penny.
Nerdy Bean Coffee Haus
Nerdy Bean, as the name suggests, is a quaint café in Dhanmondi, made mostly to cater to bookworms, but also perfect to make it to your aesthetic Instagram feed with their retro decor. With subtle lighting, soft music, comfortable sofas, and shelves full of books, this café makes sure you never feel lonely even if you are alone. Just grab a book and cosy up in a corner with your favourite coffee drink to immerse into the story without any disturbance or awkwardness for a few hours.
Nerdy Bean offers an English breakfast deal at a very reasonable price of Tk 330+ that comes complete with sausages, bacon, mushrooms and eggs, bound to keep you full for hours on end. You can add drinks that are priced within Tk 115 to Tk 400. They also have a range of sandwiches that you can munch on if you don't want a filling breakfast. Place your order, sit back and unwind on a weekend or after a hard day's work for their service and the food will not disappoint.
Café culture is becoming popular across the world because good cafes not only house many memories, but are also places of relaxation in the bustling city life. Visit one near you today and let the smell of coffee cleanse your senses while you energise on a sip of your favourite latte or cappuccino.
Photo courtesy: Nerdy Bean Coffee Haus