Delicious rice recipes for Eid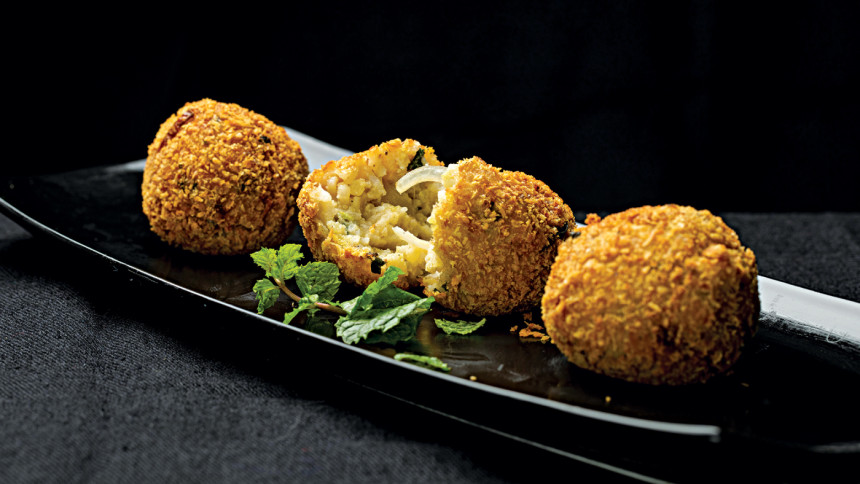 Rice is a staple in any kitchen and with many different types. It lends itself to a limitless number of recipes. Each type of rice has its own taste, texture and unique properties that work well with different cooking applications. And you can use that variety to your advantage by cooking up simply mouth-watering dishes this Eid.
KASHMIRI Polao
This is a traditional Kashmiri cuisine, where rice is cooked with lots of spices and flavoursome broth. It is topped with ghee fried almonds, cashews, and raisins.
Kashmiri cuisine is immensely popular for their aromatic foods. There are few different ways of making it, but the key ingredients like using saffron, dry fruits, raisins and fresh fruits is the standard that is followed.
A traditional Kashmiri polao is made with a lamb broth, in which a lot of spics and fried onions are simmered to extract the flavours. This mildly sweet tasting dish is simply delicious and most importantly, the ghee and fried onions contribute to a tantalising aroma.
Ingredients
1½ cup ACI Aroma Aromatic Chinigura Rice
20 cashew nuts
10 almonds
¼ cup raisins
¼ cup pomegranate
½ cup apple and pineapple, chopped
200g paneer, into ½ inch cubes
A few threads of saffron
½ cup onion, sliced
2 black cardamoms
2 green cardamoms
2 bay leaves
2 cloves
1-inch cinnamon
½ tsp dry ginger powder
½ tsp fennel seeds
¼ tsp cumin seeds
3 tbsp ghee
Salt to taste
Method
Soak rice in water for half an hour. Let the water drain. Soak saffron in two teaspoons of milk. Heat oil in a pan and deep fry the onions till golden and crisp. Drain on absorbent paper. Bring 4½ cups of water, black-green cardamom, bay leaves, cinnamon, dry ginger powder, fennel seeds, and salt to a boil. Lower heat and simmer for 15 to 20 minutes or till reduced to 3 cups of stock. Remove from heat and strain the stock. Discard the spices.
Heat ghee in a deep pan, add cumin seeds and cardamoms. When the cumin seeds change colour, add soaked rice and the stock. Bring to a boil, lower heat, cover and cook till the rice is almost done. Gently stir in the paneer cubes, raisins, cashew nuts and almonds. Sprinkle soaked saffron milk and fried onion over the rice. Cook on 'dum' for another 8-10 minutes. Garnish with fried onions, pomegranate, apple and pineapple, Serve hot.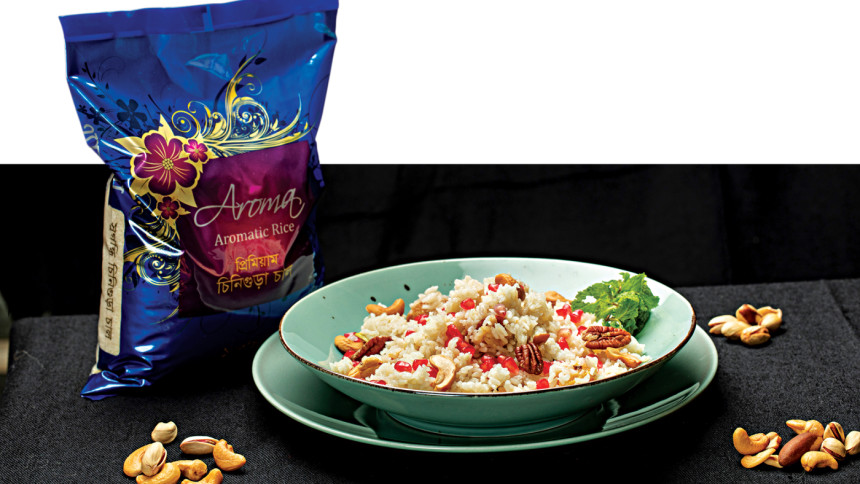 MEXICAN RICE
Ingredients
1½ cup ACI Aroma Aromatic Chinigura Rice
1 tbsp olive oil
2 cloves garlic, minced
1 onion, diced
1 can tomato sauce
1½ cups vegetable broth
1 cup corn kernels
½ cup diced carrots
½ cup peas
½ tsp chilli powder
¼ tsp cumin
Black pepper and salt, to taste
2 tomatoes, diced
2 tbsp chopped fresh cilantro leaves
Method
Heat olive oil in a large pan. Add garlic and onion, cook and stirring frequently, until onions have become translucent. Stir in rice until toasted. Stir in tomato sauce and vegetable broth.
Bring to a simmer, about 2 minutes. Stir in corn, carrots, peas, chilli powder and cumin. Season with salt and pepper to taste. Bring to a boil, cover and reduce heat; simmer until rice is cooked through, about 13-16 minutes. Stir in tomatoes. Garnish with cilantro and serve immediately.
PATTOLE
Pattole or patoli or sihi kadadu — a sweet dish with many names. This is a traditional Goan dish made on special occasions. Pattole are jaggery-coconut stuffed rice rolls that are steamed in fresh turmeric leaves. The smell of leaves, while the pattole with rice flour get steamed, is divine.
Flavour of the turmeric leaves gets seeped into the rice flour while steaming and enhances the taste of pattole. There is really no alternative to turmeric leaves in making pattole. If turmeric leaves are not available, you can use jackfruit leaves or banana leaves, but the taste will be nowhere close to making pattole in turmeric leaves.
Ingredients
1 cup ACI Aroma Aromatic Chinigura Rice
15 turmeric leaves
½ cup grated jaggery
1 cup scraped coconut
2 tbsp ghee
Pinch of salt
Method
Soak rice in water for 2-3 hours. Drain and grind into a thick paste using very little water. Add salt to taste. Take coconut in a pan and roast lightly. Add jaggery and cook for 5-6 minutes. Set aside to cool. Heat water in a steamer. Apply ghee on the shiny side of the turmeric leaves. Spread a little rice batter on each leaf. Put a spoonful of the coconut stuffing and fold the leaves sideways. Place them in the hot steamer and cover. Cook for 10 to 12 minutes. They can also be made in banana leaves. When done, peel off the leaves, dribble a little ghee and serve hot.
CRISPY RICE BALL
Ingredients
2 cups cooked ACI Aroma Aromatic Chinigura Rice
3 tbsp plain flour
1 tbsp chopped green chillies
½ cup processed cheese, cut into cubes
¼ tsp black pepper powder
Salt to taste
Pinch of baking soda
1 egg
Oil for deep fry
Method
Mash the cooked rice gently in a deep bowl. Add all the ingredients except cheese and mix well. Scoop some of the rice mixture using a measuring spoon. Place a cheese cube at the centre. Gather to form a ball, making sure that no part of the cheese is exposed. Shape each portion into a ball. Heat oil in a pan and deep fry a few balls at a time on a medium flame until they turn golden brown in colour from all the sides. Serve immediately with sauce.
ZAFRANI PAYESH
Ingredients
1 tsp ghee
½ cup ACI Aroma Aromatic Chinigura Rice, soaked in water for 30 minutes and then strained
½ cup chopped nuts (cashew, pistachio, almond, walnut)
½ cup sugar
1½ litre full fat milk
1 pinch saffron (soaked in 1/3 cup warm milk)
2 green cardamom powder
Few drops rose water, optional
Method
Take a pan, melt the ghee in it. Add the strained rice and chopped nuts to it. Fry for few minutes. Do not burn the rice. Remove the rice and chopped nuts from the pan and keep aside. In the same pan, add the 2 tablespoons of sugar and 2 tablespoons of water. Caramel the sugar by stirring continuously on low heat. When the caramel will be made, add the fried rice and nuts to the same pan, add the milk and start boiling all together. Add cardamom powder and saffron milk. Cook till the milk is reduced and thickens. Add rest of the sugar and boil for 2-3 minutes.
The colour of the payesh will be brownish for the caramel. Turn off the heat, add rose water, stir and let the payesh cool down completely. Keep in the refrigerator for 1-2 hours. Remove just before serving. Garnish with chopped nuts on top. Enjoy.
Photo: Sazzad Ibne Sayed
Food and Styling: RBR