A Very Red Christmas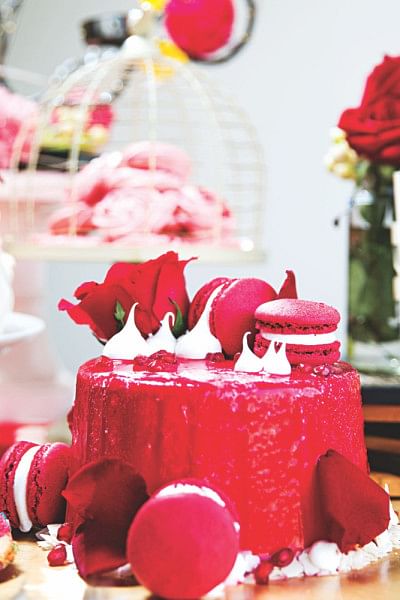 Cherry Meringue Roses

Makes approximately 50 meringue roses

Ingredients

4 egg whites at room temperature

1 package jelly powder 

¾ cup granulated sugar

1 tsp apple cider vinegar

Gel/liquid food colour

Turn on the oven to 121 C or 250 F. 
Method

Blend sugar in a blender until a bit powdery. Whisk egg whites in a mixer, and add the sugar bit by bit as the mixture foams up. Add the jelly powder. Finish with the vinegar and the food colour. If using liquid food colour, be sure to not add too much.
Line trays with baking paper and have a piping bag ready with an open star piping tip. Fill bag and pipe out roses starting from the middle of each rose. Top with sprinkle of choice or bake as is. Takes 30-40 minute in the oven. Once done, remove and quickly cool for 5-10 minutes and store in ziplock bags. Keeps for 3 weeks in cool, dry areas.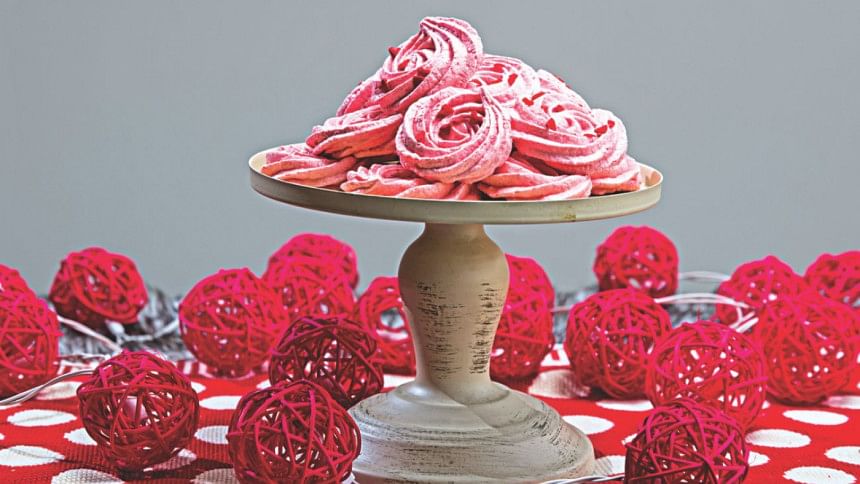 Red Velvet Macarons

Makes approximately 30 macarons (60 shells)

Ingredients

100 g egg whites

6 tbsp granulated sugar

200 g icing sugar, 100 g almond flour

1 tbsp liquid red food colour 

1 tsp cocoa
Method

Line trays with baking sheets and have piping bags ready to with a circular tip nozzle. You can draw out 1-1.5 inch circles on the baking paper to act as a guide.
Whisk egg whites in a mixer and add the sugar bit by bit, as the mixture foams up. Whisk further 5 minutes until stiff and glossy. In the meantime, mix almond flour with icing sugar and sieve them together. Add the dry mix to the meringue. Mix the red food colouring with the cocoa powder until it forms a paste. Add this to the meringue mix. Gently fold until all the ingredients are combined. Be mindful to not over do this step-- 50 to 60 folds at most. We are looking for a thick ribbon-like state.
Transfer to piping bag and pipe out the macarons. Once done, tap the tray thrice gently to let out air bubbles. Leave to dry for a few hours until hard to the touch.
Bake at 135 C for 12-15 minutes per tray. Fill with cream cheese frosting (also used in Christmas Pavlova) and serve. Or store in ziplock bags in the freezer for up to 3 weeks.
---
---
White Chocolate Buttons

Ingredients

100 g white chocolate, melted

Toppings of choice, sprinkles/dried fruit/chocolate coated coffee beans/raisins/blueberries/cranberries/goji-berries/nuts
Method

Melt white chocolate and pipe into circular rounds. Add toppings and let cool.
Christmas Pinwheel Cookies

Ingredients

1 cup/227 butter

250 g sugar

1 egg

3 cups flour

1 tsp vanilla extract

Red food colour
Method

Mix cream butter and sugar in a mixer. Add in the egg and mix well. Add the vanilla extract and then the flour bit by bit. Don't over mix. The dough should come together. 
Cut out a sheet of baking paper and place half of the dough on top. Cut out another piece and place on top of the dough. With a roller, flatten the dough evenly (like a roti). Leave to chill in the fridge. Add red food colour to the remaining dough and do the same and let it chill.
After 30 minutes, bring the dough out. Use water or egg whites to brush one layer of the dough. Place the other layer of dough on top. The water/egg white will work as glue. Next, trim the sides and edges to get a rectangle. 
Starting from one side, roll the dough over - much like a Swiss roll or a sushi roll. Once done you should be left with a cylinder. Take a tray and cover with sprinkles. Roll the entire cookie cylinder in the sprinkles. Cover in cling-wrap and chill thoroughly. 
Remove and thaw a bit. Taking a sharp knife cut out slices and you'll be left with pinwheel shaped cookies. Place in trays and chill a further 30 minutes.
Preheat oven to 180 C and bake each tray for 12-15 minutes. Once done, cool on cookie sheets and store in an airtight container. Lasts for 3 weeks if stored in a cool, dry place.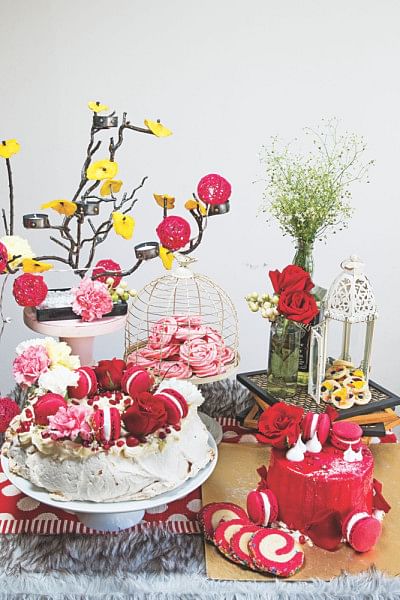 Christmas Pavlova

Serves 8 - 10

Ingredients

6 egg whites at room temperature

1.5 cups sugar, 2 tsp cornflour

1 tbsp lemon juice

½ tbsp vanilla extract
Method

Turn on the oven to 121 C or 250 F. 

Blend sugar in a blender until a bit powdery. Whisk egg whites in a mixer and add the sugar bit by bit as the mixture foams up. Whisk on high for 6-7 minutes until the meringue is stiff and glossy. Add the corn-starch, lemon juice and vanilla extract and whisk again.
Line a large tray with baking paper. Using a cake pan/bowl draw out a circle. Place dollops of the meringue using the circle as a guideline. Keep it rustic and a little messy. Bake for 1 hour and 30 minutes, after which just leave it in the oven for 2 hours or overnight. Remove and cover loosely in cling-wrap. Can keep up to 2 days in the refrigerator or serve with frosting and decor immediately.
Lemon Cream Cheese 

Frosting 

Ingredients

8 oz Philadelphia cream cheese at room temperature

100g icing sugar

1 tbsp lemon sugar
Method

Whisk together and spread over the pavlova. Decorate with fresh pomegranate, red velvet macarons, maraschino cherries and fresh flowers.
A Very Red Christmas Cake

Serves 12

Simple Vanilla Cake Ingredients

250g butter

250g granulated sugar

1 tsp vanilla extract

5 eggs, 335g flour

100g yogurt

3 tbsp milk
Method

Preheat oven to 160 C. Grease two 8 inch cake pans with butter and line bottoms with baking paper. 
Beat the butter, sugar and vanilla together until pale and fluffy. Add eggs one at a time. Add in the yogurt slowly. Fold in the flour in two batches. Add the milk and fold again. Divide into tins and bake for approximately 40 minutes. I recommend a check at 22 minutes just to see where it is at. Vanilla cakes are tricky and need to be baked just right as opposed to chocolate cakes which generally taste better if a little under done.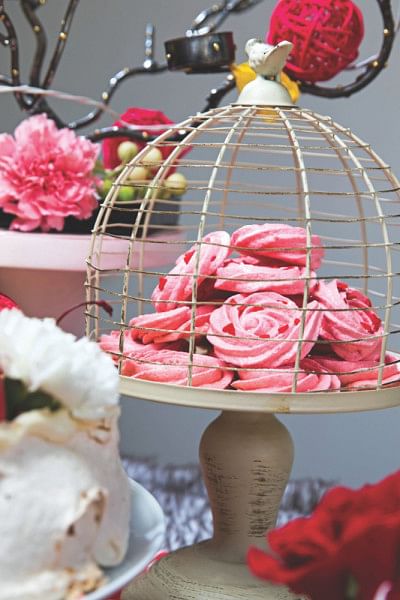 Cool completely before frosting.

Vanilla Frosting Ingredients

175g butter at room temperature

300g icing sugar

1 tsp vanilla extract
Method

Put cream butter and icing sugar with a mixer. Add vanilla extract and frost cake layers.
To assemble, place a cake layer on the cake board and a large dollop of frosting. Spread evenly with a palette knife. Place the next layer on top and frost all sides of the cake. Best to have the cake sitting on top of a turntable rotating cake stand. Using a smoother, smooth the sides of the cake. Leave in the fridge to chill.
Red Mirror Glaze 

Ingredients

1½ cup/300g granulated sugar

⅔ cup/200g condensed milk

½ cup + 1 tbsp/150 ml water

2 tbsp/19g gelatin powder

½ cup/125 ml water

2 cups/350g white chocolate chips

Gel food colour 
Method

Add the sugar, sweetened condensed milk, and water to a medium sized saucepan and heat over medium low heat, stirring occasionally. Pour the water into the powdered gelatine and mix with a spoon. Leave to swell for a few minutes.
When the sugar, sweetened condensed milk, and water begins to simmer remove from the heat and add the swelled gelatine. Stir until the gelatine has dissolved. Pour the hot liquid on top of the chocolate chips and leave to sit for 5 minutes to melt. Stir with a whisk until the chocolate has completely melted. Add the gel food colour and stir until well mixed. Leave the glaze to cool.
Once the glaze has cooled to 37C|90F pour it over the frozen cake, places on top of a cup sitting on a tray to catch the drips. You can add a few drops of white food colour and then use a palette knife to do one quick sweep to achieve the wave effect. Leave the glaze to set for 15 minutes before using a spatula to remove the drips. Transfer the cake to the fridge to set for a few hours before serving.
Red velvet macarons, fresh flowers, fresh meringue kisses, coconut shards and fresh pomegranate can be used for decoration of the cake. Place carefully on and around the cake and serve.
Recipes and food prepared by Saria Saguaro, Pastry chef and owner The Flourist.