Check It Out
Nando's celebrates Valentine's Day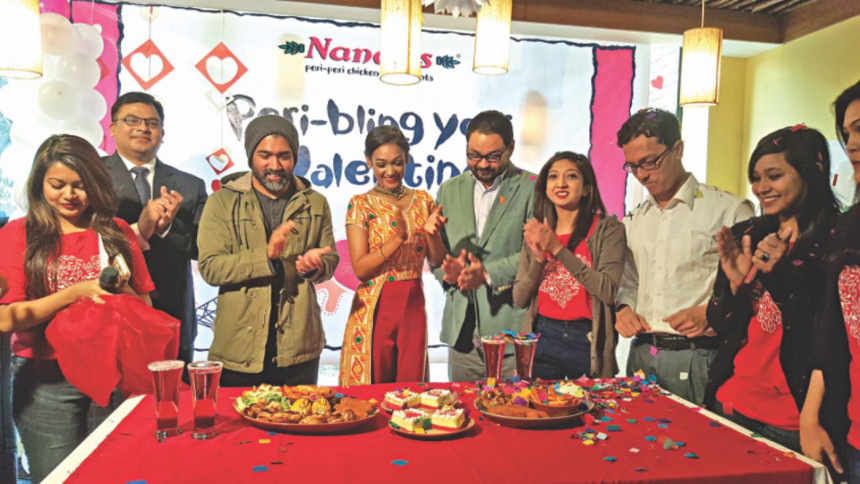 February is Valentine's month. In accordance with Valentine's Day, Nando's – the popular South African restaurant chain – is setting a romantic stage for all the couples celebrating February 14. 
Nando's has launched a month-long campaign that will run from February 1 to February 29. They have also introduced a Valentine's Meal based around the Butterfly Chicken Steak. 
Nando's is famous all over the world for their Peri-Peri Chicken and its exotic taste and flavour which is unique and cannot be found elsewhere.  Other offerings on the Valentine's Meal include chicken wings, designer drinks, wedges, corn on the cob, peri bites, Caesar salad and the special Valentine dessert. The Valentine's meal is the perfect pick for a couple and is available for Tk 2016.  
On January 28, Nando's organised a press event to introduce this campaign to its customers. The meal was introduced in the presence of popular celebrities including Azra, John Kabir, Nabila, Hridi and many more. The campaign will also feature in-house games and photo contests with lucrative prizes up for grabs. Two lucky couples will win diamond rings in the Valentine's celebration.
Nando's will be decorated all throughout the month, making it the perfect place to go for great food and fabulous pictures! Peri-lovers are welcome to spend Valentine's Day in Nando's with really good chicken and adorable prizes.