5 ways to pack light for your upcoming trips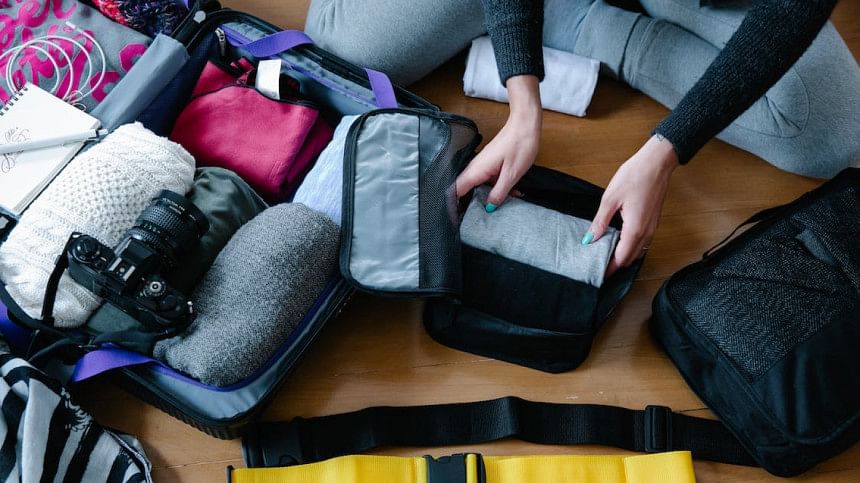 Going for a staycation but indecisive about what to pack? No worries, we got your back. Or shall I say your backpack? When it comes to light packing, some of us are all over the place. As a result, we end up packing unnecessary luggage which becomes a burden later in the trip. So, to make your life easier, we present you the most efficient and effective methods of light packing.
The backpack hack
As backpacks are smaller in size, it sets a clear limit from the beginning as to how much you can pack. It is a simple theory if there is no space you cannot overpack. Plus, backpacks are easier to carry, leaves your hands free, have a laptop pocket, and not to mention, are super trendy. However, if you are going on a business trip where you need to carry suits, try smaller carry-on suitcases. Smaller luggage does not only guide you to pack light, but also eliminates the needless hassle of waiting during check-in and arrival of your luggage.
Set your priorities!
Appropriately sized bag? Check. Now, let us come to the most difficult part, that is, choosing what to carry in the limited space. This again has a simple rule albeit a little hard to follow— prioritise. If you have ten good outfits and you must choose five, choose those that best suit your purpose. For instance, if it is a summer trip, they should be lighter, both in terms of fabric and colour, for a more comfortable travel. If it is business trip, they should be your five most professional ensembles. There may be numerous outfits that you adore, and you might want to take all of them with you but remember we cannot have everything we want in life. That is why economics teaches us the concept of opportunity cost.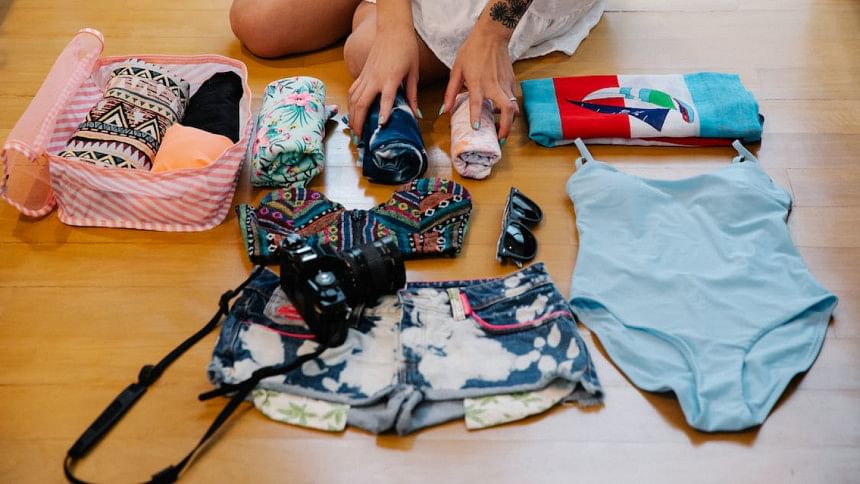 Optimised outfits
To further minimise your luggage, increase the productivity of your attires for a more efficient packing. How so? Pick two pairs of pants which go with six tops. Pick one pair of sneakers that go with everything. Boom! You have optimised your outfits.
During winter, take one thick coat and make sure it is of a neutral colour, so it complements most of your outfits. Do not try to force the coat in your luggage. Rather, hang it loosely over your arm or your shoulder, or just wear it while travelling.
Multi-purpose cosmetics
Cosmetics are an essential part of our daily routines. However, carrying a bunch of bottles can be quite inconvenient, especially if it is short trip. Enter multi-purpose cosmetics. This sort of cosmetics will make light packing easier by squeezing multiple jobs into one. For example, cosmetics like sunscreen + primer + foundation will do the job of 3 in 1. A shampoo + conditioner or a hair and body wash are other examples of multi-purpose products.
Laundry day?
Sometimes we pack extra clothes in case there is any emergency or to avoid repetition. If it is a business trip, packing extras are wise assuming that you might spoil one accidently and you do not have enough time for cleaning. However, in other cases, carrying travel sink packets or mini wash bars is a real space saver. In this way, you can easily clean your dirty clothes and wear them afresh!
There is no specific mantra for packing light. The process just requires a minimalist approach. If you let go of your material attachments and focus on the experiences instead, I believe you will be able to pull it off. Remember, at the end of the day, it is the memories that will make you smile years down the line, not what you were wearing.