TAAGA Outstanding Young Professionals Award: Celebrating women who drive change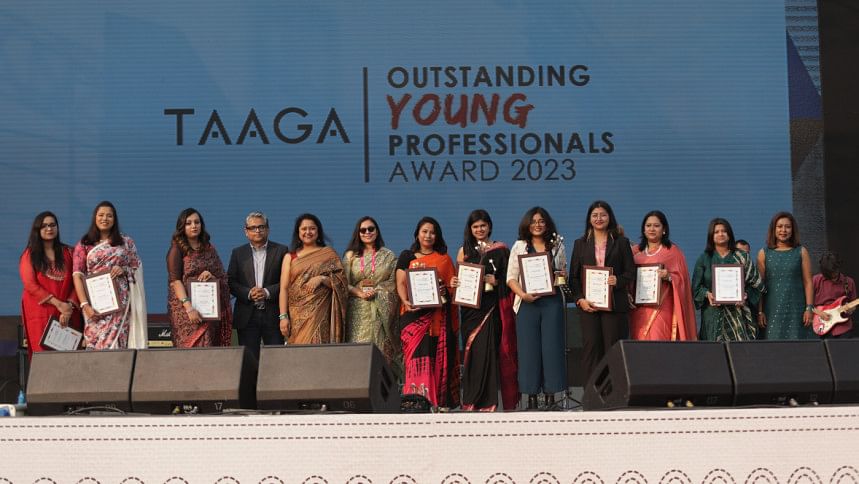 TAAGA is making strong statements in a society where women are frequently underrepresented in leadership roles and their achievements are frequently ignored. Young female professionals, under the age of 35, who are breaking down barriers in various fields are being recognised by the brand through the introduction of the TAAGA Outstanding Young Professionals Award. 
Nine outstanding female professionals were chosen as finalists for the award. They were Anika Meahnaz, Assistant Manager, MRP Unilever Bangladesh Ltd.; Forhat Nazib Chowdhury, Manager, Climate Responsive Infrastructure, Save the Children International; Labiba Mustabina Oishee, Business and Clinical Development Associate, Renata Ltd.; Maria Kibtia, Area Leaf Manager British American Tobacco Bangladesh; Dr Nazmee Kabir, Specialist Orthopaedics and Trauma Surgery, Evercare Hospital Dhaka; Sahida Fatema, Operation Manager Foodpanda Bangladesh; Shabnam Rafat Ummey Sawda, Business Analyst, MyGP Product, Grameenphone Ltd.; Tasnia Tasnim, Territory Manager Berger Paints Bangladesh Ltd.; and Zeba Samiha, Category Demand Planner, Berger Paints Bangladesh Ltd.
"It felt really good first to be nominated by my organisation, it meant that they believed I deserve a platform such as this one, and then being selected as one of the top finalists from so many other young women was itself a great achievement for me. Hats off to TAAGA for coming up with this unique way of inspiring the new generation by recognising young outstanding professionals. Stories of the winners will definitely motivate young professionals positively," said Dr Nazmee Kabir, one of the finalists.
The jury panel consisting Moutushi Kabir, Senior Director, People, Culture and Communications, BRAC; Shwapna Bhowmick, Head of Region Bangladesh & India, Marks & Spencer; and Zaved Akhtar, CEO and Managing Director, Unilever Bangladesh Limited picked three winners in Forhat Nazib Chowdhury, Labiba Mustabina Oishee, and Maria Kibtia at the award show which was held at the Army Stadium, on Day three of the BRAC Hope Festival 2023. 
TAAGA was launched by Bangladesh's premier lifestyle brand, Aarong in 2003. Since then, TAAGA has carved out its own identity, finding its place amongst young consumers who resonate with its ability to be responsible, versatile, and modern. With this award programme, TAAGA is taking its commitment to women's empowerment to the next level by recognising and celebrating the achievements of young female professionals.
The Outstanding Young Professionals Award recognises women who have strong work ethics and a drive for excellence. All the nominees show courage by pursuing options that may be risky, new, or untried, but they are not afraid to implement new methods, ideas, and opportunities. The award recognises young women who stand out for their extraordinary performances and are setting performance benchmarks in their respective fields.