5 things we love about Moroccan footballer Achraf Hakimi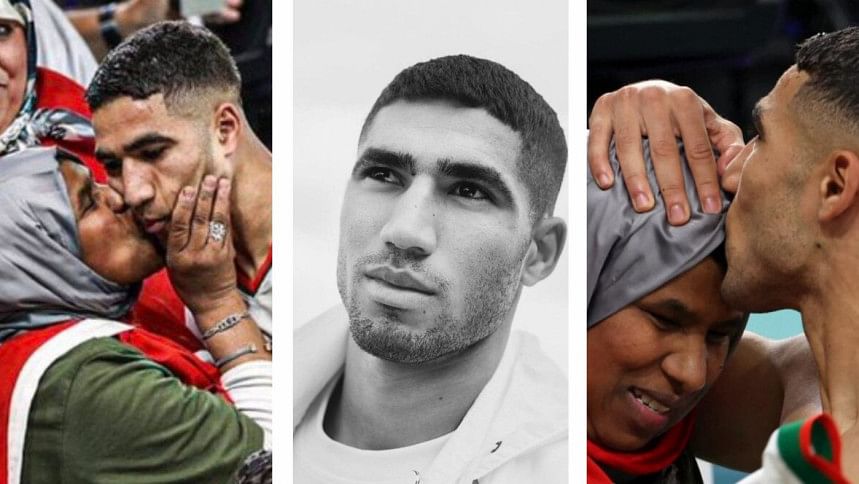 The picture of Moroccan player Achraf Hakimi interacting with his mother caringly after his team beat European giant Belgium, has to be one of the most endearing photos of this world cup so far. This poignant moment showed to us just how emotionally invested players like Hakimi are with this beautiful game. As a rising football star for years, Hakimi has garnered quite the fan following. So, let's take a look at five things we love about Achraf Hakimi.
His love for family and Moroccan identity 
Hakimi's parents moved from a Moroccan village in the vicinity of Casablanca to the industrial sector of Madrid at a young age to build a better life for themselves. He always appreciated the sacrifice and hard work of his parents. That's why, ever since he became a professional footballer, he has always pointed out his family's struggle to make him the successful person he is today.
While Hakimi was born and raised in Madrid, he represents Morocco on the international stage rather than Spain, even though earlier in his career he got the opportunity to play for them! He felt that it would be better and an honour to represent Morocco as to also show respect to his family, heritage and culture.
A family man himself
At just 24 years, Hakimi is very mature and a devoted family man already, having married Spanish actress Hiba Abouk, who is of Libyan and Tunisian descent. The couple have two wonderful sons, born in 2020 and 2022 and you can't help but fall in love with this adorable family whenever you visit Hakimi's social media accounts.
Quite the fashion star
Not being content by his football talents only, he also has a penchant for fashion. He is a regular at Paris fashion week shows ever since his move to the French club PSG and just this year, he and his wife were featured in a Vogue cover photoshoot, oozing effortless charm and a supermodel persona.
Gamer boy
Hakimi's talents have also been on display in the virtual world as he is known to have showed off his gaming talents in the Bundesliga Home Challenge – a FIFA tournament set-up during the coronavirus pandemic across the German football league, for his then club Borussia Dortmund. Hakimi made three appearances in the tournament, but apart for FIFA, it's been known that his biggest love in the gaming world is Fortnite.
Played with Ronaldo, Messi and Neymar
It will be a dream come true for any footballers to just play alongside Ronaldo, Messi and Neymar, even if it's just one player among the three. But Hakimi has the rare fortune to play and learn from all of them, as he played with Ronaldo in Real Madrid and now, he plays at PSG with Messi and Neymar, learning from the world's best to become one of the top players in the world himself.