Perfect ways of making and storing Deshi Ghee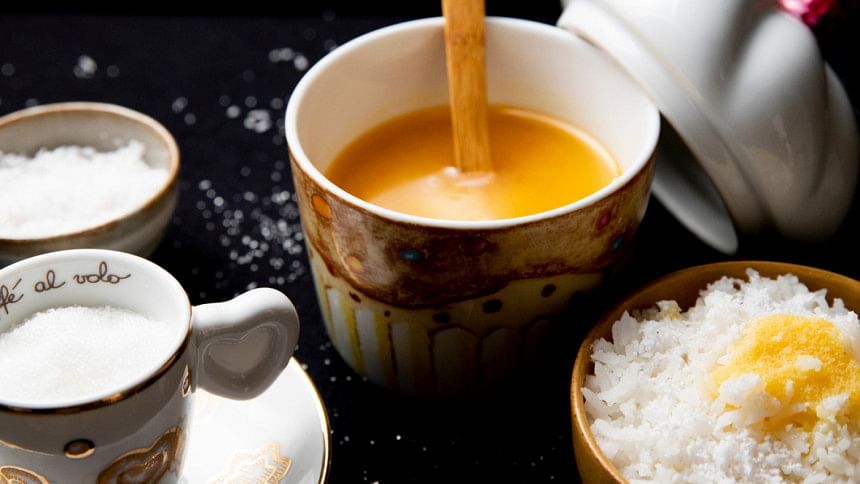 Ghee is not an enemy, contrary to the beliefs held by most noob health enthusiasts. Studies show that ghee is a healthy fat that cuts the bad fat in your body and helps to stay in shape. This, however, does not mean that you end up hogging on it. Having 1 tablespoon (15 gm) everyday can help you achieve its many benefits like good skin, lean body and warmth during winter.
Deshi ghee is one of the most easily digestible fats used for cooking, and is also a natural remedy for balancing the heat element of the body. It aids in digestion and the excretion of toxins. It not only keeps you warm but also increases your immunity and protects against cold and flu.
Ingredients
1 liter malai (cream from milk) chilled
Method
Make sure the cream is cold when you start to make ghee. Place the cream in a large bowl and churn it with a hand blender. After a few minutes, you will see the cream start to separate into butter and liquid. At this stage, keep churning for 2-3 minutes more till all the cream has separated. Place a sieve over another bowl and cover the sieve with a cheesecloth. Drain the butter in the cheesecloth and collect the remaining liquid or buttermilk in the bowl. Butter milk can be drunk as is, or can be used for baking and cooking later. Collect the edges of the cheesecloth and squeeze out any extra liquid from the butter. At this stage, you can either store the butter in the fridge or use it to make ghee. To make ghee, place the butter in a saucepan over the stove and warm it up. Once the butter melts completely, let it simmer. As the butter simmers, it will start foaming and splutter. Continue cooking the ghee on low heat for 20-25 minutes, stirring occasionally to make sure the milk solids don't burn at the bottom. As it cooks, it will start to change colour from bright yellow to a light golden brown. Once the ghee becomes clear, stops foaming and the milk solids at the bottom turn brawn, your ghee is ready! Let it cool for a few minutes before straining it on a cheesecloth. Store it in an airtight jar.
Storing Ghee
Ghee is very shelf stable and can be stored at room temperature for 3-4 months, or in the fridge for up to a year. Ghee will automatically solidify slightly at room temperature or can solidify completely if you stay in a cool climate.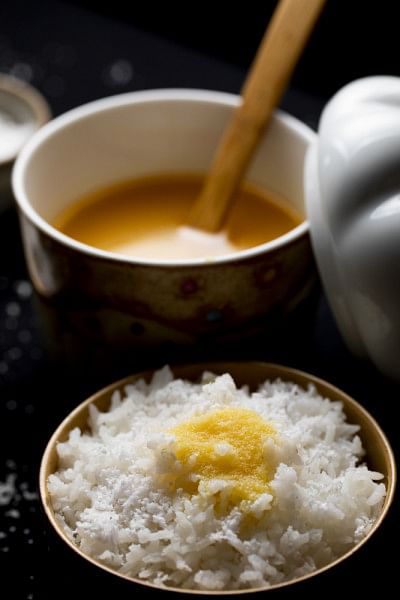 Using Ghee
Use ghee like any other cooking fat for stir-frying, sautéing and even deep frying. It also tastes great if spread on toast or drizzled on soups, stews, dals, sweet dish, rice etc.