Intellectually Moscow
Now it's from Russian language to Russian brains, but more on Moscow landmarks will follow in the latter part of this story.
Room number 200, located at the second floor of the Sholokhov university campus in Moscow will be the 'intellectual green room' for three consecutive days for all participants invited to Russia including this author. Since I was never good in noting down important names and as everything was in Russian, from roundtables, conferences, Q&A sessions to lectures so interpreters were needed. Not one but I was provided with four of them. Except one, all of them turned out to be relatively young in age. Most of them were recent graduates or students of the Sholokhov University. They not only interpreted my questions and answers but also explained the subject topics of each session; brief me about the panel of discussants and help me with contextual information.... and also guided me to Moscow's famous Biblio-Globus book shop for hunting down the collected works of Alexander Pushkin.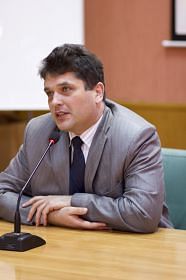 Before measuring Russian intellect, I must thank the Sholokhov university authority for efficient handling of lecture and roundtable sessions. Namely three persons - Margarita, Tatiana and Galina, all working for the university have proficiently organized and coordinated the programmes. They had been instrumental and the best of Russian hosts. They accompanied us almost every where.
For its hand-outs to the entire visit the university deserves a few lines of praise. In the field of technologies and applied knowledge for the humanities, Sholokhov is considered to be one of the major universities for higher education in Russia. This most fast-devolving university of 2009-10 has even won the scheme of state support for its strategic development. Named after the famed Russian novelist and Nobel laureate Mikhail Sholokhov, it's also engaged in various political education and activism projects. Though sponsored by the ruling Russian political party – United Russia, it refrains from running United Russia's unabashed political propaganda.
During the visit, this university's staffs played a vital role for branding Russia besides promoting its diplomatic interests. It seemed to function like an 'academic bridge' for linking Russia with the rest of the world.
As Russia began to speak its mind, the interpreters kept assisting me by turns. And for me it was to follow - how brains complimented beauty. Beginning from 10 and lasting till 6 in the evening – the three days seemed like an adolescent toddler. Learning and asking about the history, politics, science, diplomacy, and literature about an old country which is now dubbed as the Russian federation. Out of sheer curiosity, I was observing the queries, responses, and reactions of my fellow participants; a general topic that recurred from time to time was:  how the relationship between Russia and its former states could be further strengthened.
 The blend of discussants and lecturers was diversified. There were university professors, dean of faculties to journalists; university's president to experts in Russian diplomacy; Leaders of opposition parties to spokesperson of the government's media wing and many more. Their collective goal in room number 200 was simple: in spite of differing ideological standpoints and professions they all united to represent and re-define today's Russia. Speak on its plans, roles, and contributions to the modern world. Let know of its wide-ranging diplomatic, financial, and geo-political interests.   
It's this unity of people that's missing in today's Bangladesh. For both known and unknown reasons we are divided on all counts.  While representing our country – the facts and means of portraying it bitterly contrasts between the political entities.
What appeared rather fascinating is that, conversing on the subject of good governance and political systems both speakers of the current regime and opposition parties seemed more realpolitik and not 'unquestionably loyal' like the old apparatchiks. Bonded with a common agenda, the purpose to vilify any particular regime or leader was not there. Yet, almost all the sessions had ended with a strong anti-capitalist tone. The communist era may have vanished but the residue of the old enmity very much still prevails in today's Russia. But beneath this aversion, the forbidden cravings to own the latest I-phone or any other western gadgetry can be seen almost anywhere. 
Believe it or not, against this author's lone Samsung Smartphone, everyone that dwelled in that room possessed an Apple product in some form. However, in terms of better relations it became evident how deliberately Russia desired to improve its relations with its former commonwealth of states. Two participants from two former communist countries – Bulgaria and Czech Republic were present apart from Ukraine, Kazakhstan, Tajikistan, Belarus, Armenia and Uzbekistan. It was learnt from their interaction with the discussants that their bilateral ties frantically needed to pick up. As loyalists and former parts of Soviet Union – they sounded, as if; in the past they were oppressed under the Soviet regimes. And as independent states now, they have even bigger problems related to economy, good governance, natural resources, and communications. Whereas, participating of Bangladesh - far away from being a former Soviet or communist state - seemed like a perfect misfit.    
Isn't it?
Since the inception of Bangladesh in 1971, its relationship with former Soviet Union has been generally good. For Russia has been an uncompromising advocate for Bangladesh's independence. Though we never directly fell under the Soviet bloc but our bilateral ties gradually became closer by the day. Despite the many complex situations arising within the political and economical spheres of the two countries, their never came any point of crisis. The lowest point, in relations probably reached after the expulsion of some nine Soviet diplomats from Dhaka between December 1983 and January 1984. Bangladesh also condemned the Soviet invasion of Afghanistan but the few opposing viewpoints were far from damaging our mutual ties. Nevertheless, while promoting their country's interests, my Russian friends seemed committed to the core. At times, the discussions sounded like the Russians still believed that their former states were linked to their country by some 'inseparable' and 'unidentifiable' cord. You won't know unless you haven't experienced it.
The perception of independent soviet states, to be contented with their independent status is not actually true. From my experience, i wouldn't dither to say, they need Russia more than Russia needing them. Maybe i am biased but it was not meant to offend any nation in particular.
If understood correctly, Russia was focused on building alliances globally too and it was clear that it paid more importance to China than any other nation on earth.
I took it as a sheer wit. Sticking to Marxism-Leninism, borrowing the organisational techniques from Russia, and by modifying and experimenting with its own type of socialist market economy, today it's China which is US's number one headache. Not Russia. Ironically, Russia still thinks positively about its socialist past. A new history textbook in Russian, introduced 5-6 years ago is reported to have stated openly, that 'the Soviet Union, although not a democracy, was an example for millions of people around the world of the best and fairest society.' So what happened to that fair socialist system? Why did it collapse?
Whatever, i shouldn't be poking my noses in 'politically-sensitive-subjects' and i am here on an 'academic-cum-excursion 'tour and also it's time for our lunch break. Throughout those three days, the lunch venue was the same restaurant located within a stone's throw from the university campus. The best thing, apart from its interior full of contemplative black and white photos is that it offered numerous varieties of Russian salads. Among the served dishes, it's easy to avoid any non-halal item. It's extensively used by the nearby office staffs and Sholokhov pupils. Opposite of it, was a two-storey bookshop. Among a collection of 5000 plus books it contained a meagre number of nine English books. Among the made up of nine, the latest was the 20th some re-print of Agatha Christie's Death on the Nile. The book was first published in 1937.
I had experienced the same in most of Moscow's bookshops. It isn't criticism but Moscow bookshops have their own tastes for displaying western fictions. For instance, he Biblio-Globus, displayed the re-prints of almost all Ian Fleming James bond thrillers. The few shops that offer English books also have special sections dedicated to Russian history and Russian literature translated in English.
Well time's up, we need to get back to room 200. The noon session is about 'Russia and second world war'. True that no other country suffered as much as the former Soviet Union during the war, but also true, that no other country had signed anything as infamous as the 'Molotov-Ribbentrop pact' with Hitler.
For the reader's convenience, this pact contained a secret protocol that divided territories of Romania, Poland, Lithuania, Latvia, Estonia, and Finland between German and Soviet control. It was prepared in the light of future's potential territorial and political exploits between these countries. This only strengthened and inspired Germany to invade Poland on 1 September 1939.
When asked 'how the Russians evaluated this treaty nearly seventy years after the war had ended?' this author had only managed to get a tactful but a many-sided answer. Or perhaps my question was not accurately translated. Beyond the academic spheres, the subject would surely make one curious to know how today's Russia evaluates it.
Following a break the topic shifted from history to current times. The question from an Armenian fellow was, 'What are Russia's plans to re-emerge as America's number one global economic and military competitor?'
The question was rephrased by this author too. 
Whatever you do, don't be too blunt to ask it at a roundtable in Moscow. I got too many answers at a time which seemed far too difficult for my stunning interpreters to translate word by word in English.
Since the piece was about intellectuals so the term intelligentsia must be talked over. The word intelligentsia maybe a Russian invention, but it's hard to define the Russian intelligentsia based on just a few interactions. May be i fell short in understanding the Russian intellectuals. Also allow me to throw the question at you, since i don't know how to accurately define them.
How would you define a gathering of academically bright, well-dressed, soft spoken, analytical, and good thinkers (both men and women) who are taken seriously by that country's media and government?
My limited understanding about the Russian intelligentsia is learnt by reading some of the works of intellectuals and sharp critics like the late Mikhail Bulgakov and Solzhenitsyn. Such daring was their display of intellect, that they were marked as 'extreme threats' to the Soviet totalitarian regimes. They were not only expelled from their motherland but distribution and exchange of all their works were banned in public. They were jailed, let alone be introduced to a group of foreign guests like us.
Compare to them, the intelligentsia – to whom i was introduced in Moscow - felt like meeting the 'unendorsed officials' of the Russian government. In general, their goal was to foster Russian interests by sidelining all internal setbacks. However, too much analysing of the key personalities of room 200 may spoil the joy of touring Russia.
Let's turn to landmarks, a subject 'free of disputes.'
It's a Television Tower and the name is Ostankino - Moscow's answer to Paris's Eifel and New York's Statue of Liberty. This tallest freestanding structure not only boasts of Russian architecture but has a speedy elevator too. (It's German built)
Though a number of TV, FM and MW stations are located in this tower but it doesn't have many floors. Once reached its summit, the floor indicator pointed at floor 337. In reality, it wasn't a floor but an encircled lookout deck. If you are dying for a 360° panoramic view of Moscow then this is the place. From here you can see as far as your sight takes you. 'No', from here Moscow didn't look 'mesmeric' or 'awe-inspiring'. It looked whitish grey, misty and a city shivering in cold. Part of it was competing to have a spree of skyscrapers. Its industrial parts looked dim and busy. The residential hubs surrounded by snow-capped treetops scattered around pronounced – we exist. Cathedral summits proudly announced: no matter how high you are god is watching you. The plethora of high-rise apartments echoed the joys and pains of urban life. The best is: you are on top of Moscow. Leave out the sky and nothing is above you. I will be concise than to a more effusive description of the Ostankino.
Despite catching fire twice, inflicting heavy damage and tilting slightly, it symbolised the typical Russian character: endure the harshest of times but never collapse.
Though my time in Moscow is short but the end hasn't been reached yet, so will say goodbye next time.
(To be continued)
The writer is Current Affairs Analyst, The Daily Star