Inqilab sued, 4 journos picked up
Inqilab sued, 4 journos picked up
Detectives last night raided the office of the Bangla daily Inqilab and picked up four journalists, sealed off the press, plate-making and server rooms, and seized three computers.
The move came hours after the law enforcers filed a case against the paper's editor, publisher, chief reporter and a reporter for publishing "baseless" news that Indian forces took part in operations in Satkhira ahead of the January 5 polls.
The detainees are News Editor Rabiullah Rabi, Deputy Chief Reporter Rafiq Mohammad, Diplomatic Correspondent Ahmed Atique and Senior Reporter Afzal Bari, the newspaper said.
It said a team of around 25 policemen raided the office inside the seven-storey Inqilab building on RK Mission Road around 8:00pm and left at 10:15pm with the journalists.
Officer-in-Charge Tapan Chandra Saha of Wari Police Station told The Daily Star around 12:50am today that the detainees had not been taken to the police station.
Shamim Chowdhury, a special correspondent of the paper, said the newspaper staff were working in the newsroom on the fourth floor when members of the Detective Branch of Police stormed the office.
"They told us to leave the room with our personal belongings and kept us in the corridor while they raided the place for over one and a half hours," he said.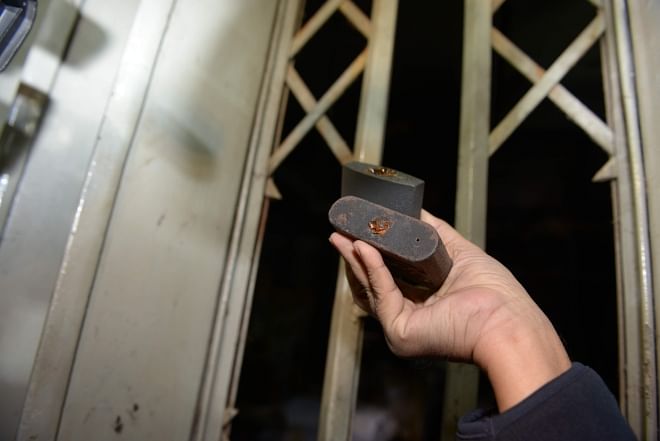 Shakhawat Hossain Badsha, another special correspondent, said the paper might not get published today due to the sealing off of the press but news should be available on the online version.
Sub-Inspector Jahangir Alam had lodged the case with Wari Police Station around 2:00pm under the Information, Communication and Technology Act, and under the Penal Code accusing Editor AMM Bahauddin and the three others.
According to a statement issued by the DMP media cell last night, the newspaper on its website and its print edition yesterday published a "baseless" report that Indian forces had helped in the joint forces' operations in Satkhira to suppress the movement for a caretaker government.
The newspaper had reported that the foreign ministry with the permission of the Prime Minister's Office had sent a letter to New Delhi asking for assistance from the Indian armed forces.
The Dhaka Metropolitan Police stated that the "false" news had damaged the image of the country, law enforcement agencies and created doubt in citizens' minds.
Meanwhile, at the first meeting of the new cabinet yesterday, Prime Minister Sheikh Hasina discussed the Inqilab report with her cabinet colleagues and said her government would not spare anyone who engaged in such anti-state propaganda.
She questioned as to how such "manipulated and fabricated" news could be published by a newspaper, a minister quoted Hasina as saying.
Information Minister Hasanul Haque Inu could not be reached for comments.
Meanwhile, a section of journalist leaders condemned the police raid and detention of journalists. Dhaka Reporters' Unity will hold a protest rally in front of the Jatiya Press Club at 11:00am today.