Congress to stage sit-in tomorrow protesting ACC, NRC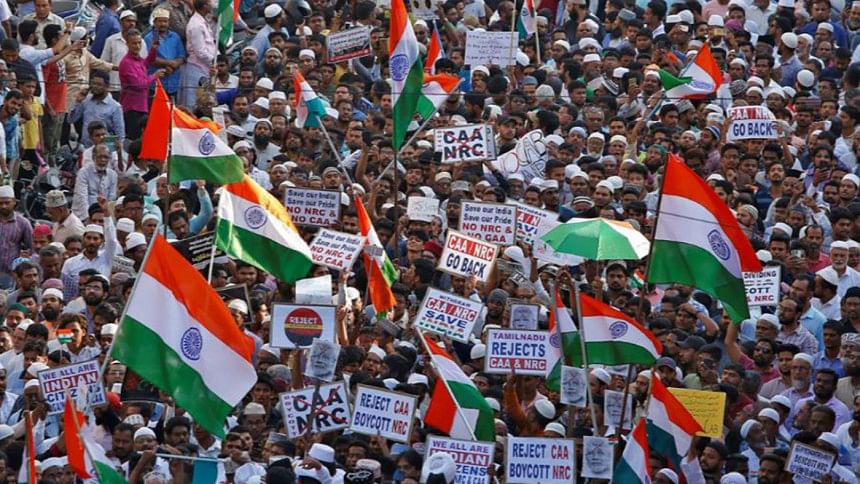 Congress, the main opposition party in India will stage a sit-in at Rajghat, the memorial of the country's Father of the Nation Mahatma Gandhi, tomorrow protesting the Citizenship Amendment Act and proposed National Register of Citizens.
Congress chief Sonia Gandhi will lead the sit-in programme protesting the CAA and the NRC, reports our New Delhi correspondent.
Top Congress leaders, including its former president Rahul Gandhi and its General Secretary Priyanka Gandhi Vadra, are likely to participate the 'satyagrah dharna' from 3:00 pm to 8:00 pm local time.
"Senior Congress leaders will hold the sit-in at Mahatma Gandhi's samadhi at Rajghat tomorrow, from 3:00 pm to 8:00 pm. In line with the path of non-violence, yet consistent and unequivocal opposition shown by the Father of the Nation. The party's satyagraha will fight against this dictatorial government and to protect the sacred Constitution," Congress General Secretary K C Venugopal said on Saturday night.
The decision to hold the silent protest was taken at a meeting of top party leaders at Sonia Gandhi's residence here.
Venugopal said in a statement that there has been widespread resentment against the recent actions of the BJP government among the people across the country, especially amongst youth demanding the restoration and maintaining the sanctity of rights guaranteed by the Constitution.
"The dictatorial and stubborn BJP government at the Centre and in different states has used indiscriminate police force against ordinary citizens in the name of maintaining law and order," he said.
This, he said, has led to further worsening of the situation.
Priyanka in a statement yesterday flayed the detention of students, journalists, intellectuals and social workers protesting CAA and NRC and accused the BJP government of using "brute force" to suppress the "voice of the people."
The Congress party's sit-in demonstration tomorrow could well mark the start of a fresh round of agitation by opposition parties against CAA and NRC, sources said.
Meanwhile, Congress-ruled Rajasthan has joined opposition-ruled West Bengal and Kerala in opposing the National Population Register (NPR) which was to have worked as the basis for NRC. West Bengal and Kerala have already put on hold all work relating to NPR.
Besides, at the same time India's ruling Bharatiya Janata Party announced that they will begin a ten-day mass contact programme to share details of the CAA to drive home that the legislation is not against existing Indian citizens irrespective of their religions and counter the opposition campaign.