Armenians in Dhaka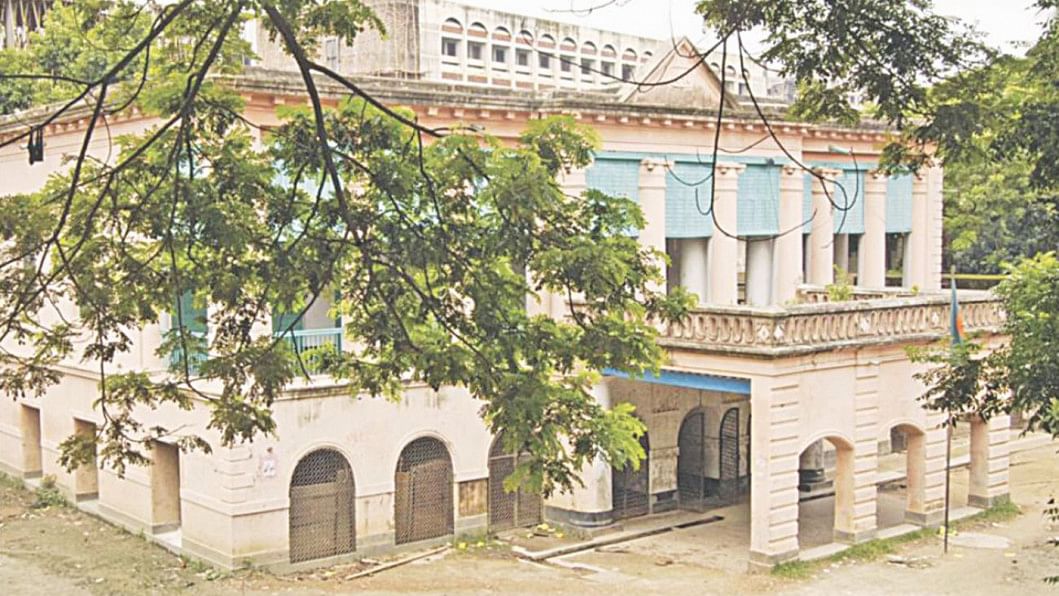 The Armenians most probably came to Bengal before any other European merchants and played an important part in the export-import business of not only Bengal but also the whole of India. But, it was in Bengal where they were most active. They reached Bengal-Bihar in the early 17th century if not earlier, as there are inscriptions (now preserved in Kolkata Museum) which were found in Bihar dating from the 1630–1640s.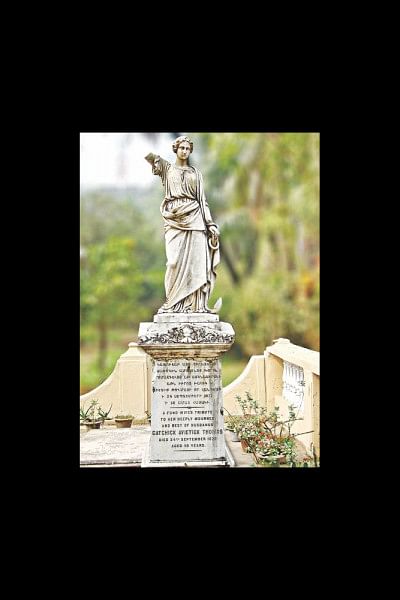 According to Ahmad Hasan Dani (author of the Dacca: a record of its changing fortunes), Armenians settled and founded a colony at Dacca in the early part of the 18th century at Tejgaon. He identifies the time based on some graves of Armenian individuals who died between 1714 and 1795 which can be found in the Portuguese church of Tejgaon. On the contrary, Anne Basil, author of Armenian Settlements states that the first Armenian traders of Dhaka are reported to have reached the city in 1613. A letter from the company in London to Bombay in 1689 asks the English to help the Armenians while procuring clothes, raw silk and other fine goods from Bengal since the community had a better trade network, capital, logistics and connections not only in Bengal. It is said that they settled in Saidabad (a locality in the vicinity of Murshidabad in present day West Bengal) after getting permission (firman) from emperor Aurangzeb in 1665 and also built a church there. There is a grave of a lady in the Armenian church in Kolkata (established in 1724) bearing the date 1630. So, it can be said that even if they had not settled in Dhaka in the seventeenth century, they certainly had a business and trade network in this part of Bengal from that time.
The Armenians settled in present day Armanitola—the name of the locality still bearing reminiscences of their presence. They were at first a small community but were unmatched in textile trading, and in some cases had monopoly in the saltpetre, betel nut, opium and salt trades. According to John Taylor (who was the Commercial Resident of Dhaka in 1800), in 1747, Armenians were the largest exporters of cloth from Dhaka, far ahead of English, Dutch or French. With their profits and huge resources, they became very influential and rich; their affluence resulted in the construction of a church of their own and other private mansions.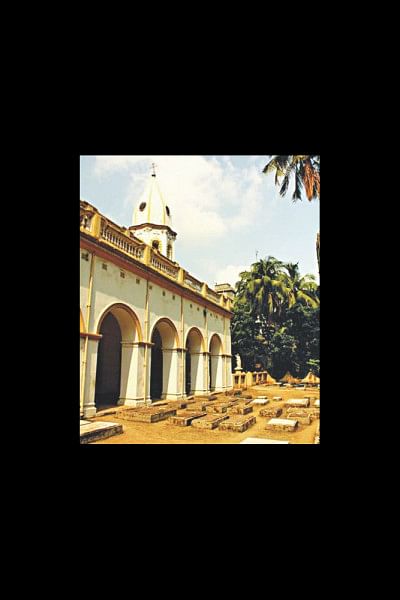 Prior to the construction of the church in Armanitola, they worshipped at a small chapel which they had built in the same locality. In 1781, the beautiful church of the Holy Resurrection was erected on the site of the old chapel through subscriptions from Michael Sarkies, Astwasatoor Gavork, (George) Margar Pogose and Khojah Petrus. In 1837, a beautiful steeple, which was to serve as a clock-tower, was erected to the west of the church, near the belfry, but it fell down during an earthquake in June 1897. There was also an oil painting by a well-known European artist of bishop Ephraim who consecrated the church, but this was taken away by Archbishop Sahak Ayvadian in 1907.
The Armenians were famous as merchants from ancient times and their guiding philosophy was to get involved with any business which brought profit. They brought the jute business here in the second half of the 19th century and were pioneers in the jute trade. Names of 12 eminent merchants of Bengal engaged in jute trading in Dhaka and Narayanganj in the late 19th and early 20th century can be found. Some of the most prominent were Abraham Pogose, Margar David, J C Sarkies, M Catchatoor, A Thomas, J G N Pogose, Michael Sarkies and P Aratoon. Among them, M David & Co sometimes bypassed Kolkata to export jute directly to London through Chittagong. They owned 12 motor launches for carrying goods. Other than the jute trade, Armenians were also involved in internal trading and local logistical support because of their huge trade network.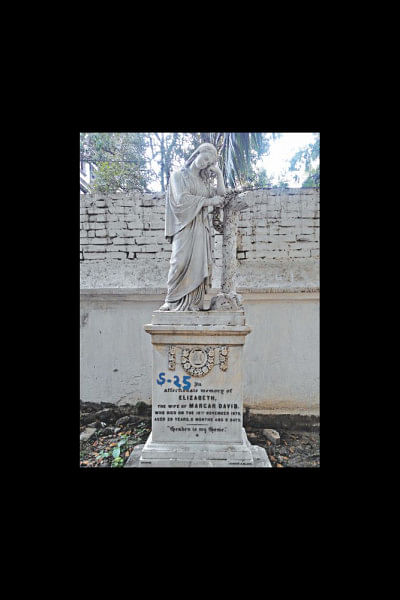 The Armenians also introduced the hackney carriages (ticca-gari) in Dhaka. The founder of G. M. Shircore & Sons., Mr Shircore brought them to Kolkata and these were the first means of public transport in the city. It became such a success that many other Armenian and local businessmen followed suit. The Armenians were the first to introduce European and British goods in the city and set up the departmental stores of the style we know today. These stores also provided the supply of tea in those days and popularised it as a drink of the elites.
The Armenians were always in competition with the English so they had to explore many businesses and at one time they even started to buy Zamidaris, unlike in other places in India. There were only three Armenian zamindars between 1836–38, paying more than 1,000 rupees a year, but their number grew rapidly in the latter half of that century. Families of Michael, Sarkies, Aratoon, Stephens, Lazarus among others became zamindars. Khoja Michael, Aratoon and Lucas were the zamindars of South Shahbazpur (Bhola), Pargana Hussain Shahi and Doulat Khan respectively.
The Armenian community contributed a lot to the civil society and the life of the city. Nicholas Pogose in the early 19th century established the Pogose School, which was one of the only three English schools in Dhaka back then. He was also a founding member of the Dhaka Municipality (established in 1864) and served as one of the nine commissioners between 1874–75. Furthermore, they had a big impact not only in Dhaka but also neighbouring towns including Narayanganj and Mymensingh. Herbert Michael Shircore, son of Stephen Aratoon Shircore, served as the chairman of Narayanganj Municipality. Today, a school and a road named after him can still be found there.
---
Dhrubo Alam is a research associate at the Bengal Institute.
---
Bibliography:

1. Allen, Basil Copleston. Dacca: Eastern Bengal district gazetteers. Concept Publishing Company, 1912.
2. Dani, Ahmad Hasan. Dacca: a record of its changing fortunes. Mrs. SS Dani, 1962.
3. Hossain, Nazir. Kingbotontir Dhaka. Three Star Co-operative Multipurpose Society Ltd. (3rd Ed.), Dhaka 1995.
4. James Rennell, A Bengal Atlas, The East India Company, 1781.
5. Mamoon, Muntassir. Dhaka: Smriti Bismritir Nogori. Ononna Publication, Dhaka, 1993.
6. Seth, Mesrovb Jacob. Armenians in India. 1983
7. Taifoor, Syed Muhammed. Glimpses of old Dhaka. Kawser House, 1952.
8. Taylor, James. A sketch of the Topography & Statistics of Dacca. GH Huttmann, Military Orphan Press, 1840.
---
Follow

The Daily Star Opinion

on Facebook for the latest opinions, commentaries and analyses by experts and professionals.
To contribute your article or letter to The Daily Star Opinion, see our

guidelines for submission

.
---