The Millennium Rugby Stadium is located on the banks of the River Taff in Cardiff. Although it is a rugby stadium, the 2017 Champions League final was held at the venue. We made our temporary abode at The River House, situated on the bank directly opposite. Looking out the window we saw the serene river and the equally peaceful street running alongside. On Saturday morning, however, that street became raucous and the sounds were very familiar.
Large groups dressed in green and red, waving flags were noisily passing by. Having not seen many Bangladeshis here, I struck up a few conversations. A majority came from London, some from Birmingham and Bristol.
When they learnt that they were talking to a sports journalist from back home, they asked: "Why didn't they take Rubel [Hossain] against New Zealand? He will be there today, right?" Rubel is no Waqar Younus, but on Saturday his value to the Bangladesh fans was no less. He was the bowler who delivered the famous win over England in the 2015 World Cup match at Adelaide, so not seeing him in the eleven against the same opposition caused a small uproar after the match. "Why wasn't Rubel there? Why did we choose to field? Why such a timid approach?"
After Indians, Bangladeshi supporters now form the biggest contingent of supporters wherever a cricket world event is taking place. While they dominated at The Oval, the Bangladesh contingent was not as strong at the Cardiff Wales Stadium where England supporters dominated, but the Bangladeshis did make their presence felt.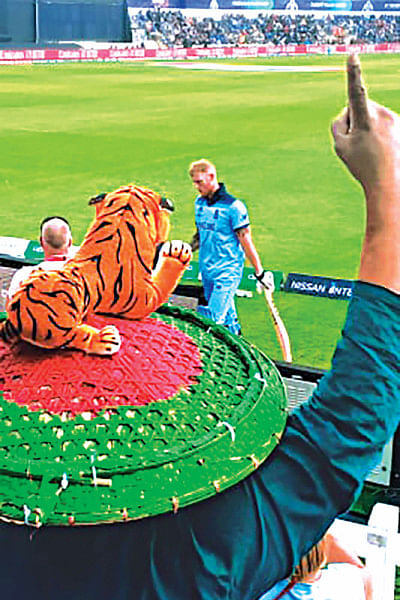 There was also a businessman from Sylhet, who will be in the UK till Bangladesh's match against Sri Lanka on Tuesday, and he said that he was heartbroken by the New Zealand loss. There was little to be heartbroken about in the match against England because of how one-sided the contest was. Instead, it only served to anger the fans, as if the team had to answer for the weight of their expectations.
"It was remarkable that they fought so hard [against New Zealand] with such a total at The Oval. But could they not have fought harder against England?" said Simin Hossain, a student who travelled from London.
For Shumon, a citizen of the UK where he has lived since age 10, it should have been a win-win situation as England is also his country, but he strongly disagreed. "Bangladesh comes first, the rest of the world second. When it comes to Bangladesh playing someone, I don't know anyone else. England is my second team. I am hurt but more than that, I am angry. We should have lost with a semblance of respect."
There was also no end to expert analyses. "England benched Moeen Ali and played Liam Plunkett because of the grass on the pitch, so why did Bangladesh not play Rubel?" Manna Roy from London, who will watch every match Bangladesh will play in the World Cup, asked.
During the match against New Zealand, a Tigers fan talked while pacing about outside the gallery during the crunch stages, as if his not watching would help win it for Bangladesh. Such superstitions abound, the thrust being: whether it be Bristol, Taunton, Nottingham or London, they are prepared to paint all venues red and green this summer because they want to see the Tigers in the semifinals in any way possible.
Translated from Bengali to English by Sakeb Subhan.