Antibiotic-resistant bacteria: Govt study rings alarm bells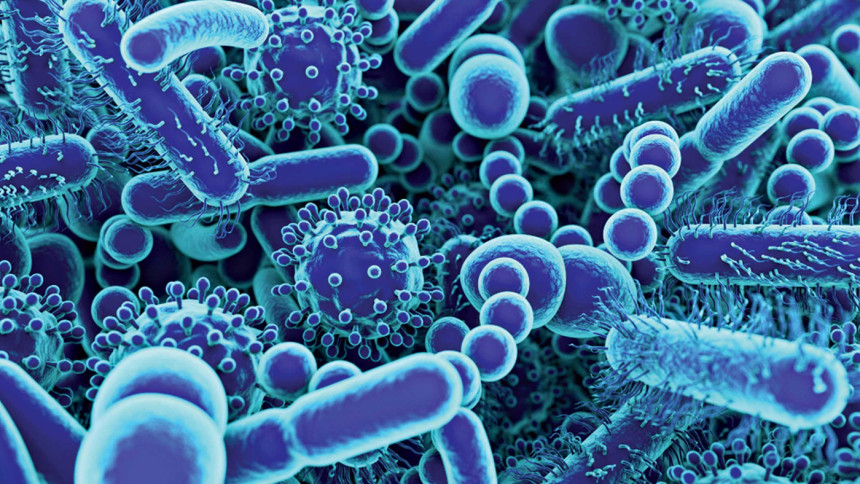 Antibiotic-resistant bacteria are becoming alarmingly strong, reducing the drugs' ability to heal people with infections, finds a study led by the health directorate.
An astonishing 15-50 percent of samples of seven different bacteria under the study were found resistant to at least six out of the eight classes of antibiotics available across the world.
Some 31 to 67 percent of samples of those bacteria were found resistant to more than three classes of antibiotics.
More alarming is the fact that no antibiotic was effective against 0.5 percent to 7 percent of samples of six of the seven bacteria, threatening the beginning of a post-antibiotic era, the researchers said.
Overuse and misuse of antibiotics have been causing the emergence of antibiotic-resistant bacteria, said the study.
It revealed that higher-class antibiotics were being used in 70-80 percent of cases in Bangladesh when the World Health Organisation recommends keeping the usage within 40 percent.
The study was based on collation and analysis of four years (2018-2021) of antimicrobial (antibiotics, antifungals and antivirals) resistance data and the usage data from 34 labs and five private pharmacies in the country.
The researchers analysed records of more than 10 lakh patients' antibiotic sensitivity.
The Directorate General of Health Services and the Directorate General of Drug Administration under the initiative of CAPTURA Consortium of International Vaccine Institute conducted the study.
National Antimicrobial Resistance Containment of the CDC led the study.
"High-level use of 'Watch Category' of antimicrobials is alarming," said John Stelling, professor at the Brigham and Women's Hospital of Harvard University, while presenting the findings at a city hotel.
Antibiotics are classified into three sets: the "Access Group" is prescribed for a wide range of primary level infections, the "Watch Group" for high-resistance bacteria, and the "Reserve Group" when all alternatives fail.
The researchers analysed the seven most common germs found in blood, urine, respiratory tract, soft tissue, stool, and body fluids for the study.
Of those, E. coli, Klebsiella, Pseudomonas, Staphylococcus aureus, Enterococcus, Salmonella Typhi and Acinetobacter spp were the most frequently identified bacteria.
These bacteria are responsible for urinary tract infections, septicaemia, diarrhoea, pneumonia, and wound infections, among others.
The analysis showed that more than three classes of antibiotics were ineffective against 67 percent Acinetobacter spp, 58 percent Klebsiella, 55 percent E. coli and 38 percent Pseudomonas bacteria.
Penicillin, Cephalosporins, Sulfonamides, Fluoroquinolones, Macrolides, Tetracyclines, Aminoglycosides, and Carbapenems are the eight classes of antibiotics.
Prof Stelling said the prevalence of high-resistant bacteria is observed and this requires close monitoring to prevent the spread of these bugs.
He also noted that the use of "Reserve Group" drugs has increased to 8 percent cases in 2020 from 5.8 percent in 2018.
Sabrina Alam, assistant director at the DGDA, said around 67 percent of medicine retailers could not identify antibiotics.
For this reason, the DGDA has instructed labelling boxes and strips of all antimicrobials in red and the word 'Antibiotics' printed on them, said Maj Gen Mohammad Yousuf, director general of the DGDA.
He also said they have recommended in a proposed drug law that selling antibiotics without prescription be made a punishable offence including a Tk 20,000 fine.
Speaking as chief guest, Prof Ahmedul Kabir, additional director general (administration) of the DGHS, said, "Antibiotics should not be used without prescription from registered doctors. That needs to be enforced at once. Our goal is to reduce antibiotics being consumed without prescriptions.
"This is a very alarming situation."
He said redesigning packaging of antibiotics will not bring any change.
A surveillance study on 10 bacteria by the IEDCR backs the findings of this study.
Worldwide, more than 1.2 million died in 2019 as a direct result of antibiotic-resistant bacterial infections, according to the most comprehensive estimate by Washington University.