Must prepare ahead, say experts on preventing dengue outbreak this year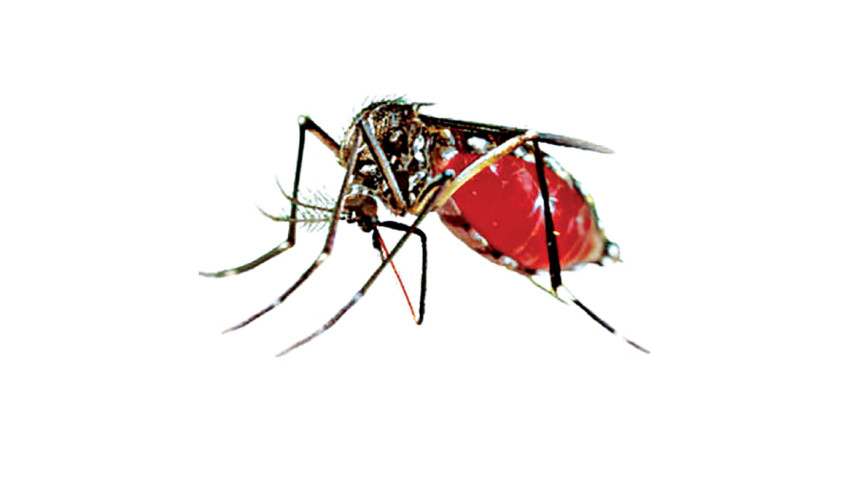 December, when the dry season comfortably sets in, should had been a time when the country wouldn't have  to worry about dengue. And yet, 87 patients were being treated in hospitals across the country till the last day of 2021, indicating that the vector-borne disease has now become an endemic in Bangladesh.
Fearing an even worse situation this year, entomologists have suggested year-long measures to combat Aedes mosquitoes, specifying that separate programmes should be undertaken for Aedes and Culex mosquitoes.
According to Directorate General of Health Services, in 2021, around 28,429 dengue patients were admitted to hospitals across the country.
The death toll stood at 105.
Last year's infections and deaths are the second highest since the first-ever outbreak in the country in 2000. Bangladesh witnessed the highest dengue cases in 2019, when 1,01,354 patients were infected and 179 died.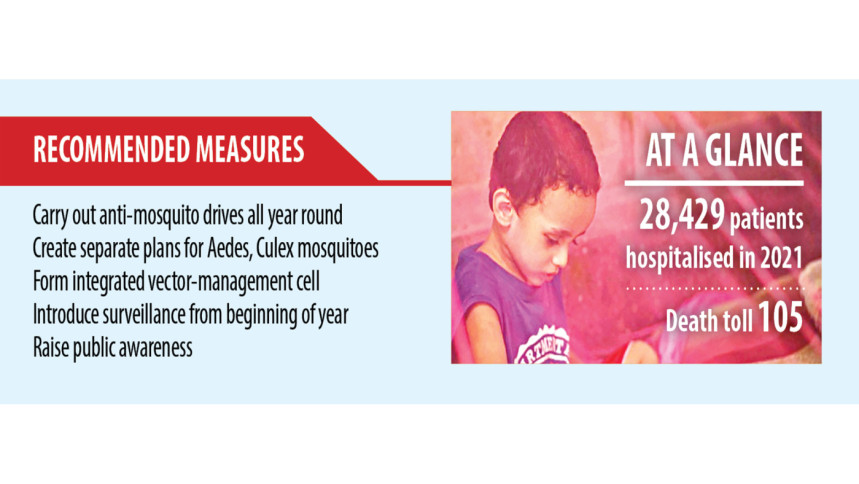 Entomologist Prof Kabirul Bashar of Jahangirnagar University said dengue has become endemic in Bangladesh. So, authorities will have to carry out anti-mosquito drives all year round.
Authorities will have to form separate plans for Aedes and Culex mosquitoes, he said.
A situation like that in 2019 may also be witnessed in 2022 or the next few years. The government will have to start an integrated vector-management cell as early as possible, he said.
Entomologist Manjur A Chowdhury, former president of Zoological Society of Bangladesh, said measures the city corporations took in 2021 were not sufficient, and that is why the country witnessed the second highest infections and deaths last year.
Manjur said normally dengue follows a cycle: if there is a huge outbreak one year, the next one faces an outbreak smaller in scale. But for the last few years, this trend has been absent.
Authorities will have to introduce surveillance from the beginning of the year to identify areas with high numbers of Aedes mosquitoes. They will have to take extensive measures, including raising public awareness, in those areas.
In India's Kolkata, workers collect information about dengue and malaria patients from different hospitals and clinics. They then submit reports to authorities, and the "Rapid Action Teams" take necessary measures, he said.
Dhaka North City Corporation Chief Health Officer Brig Gen Jobaidur Rahman said they are going to introduce a new method to control dengue, using mosquitoes carrying Wolbachia bacteria, this year.
When Wolbachia-carrying mosquitoes breed with female Aedes mosquitoes, which don't have Wolbachia, the Aedes mosquito eggs fail to hatch. This stops the proliferation of mosquitoes that carry the dengue virus.
They have already talked to an organisation in the US about using this method.
In Indonesia and Singapore, authorities have already applied this method and got good results, he said.
Jobaidur said they are also conducting regular drives, identifying hotspots and asking government and semi-government organisations to clean areas. Apart from the drives, they are cleaning different water bodies, he said.
Dhaka South City Corporation spokesperson Md Abu Nasher also said they have chalked out year-long programmes to curb both Aedes and Culex mosquitoes.
They will conduct regular anti-mosquito drives and special drives in which they will take measures by collecting addresses of patients during dengue season, clean water bodies, and initiate awareness campaigns.