DOWN WITH THE FLU
Unusual weather pattern doubles number of patients with infectious diseases; children worst affected
With the country's temperature remaining abnormally high over the last two months, the number of patients suffering from different infectious diseases has gone up, with children being the worst sufferers and leaving hospitals struggling with an influx of treatment seekers.
Visits to three public hospitals -- Dhaka Medical College Hospital, Bangladesh Shishu Hospital and Institute, and MR Khan Shishu Hospital -- in the last several days confirmed a significant rise in the number of patients with flu and waterborne diseases.
Doctors at these hospitals said there has been a change in the weather pattern this year, with abnormal heat and humidity even in October. This warm weather is helping spread the infectious diseases, especially among children, they said.
They suggested taking extra care of the children, keeping them hydrated, and maintaining health guidelines to keep them safe.
Prof Dr Syed Shafi Ahmed, director of Bangladesh Shishu Hospital and Institute, said the number of patients at the hospital has almost doubled compared to the flow of patients one and a half months ago.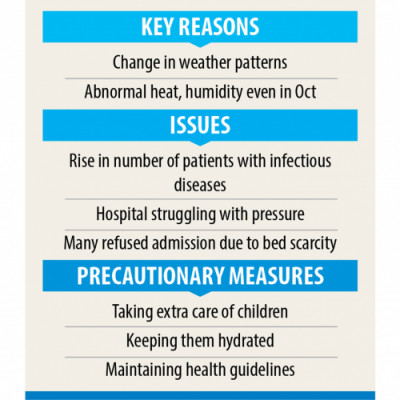 "We are seeing a rise of at least 40 percent of patients with infectious diseases," he said.
On average, around 400 patients come to the outdoors for treatment now, said the director.
Shafi added there is a shortage of seats for children in the hospital, with all 673 seats currently occupied. "Viral disease is a common problem in our country, but there has been a sudden increase this year," he said.
The picture was similar at Dr MR Khan Shishu Hospital and Institute of Child Health, which has 230 beds.
Mohammad Jannat Ali, deputy director (hospital and admin) of the hospital, said the authorities have no alternative but to deny admitting many patients as all their beds are occupied.
He also mentioned that most of the patients undergoing treatment in the hospital have high fever.
Of the 900 to 1,000 people who seek outdoor patient service every day, almost 50 percent have this symptom, Ali added.
"What is worrying is that many of these patients come with platelet counts which are lower than the normal level," Ali said.
Sabiha Begum, mother of one-year-old Al-Araf, said she could not get her son admitted to this hospital on October 10 due to scarcity of seats. Prior to that, she had also tried admitting him to Bangladesh Shishu Hospital, but could not find a seat.
During a visit to the Shishu Hospital, a huge crowd of parents were found waiting with their ailing children.
Aminul Islam, a resident of Singair of Manikganj, said as per the doctor's suggestion, they had their daughter's ECG done at the hospital on October 11, but could not get the report till noon next day.
"We could not go to a private hospital as we did not get the report," he said.
Preferring anonymity, a staff of the report delivery section of the hospital said they were under tremendous pressure due to the sheer volume of tests, which made it difficult to deliver reports on time.
Talking to The Daily Star, meteorologist Bazlur Rashid said the country is experiencing abnormal weather for this time of the year, with temperatures continuing to rise till the second week of October. The average temperature in September was also high compared to other years.
"Usually, people expect to catch a whiff of winter around this time of the year, as the winds start to blow from north-west," he added.
According to the Bangladesh Meteorological department, the wind that carries the cold wave is yet to arrive, and as a result October has kept getting warmer, with the month's highest daily maximum temperature of 37.2 degrees Celsius recorded at Sylhet on Monday.
According to a report of the World Bank, Bangladesh has become warmer over the past 44 years, with an increase in annual mean temperature of 0.5°C between 1980 and 2019, using three-year averages.