Make health sector more robust
Says president to tackle Covid-like crises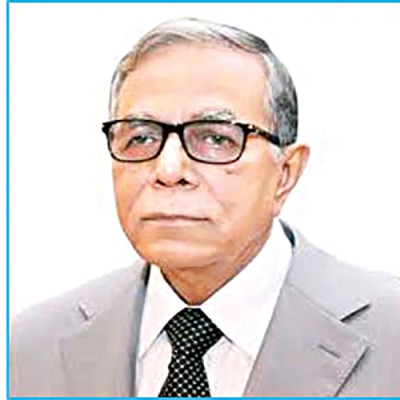 President Abdul Hamid yesterday said Bangladesh has done better than even some developed countries in successfully tackling the pandemic.
However, the country still needs to build a robust health sector to tackle similar crises in future, he said.
The president said this while speaking to foreign students studying at President Abdul Hamid Medical College at a programme at Shilpakala Academy in Kishorganj.
"Although we have achieved tremendous success in health sector, the pandemic has exposed some loopholes in the system. We are still in need of more skilled resources, especially specialist doctors, nursing staffs and medical technologists" he said.
Hamid praised the health sector manpower, including doctors, nurses and technologists.
He said Bangladesh ranked first in South Asia
and 20th in the world in the "COVID Resilience Ranking" compiled by Bloomberg news agency for successful handling of corona pandemic, economic revival and keeping the livelihoods running.
Mentioning the overall standard of education in Bangladesh as very good and comparable to other developed countries, Hamid said students have the chance to get on hand training at the hospitals.
"The cost of the complete course of MBBS in Bangladesh is also quite affordable as compared to other countries."
He also said that the country is becoming one of the preferred destinations for medical students around the globe.