Vaccination rate now higher in EU than in US
Says EU; UK prepares to jettison most pandemic restrictions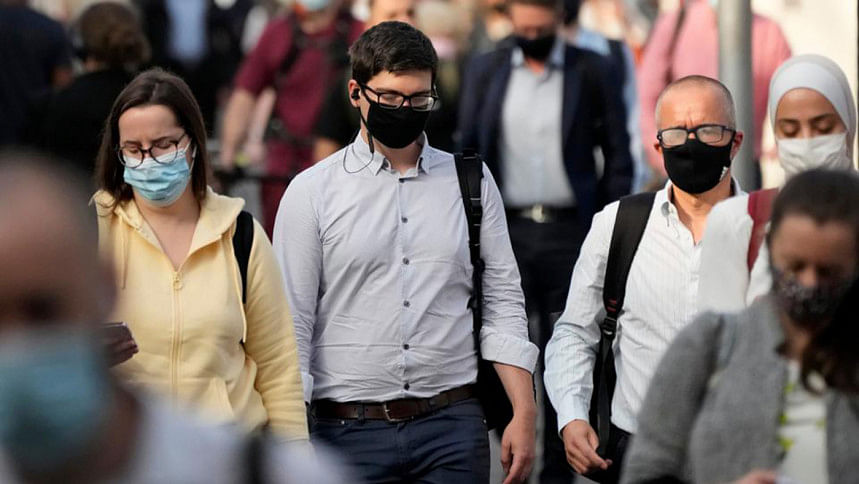 European Union leaders celebrated their coronavirus vaccination programme reaching a higher proportion of its people than in the US, which had outpaced the bloc for months.
"We promised it and it's done. The EU this week overtook the US as the continent with the most first doses in the world," Commissioner Thierry Breton wrote on Twitter on Saturday evening.
Citing statistics website Our World in Data, France's Europe minister Clement Beaune wrote that the EU had now given 55.5 percent of people a first dose, compared with 55.4 across the Atlantic.
Brussels' strategy for rolling out Covid-19 shots was widely criticised in early 2021, lagging Britain and the US for lack of supply.
But Breton, who runs a group working on boosting vaccine production and supply, said that the EU had now overtaken its transatlantic rival while "remaining #open and exporting half of our production to 100+ countries", hailing "efficiency and solidarity" on Europe's part.
At the height of the vaccine scheme's teething troubles, EU Commission president Ursula von der Leyen had in February acknowledged mistakes by the Brussels authority.
She nevertheless insisted that "the battle against the pandemic is not a sprint, but a marathon".
Meanwhile, British Prime Minister Boris Johnson and Finance Minister Rishi Sunak will both self-isolate in line with national guidance, abandoning heavily criticised plans to take part in a pilot scheme that would have allowed them to continue working.
The U-turn comes a day after Health Minister Sajid Javid said on Saturday he had tested positive for Covid-19 and at a time when the government's coronavirus response is under intense scrutiny.
Javid said he was self-isolating -- just as his government prepared to jettison most pandemic restrictions in England.
The government insists that with two-thirds of the adult population now fully vaccinated, the risk can be managed, and many UK media dubbed today as "freedom day".
Munira Wilson, health spokeswoman for the opposition Liberal Democrats, said Javid's test result "shows no one is safe from this deadly virus".
Urging the government "to rethink its reckless plans for Monday", she said: "By easing all restrictions with cases surging, they are experimenting with people's lives."
The surge in infections sweeping Britain led to more than 530,000 people being instructed to self-isolate by a government-run app in the week to July 7, according to latest data.
Two athletes became the first to test positive for the coronavirus in the Tokyo Olympic Village, officials said yesterday, as new border rules in Europe caused last-minute travel frustration.
Less than a week before the Olympics is due to begin, the cases will heighten concerns over the event.
Organisers have described the Games as the world's "most restrictive sports event", but it faces opposition in Japan over fears it will bring new infections to a country already battling a surge, reports AFP.
A daily tally of new cases revealed two athletes tested positive in the Village and one elsewhere. They come a day after an unidentified person, who was not a competitor, became the first case in the village.
Britain is also facing a backlash over its decision to exclude France from its new looser entry policies -- vaccinated returning UK residents will still have to quarantine for 10 days, unlike in other "amber" countries.
"I'm a doctor so I understand the health issues very well, but this doesn't make any sense," said Maud Lemoine, a London-based doctor who is visiting France.
And France's government drew ire after announcing that unvaccinated visitors from Britain and several other European countries must show a negative Covid test taken within 24 hours of departure rather than 48 or 72 hours, as was the case previously.
The interior ministry said almost 114,000 demonstrators gathered across France on Saturday to protest against the government's handling of the pandemic and continued restrictions on everyday life.
"It's not that we think the Earth is flat, but we don't know the long-term effects of these vaccines cobbled together in a hurry," care assistant Rita, 39, said at a march in the city of Montpellier.
Elsewhere in Europe, Greek officials imposed curfews on the party island of Mykonos and Spanish authorities did likewise in Barcelona and other cities in the northeastern Catalonia region.